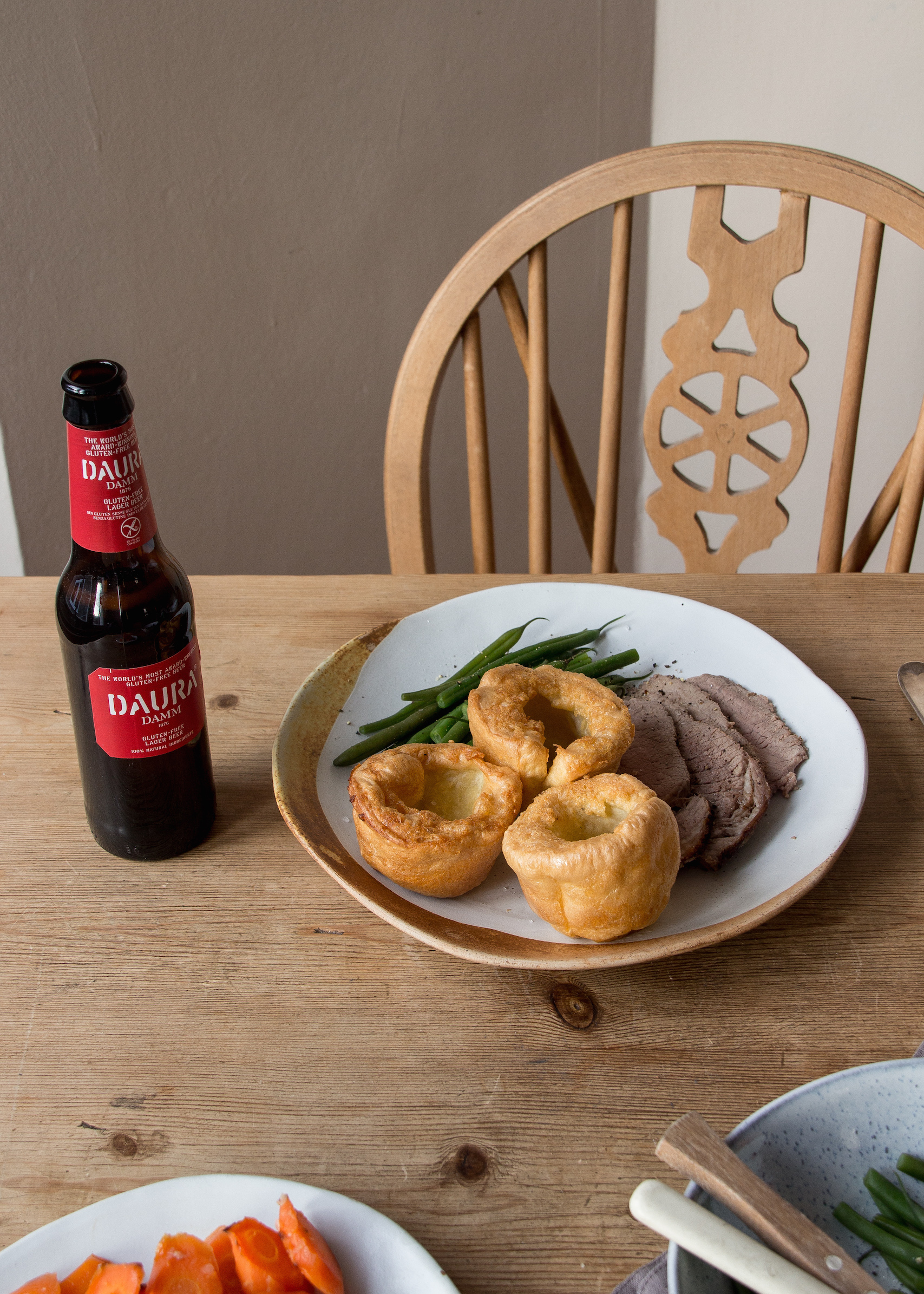 I don't know about you, but the glorious, golden Yorkshire pudding has always been my favourite part of a roast.
Growing up, my family didn't have a roast dinner every Sunday. They were always deemed 'quite a lot of faff' and were saved for special occasions: celebrations, festivities, when all of the family came together.
So on those Sundays when the smell of roast beef was filling the kitchen, carrots and parsnips were spotted laid glistening in their roasting trays and potatoes were bobbing up and down on the stove, we knew we were in for a treat.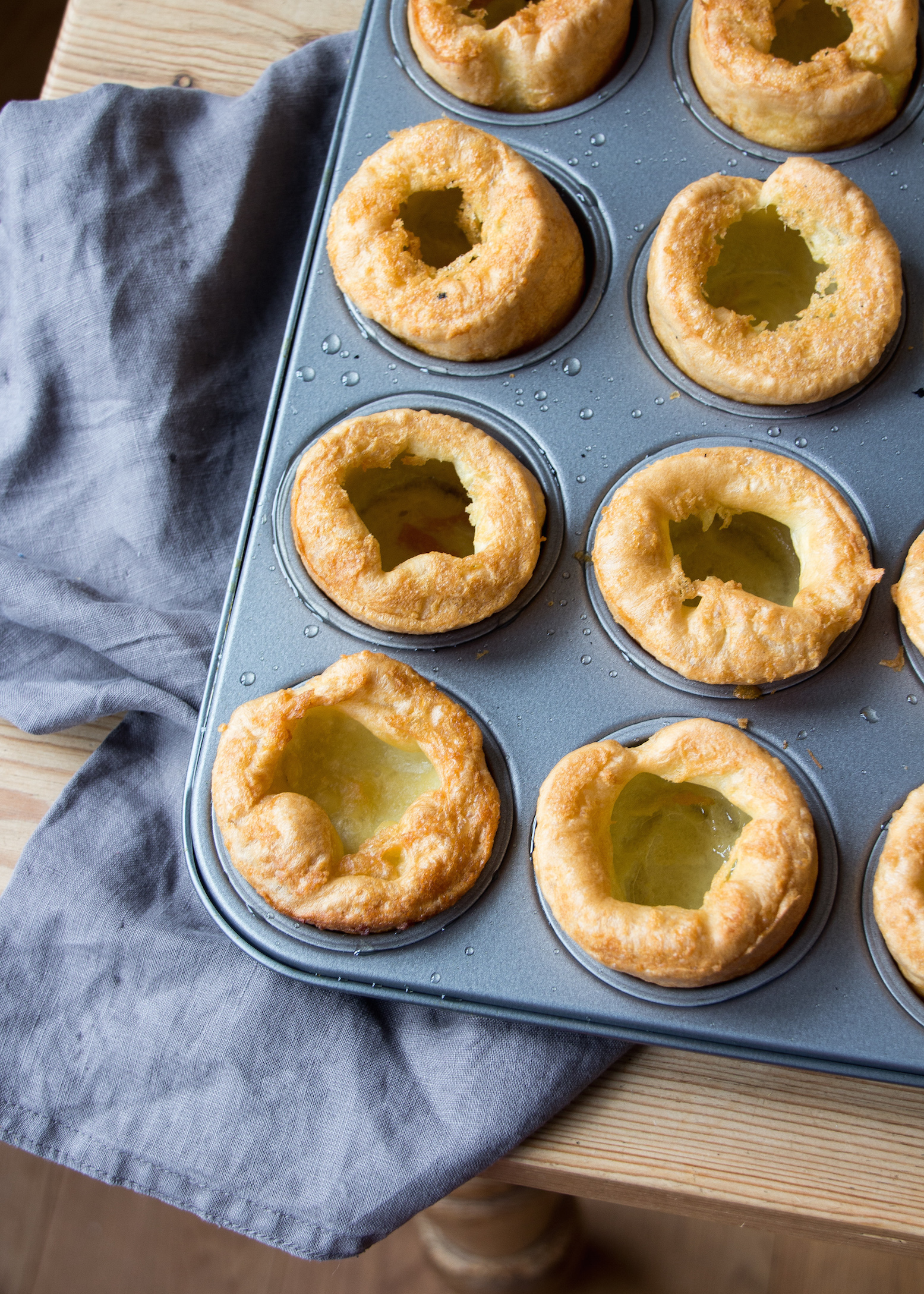 The biggest treat however, was always saved until last. Pulled out of the oven with seconds to go, hot, golden, oversized Yorkshire puddings would emerge and be placed on the table. Light and fluffy on the inside and crispy on the outside, there was no better joy than filling them with all the trimmings or ripping them apart and using them as vessels to mop up any remaining gravy or cheese sauce (my favourite).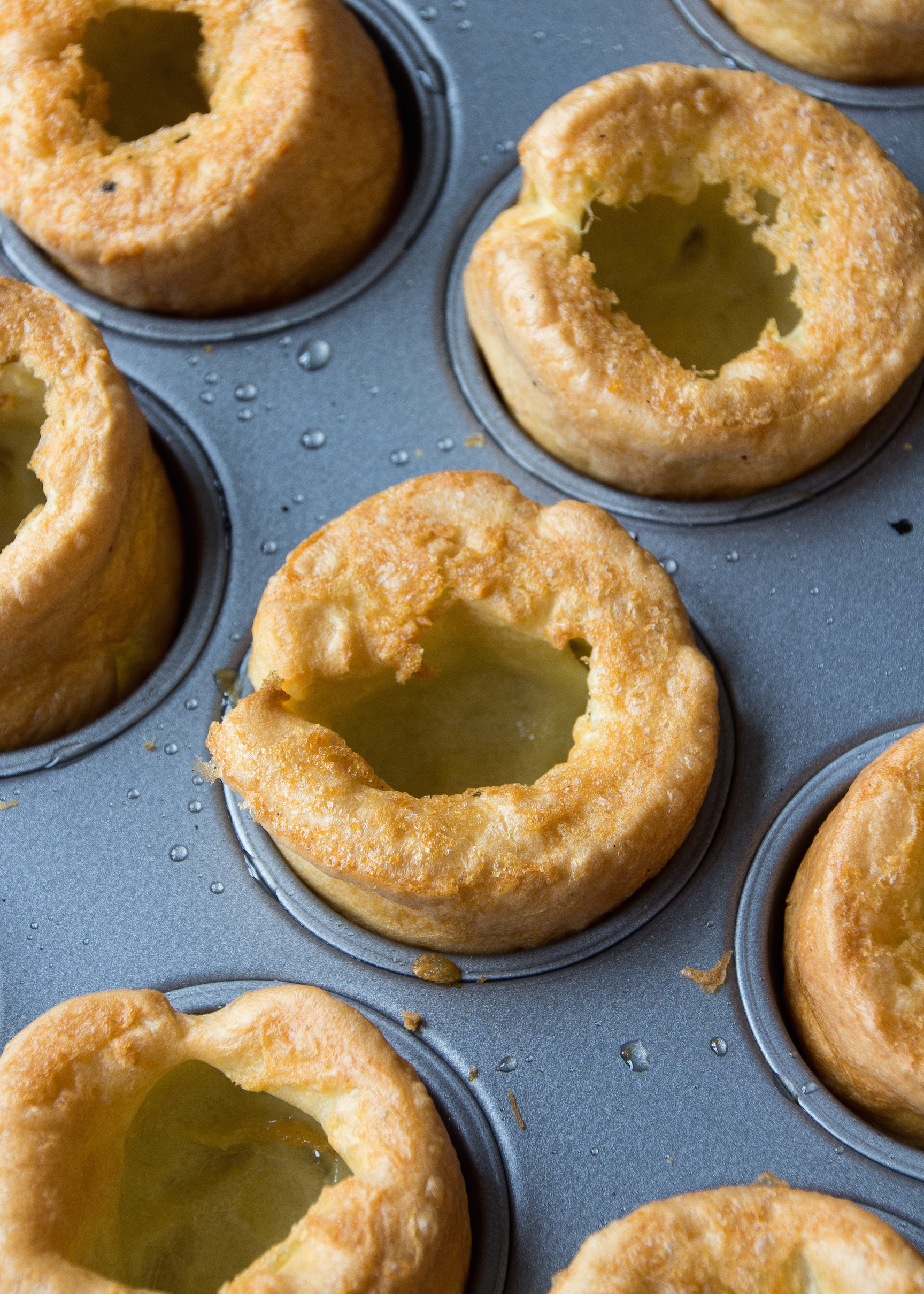 Moving away from home roasts became even less common. My mother was right – they were a bit of a faff – and being unable to tolerate gluten I could no longer eat the best bit! But with snow in London last weekend, friends visiting and Christmas just around the corner I had a craving that only Yorkshire puddings would fill.
I scoured the internet and my cookbook collection for the best gluten free recipes and found quite a few variations. This Doves Farm recipe was delicious but didn't rise quite as much as I would have liked, as was Naomi Devlin's although it required quite a few ingredients. The best recipes I tried seemed to be made with just corn flour – such as Becky's masterpieces here.
Testing recipes I pondered how I could make the batter even lighter and decided to try adding Daura Damm beer (gluten free of course). Adding the beer not only made the batter really light, which helped get a cracking rise in the oven, but made the Yorkshires taste absolutely delicious too.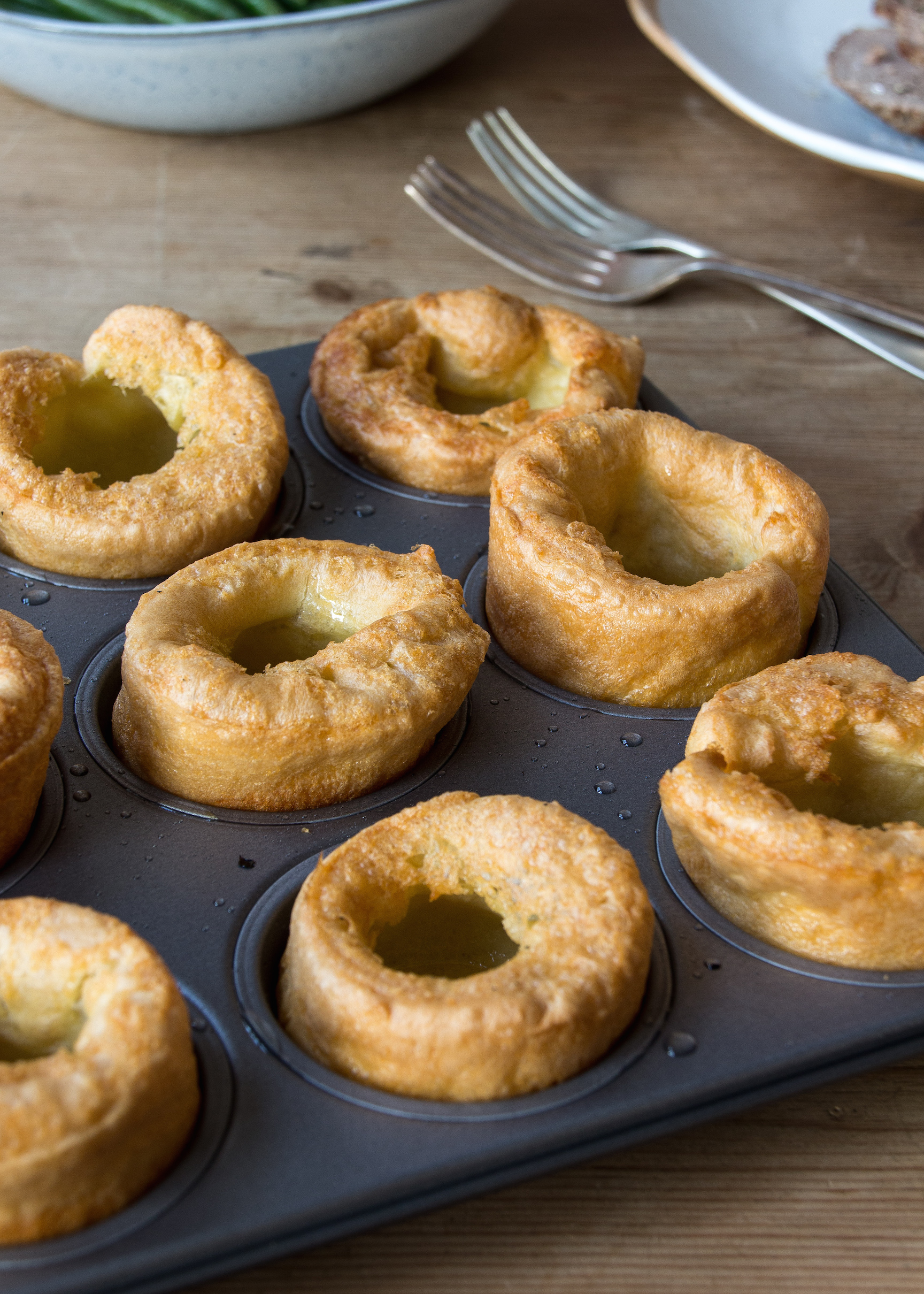 So here is my Daura Damm beer batter gluten free Yorkshire pudding recipe! FODMAP friendly and dairy free to boot you can share these with your friends and family next time you have a roast dinner and nobody will notice the difference. The amount of batter makes quite a lot of  Yorkshire puddings – about 16 – which I find somehow always manage to disappear… but just halve the ingredients if you need.
Lastly, before you give this recipe a go, my 3 top tips for those perfect Yorkshires:
Let the better rest for 20 minutes before using if you have time
Work quickly. You need to make sure the oil is piping hot before adding your batter. Once the tin is ready and the oil hot, carefully pour the batter into the muffin tin – it should sizzle on contact. Get that pan straight back in the oven to bake as soon as you can
No peeking! This can cause them to deflate and you want these babies fluffy and risen
Happy eating and drinking all x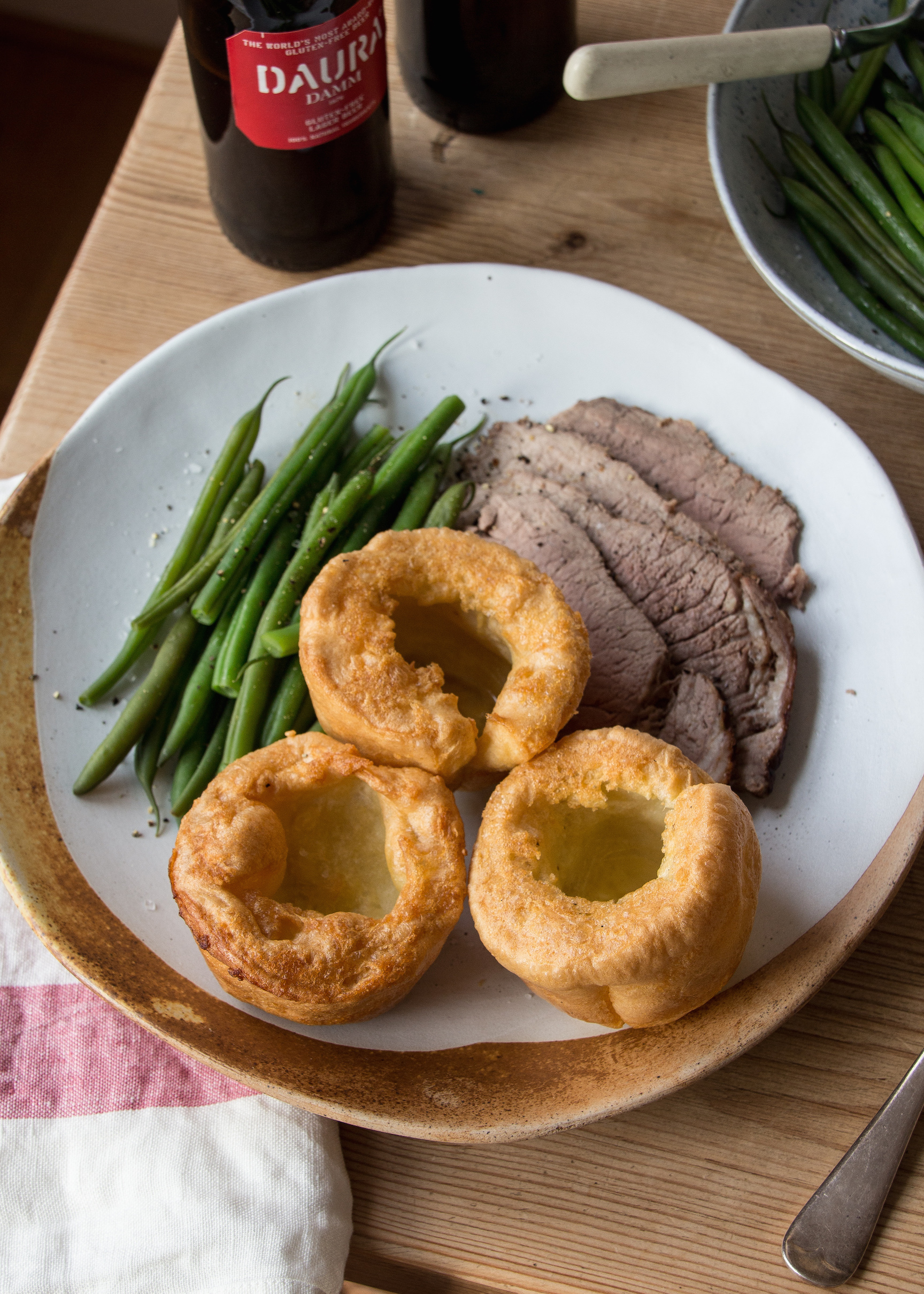 Beer batter Yorkshire puddings
Thanks to a dash of award-winning Daura Damm beer these gluten free Yorkshire puddings are extra light and fluffy on the inside and crispy and golden on the outside.
200g cornflour
6 eggs
200ml almond milk
100ml Daura Damm gluten free beer
Sea salt and cracked black pepper
Oil for the tin
Heat the oven to 230C/fan 210C/gas 8.
Drizzle a little oil evenly into a 12-hole non-stick muffin tin and place in the oven for 10-15 minutes until the oil is very hot – almost spitting.
To make the batter, tip your cornflour into a mixing bowl and beat in six eggs until smooth.
Pour the milk and gluten free beer into a jug and lightly whisk until combined.
Gradually pour the beer mix into your flour and egg mixture a little at a time, beating as you go.
Continue to beat together until the mixture is silky smooth. Season with salt and pepper.
Pour the batter into the jug you used for the milk and beer mix, then remove the hot tin from the oven.
Quickly, carefully and evenly pour the batter into the holes until about 3/4 full. Place the tin back in the oven and leave undisturbed for 20-22 minutes, or until the puddings have puffed up and are golden all over. Serve immediately.
Huge thank you to Daura Damm for sponsoring this post!