After a busy few days I rustled up these bread sticks for a family lunch time snack. There's nothing worse than missing out on delicious dips and nibbles with friends and family because they contain gluten, lactose or high FODMAP ingredients and now you no longer have to! The simplest gluten free, vegan and low FODMAP bread sticks I've ever made, these are flavoured with just olive oil, sea salt and cracked black pepper and are perfect for you to whip up when you next want to join in with nibbles.
The recipe is from the wonderful Mel at Pig in the Kitchen and came in my March gluten and dairy free box from Crate of Nothing.
Fluffy, light, pillowy and perfect to share, the recipe requires just one bowl, a small bit of mixing and a tiny bit of patience piping, giving you freshly baked gluten free breadsticks in just fifteen minutes.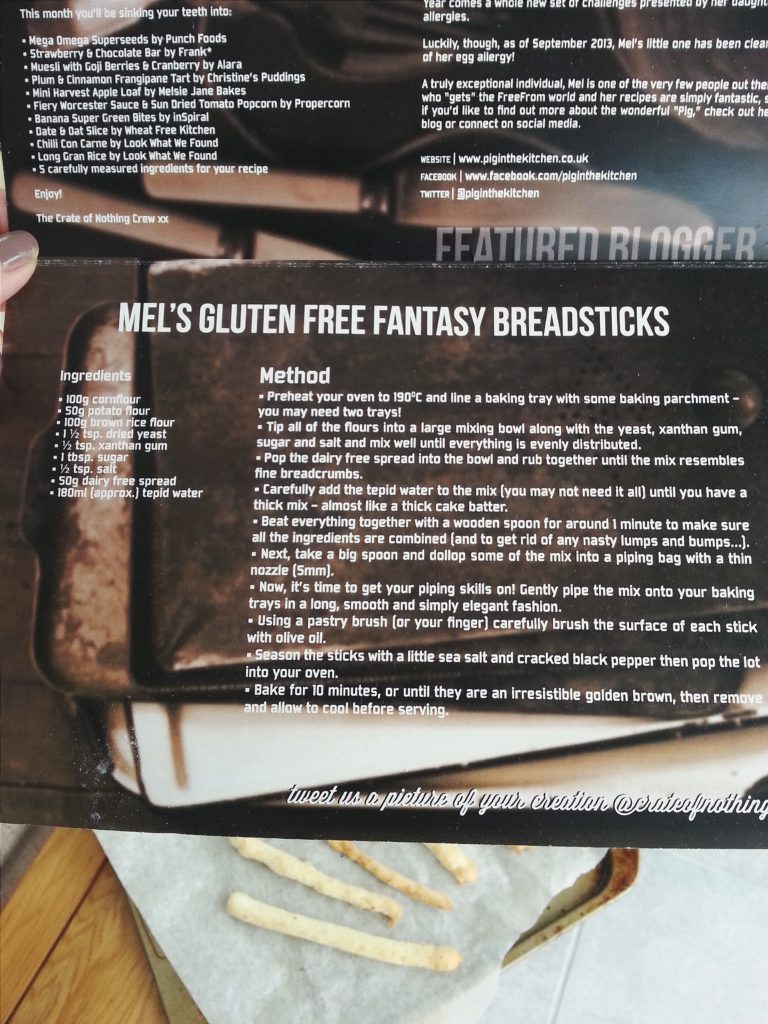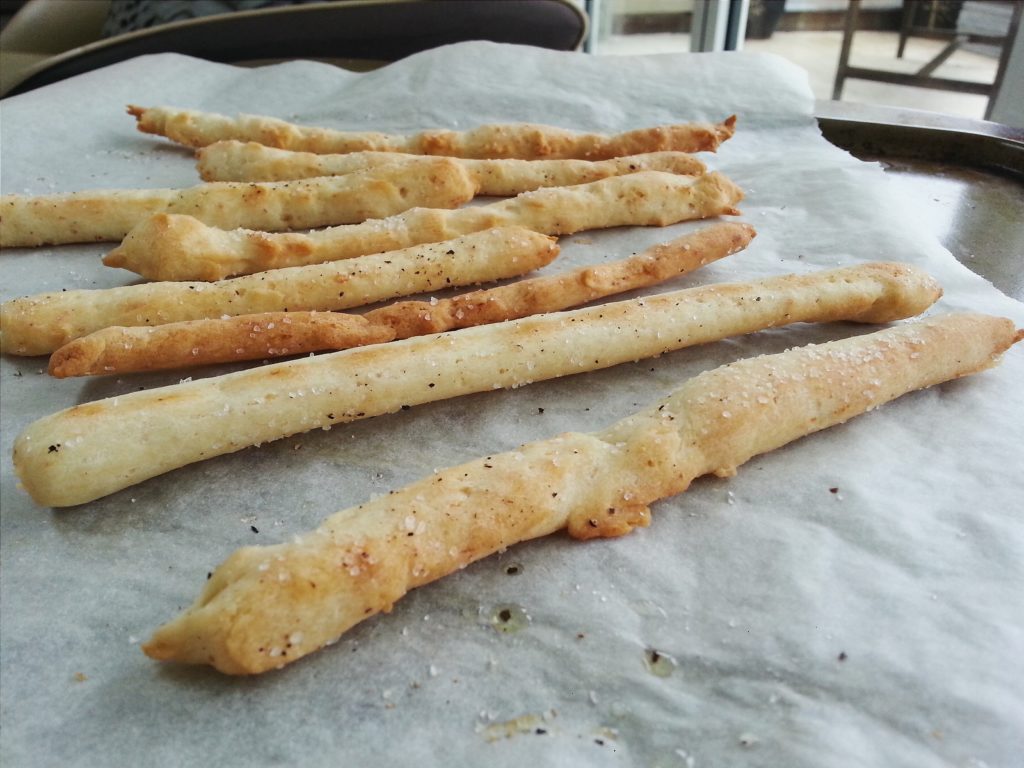 My skills with a homemade piping bag aren't the best – or the most patient… so your bread sticks might end up looking a bit better than mine! But that's what's so great about this recipe – you don't have to make it with finesse or skills, just with a bit of love (cheesy I know..) and some fun!
Serve with my low FODMAP lemony spinach pesto or my brazil nut pesto for a delicious and nourishingly green accompaniment, or add nutritional yeast and rosemary for different twist.
Gluten Free Bread Sticks
Prep time:
Cook time:
Total time:
Fluffy, light, pillowy and perfect to share, this recipe gives you freshly baked gluten free breadsticks in just fifteen minutes.
100g cornflour
50g potato flour
100g brown rice flour
1 1/2 tsp dried yeast
1/2 tsp xanthan gum
1 tbsp sugar
1/2 tsp salt
50g dairy free spread
180ml (approximately) tepid water
Preheat oven to 190C and line one or two baking tray with some baking parchment.
Add the flours into a large mixing bowl along with the yeast, xanthan gum, sugar and salt and mix well until combined.
Add the dairy free spread and rub together with your fingers until the mix resembles fine breadcrumbs.
Slowly add the water to the mix (you may not need it all) until you have a thick mixture – almost like a thick cake batter.
Beat everything together with a wooden spoon for around 1 minute to make sure all the ingredients are combined (and to get rid of any nasty lumps and bumps)
Take a big spoon and dollop some of the mix into a piping bag with a thin nozzle (5mm).
Gently pipe the mix onto the baking trays in a long, smooth motion.
Using a pastry brush (or your finger) carefully brush the surface of each stick with olive oil.
Season the sticks with a little sea salt and cracked black pepper then pop the lot into the oven.
Bake for 10 minutes, or until they are golden brown.
Remove and allow to cool before serving!
Have you tried the recipe? Or have your own favourite low FODMAP dips and nibbles recipe? Let me know in the comments below!