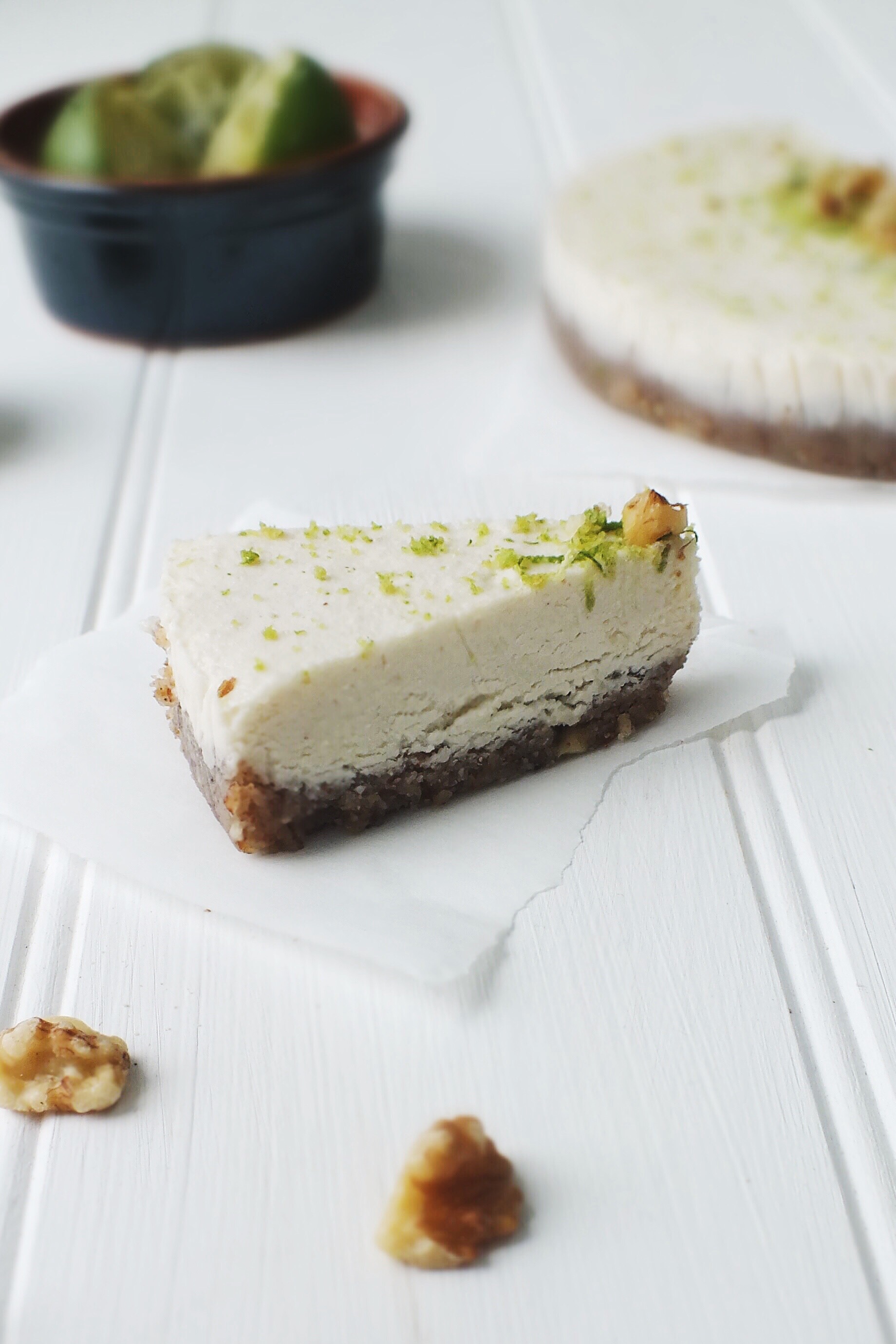 Key lime pie is my favourite flavour of anything ever. I once had a gluten free key lime pie in Seattle when I was lucky enough to travel America's west coast for a month and I still dream about it it was that good. This low-FODMAP key lime raw cheesecake recipe is most definitely a great deal healthier however – no sugar overload, no gluten, no dairy – and instead uses clean, whole, raw foods to make the most delicious and nourishing treat.
Every raw vegan cheesecake recipe I've come across looks amazing, but they all seem to use cashew nuts in the filling, which with high amounts of Oligos-GOS and fructans in large quantities are seriously high up on the FODMAP scale. When I came across these recipes from Karielyn and Allison which used macadamia nuts instead of cashews, I knew I had to try my own.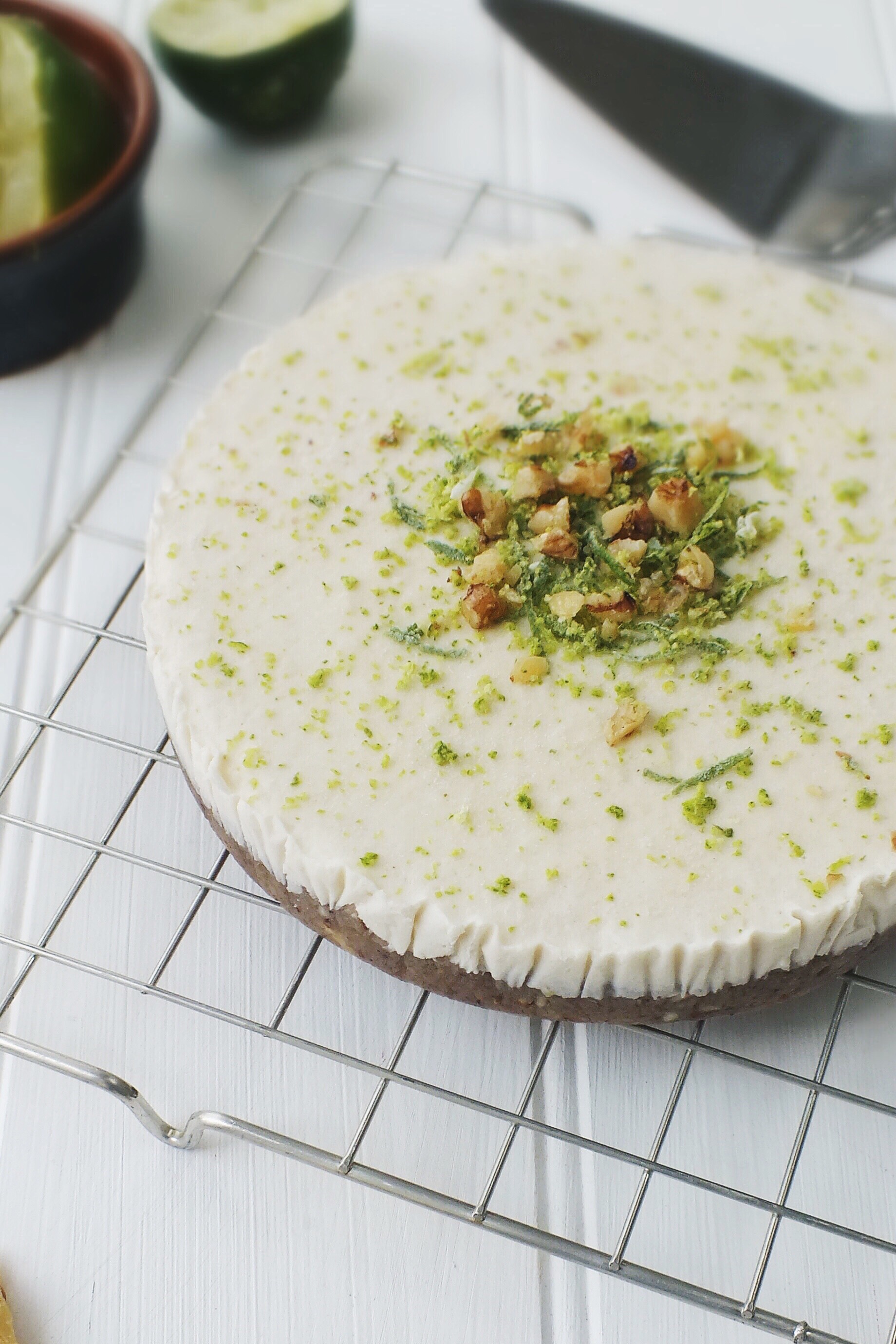 Taking it one step further, I wanted to devise a nutty, crumbly base to pair with the lime filling, that didn't feature dates, the dreaded (yet delicious) high-FODMAP ingredient which is all too often used in raw desserts. I've had a lot of comments and emails asking about a date alternative on the low-FODMAP diet and I knew there had to be one! But it wasn't as easy as I expected… and having tried to make the base with a little (too much) extra maple syrup, then a bit of extra coconut oil, it just wasn't reaching that sticky bliss-ball consistency.
Then in stepped the mighty banana. I saw it out the corner of my eye and thought 'ooo maybe… just maybe'. Turns out just 1/4 of a ripe banana is all you need you bind the base of this baby and sweeten it – instead of accidentally using half a bottle of maple syrup.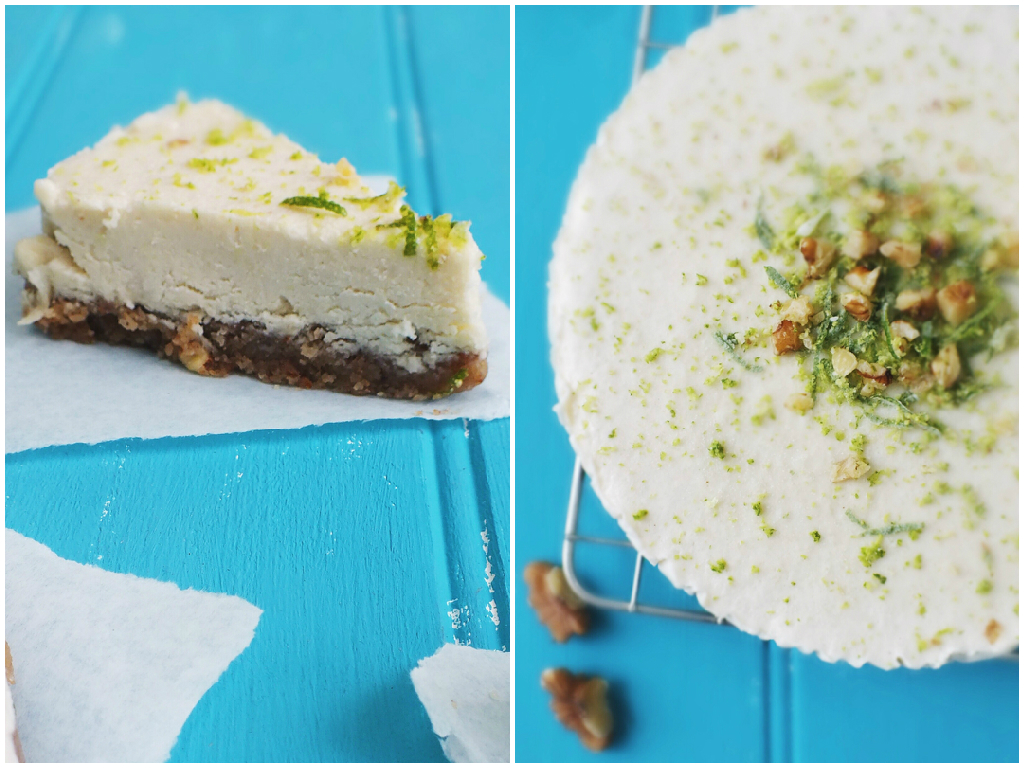 Glorious low-FODMAP pecans, walnuts and brazil nuts feature in the base of this recipe too. Nutritional powerhouses, they are packed with healthy fats, protein and minerals, but they can be difficult to digest – especially for those with sensitive tummies. By soaking these nuts to prepare them, the enzyme inhibitors that are found are neutralized, the beneficial enzymes are activated and the vitamin content increases. I always used to see 'soaked nuts' on a recipe and think 'hmm maybe I can skip that part', but doing it hasn't only made my symptoms better, but my recipes taste better too! Soaking the nuts used in this recipe – or any – makes them easier to digest, the nutrients more easily absorbed and gives a better flavour – so get cracking!
I made this on a Sunday for a BBQ in the garden with a big crowd and it went down a treat – even with non health foodies! Next time I'd like to try individual size cheesecakes in cupcake cases like these Key Lime Bites which look so good and I think would be even easier to serve.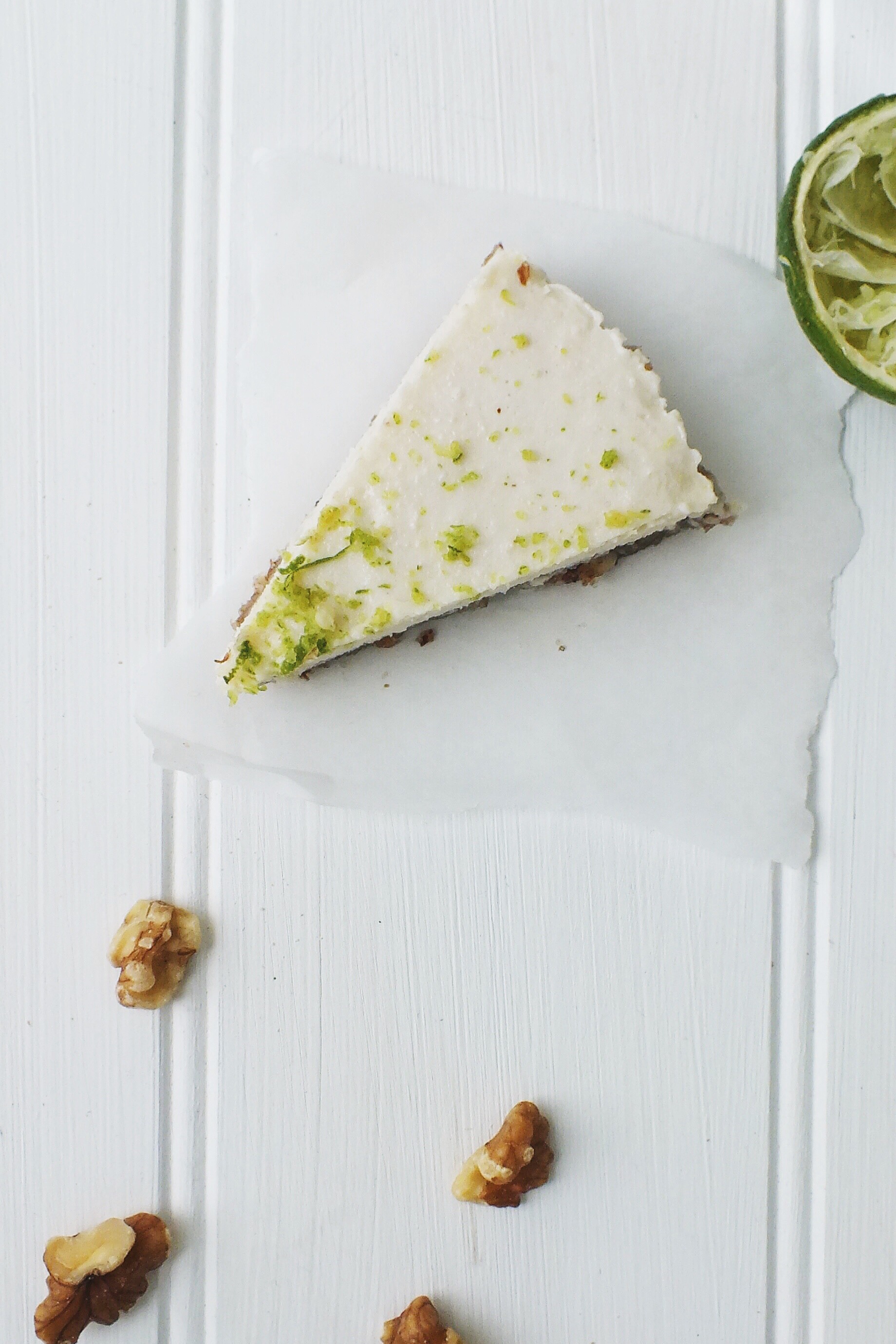 Just to note: this recipe does call for maple syrup as the sweetener in both the base and the filling and I'm aware there are big debates surrounding maple syrup not being completely raw. Alongside having to avoid a lot of sweeteners such as honey and agave on the low-FODMAP diet however, I'm with Marquis from Real Raw Kitchen on why I'd pick maple syrup every time. If you do want want this cheesecake recipe to be 100% certified raw, please feel free to swap the maple syrup for any other sweetener that you can tolerate!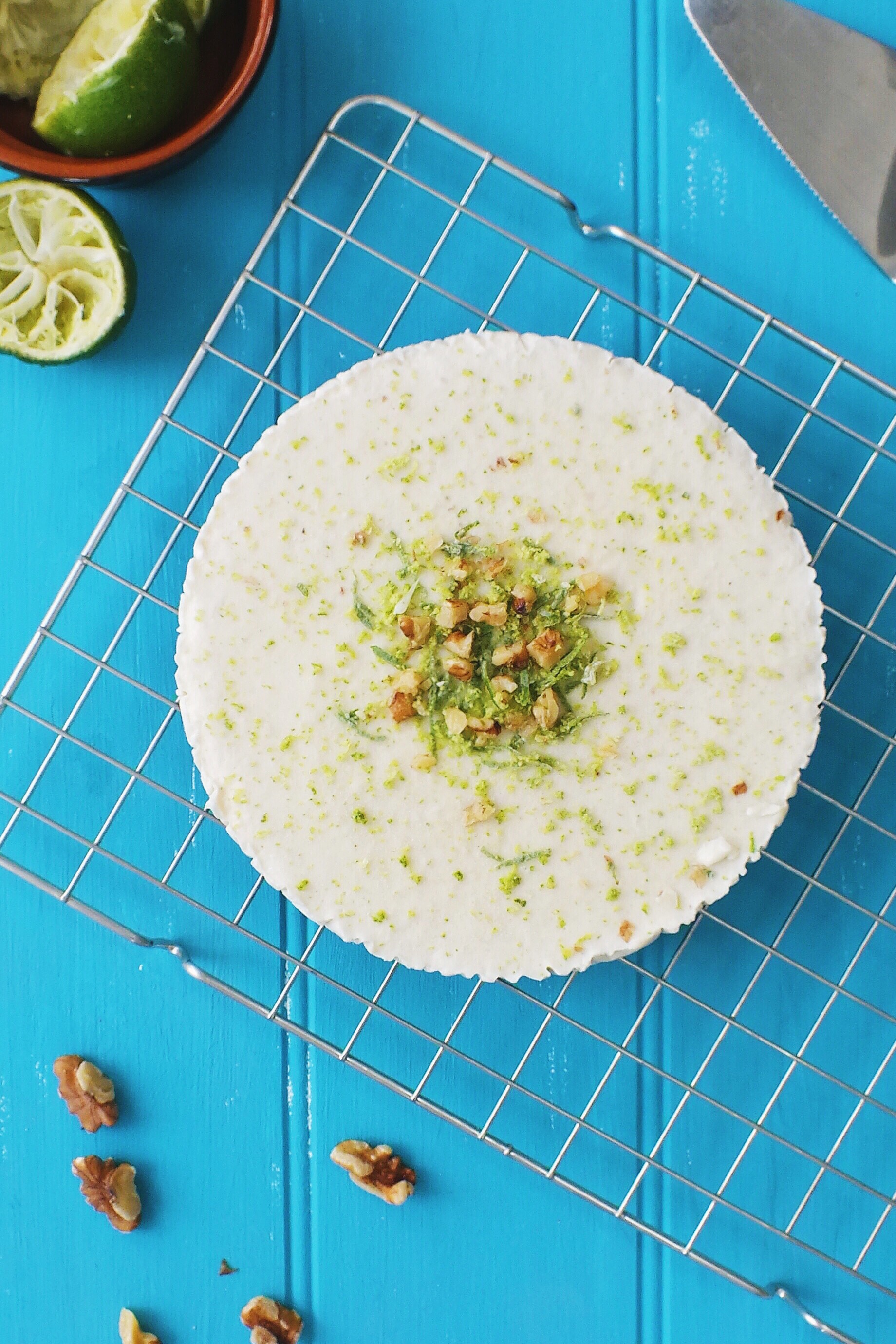 This post was originally published in April 2014. It has been updated in the text above and in the recipe below, to make it completely low-FODMAP (no dates!) and taste even better. 
Key Lime Raw Cheesecake
Author:
Prep time:
Cook time:
Total time:
No sugar overload and no dairy, this key lime raw cheesecake recipe uses whole, raw, low-FODMAP foods, to make the most delicious and nourishing treat.
1 1/4 cup mix of raw pecans, brazil nuts and walnuts (soaked overnight or for at least 5 hours)
1/4 small ripe banana
1/2 tsp sea salt
1 1/2 cups raw macadamia nuts (soaked overnight or for at least 5 hours)
1/2 cup almond milk
1/2 cup lime juice
8 tbsp organic maple syrup
1 tsp organic vanilla extract
8 tbsp organic coconut oil
Chopped nuts and zest of 1 lime to serve
Place your soaked mixed nuts into a food processor, pulsing until they form a coarse meal.
Add 2 tbsp coconut oil, 2 tbsp maple syrup, vanilla extract and salt and process again, before adding 1/4 ripe banana and processing until the mixture becomes sticky.
Scoop out the mix and spread over the bottom of a lined cheesecake pan, and press down firmly.
Keep the base in the freezer to harden while you prepare the filling.
Place the soaked macadamia nuts, almond milk, lime juice, 6 tbsp maple syrup, vanilla extract and 6 tbsp coconut oil into a powerful blender and blend until smooth and creamy.
Remove the cheesecake pan from the freezer and pour the filling on top of the crust, using the back of a spoon to ensure an even top.
Return the cheesecake pan back to the freezer for approximately 2 – 3 hours or until firm.
To serve: remove the cheesecake from the freezer and let sit at room temperature for 5 – 10 minutes to thaw slightly to get a creamy consistency closer to that of regular cheesecake.
Garnish with whatever toppings you like – try crushed walnuts and lime zest, shredded coconut, or lime wedges.
Enjoy!