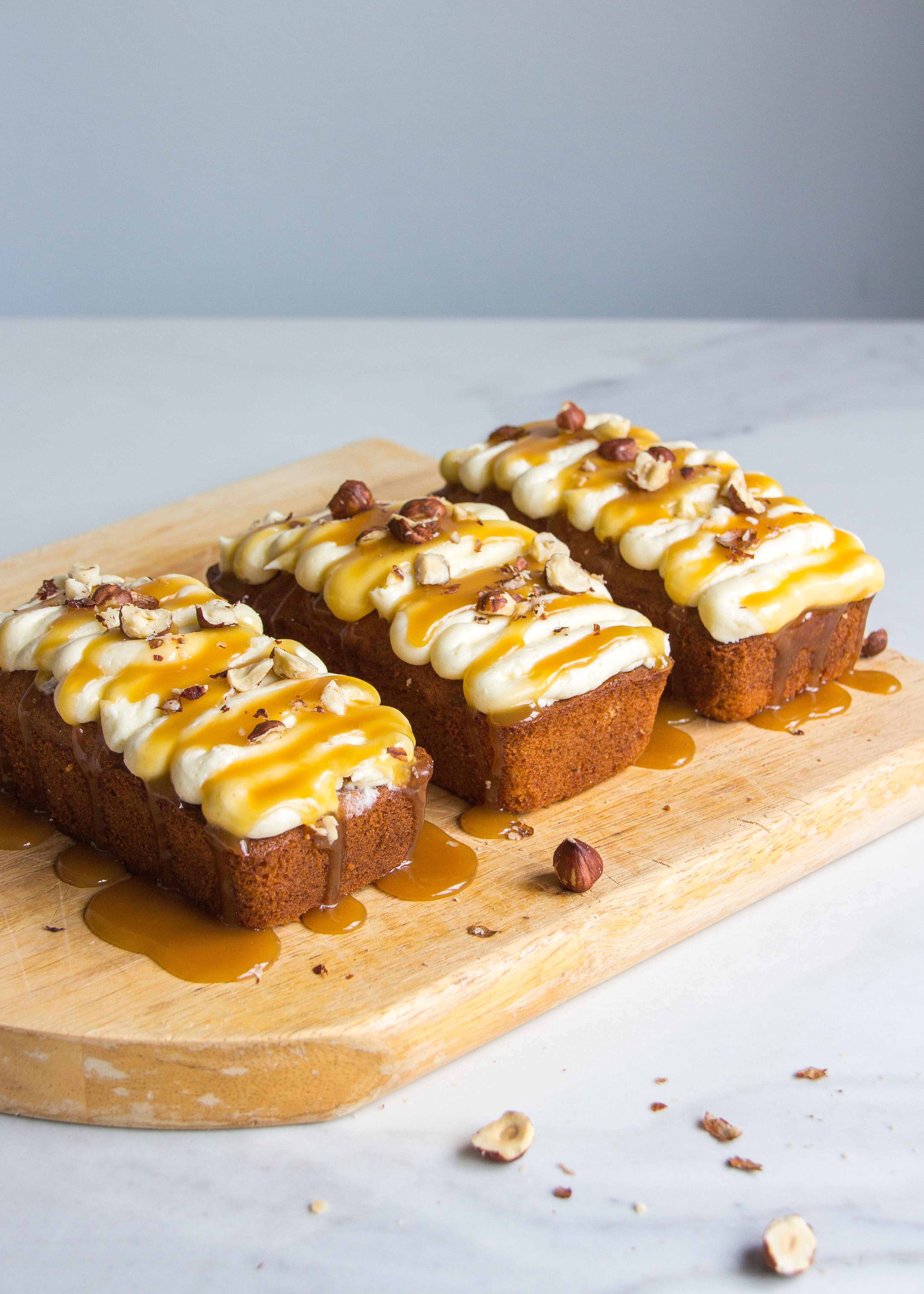 Lightly spiced sponge, fluffy vanilla buttercream, a generous drizzle of salted caramel, all finished off with crushed hazelnuts. This low FODMAP cake recipe is a decadent one, but with the dark nights drawing in and autumn in full swing, it's a dream to curl up on the sofa with and perfect to rustle up for a celebration.
So what are you celebrating this week?
Me?
One – I'm writing this sat amongst boxes and various shrubbery, because we've just moved house! Hurrah! One of the best parts about the house is that we have an actual dining space. A place we can gather round, eat together and more importantly I can shoot lots of tasty food for you guys…
Two – In the run up to Christmas mulled wine is acceptable at all hours of the day
Three – Oh yeah, and my cookbook, The FODMAP Friendly Kitchen, is out in America and Canada today! Wahooo! After being pushed back a few weeks due to demand (thank you!) you can now find it on AMAZON  & BOOKS A MILLION  & BARNES & NOBLE in the US and AMAZON  & INDIGO in Canada – as well as in all other good book stores! The BIGGEST thank you to all who helped make it happen!
So moving on to the recipe. I know what you're thinking: this recipe looks a little longgg. But fear not my friends, because there are three really simple stages that come together to make something magical: spiced cake, vanilla buttercream and salted caramel sauce. You can make the buttercream and sauce while the cakes are baking and cooling so you're not waiting around. And if you fancy skipping one of the elements please feel free. Except maybe the cake. That bit's pretty essential for this recipe and I promise it tastes really, really good.
This low FODMAP cake recipe makes enough batter to fill three mini loaf tins, or an 8″ round cake tin. You could also double the quantities for a layer cake. Great for a family get together such as Thanksgiving, it's got a real autumnal feel and that salted caramel sauce.. mm mmm mmmm *insert sassy lady here*. The recipe makes more sauce than you'll need for the cakes but that's not a bad thing. Keep in the fridge and pour liberally over pancakes, puddings or fruit – or whatever takes your fancy.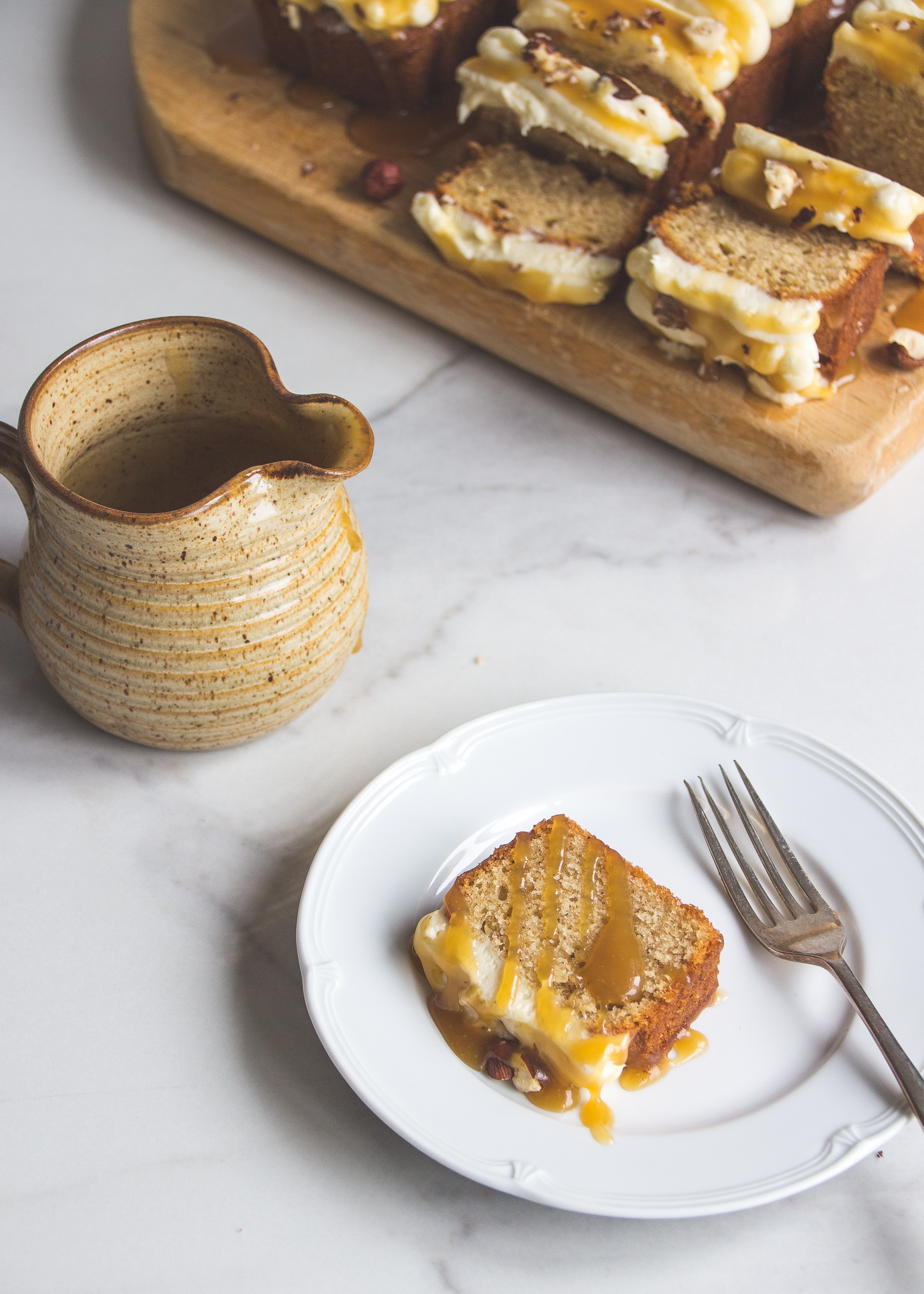 SPICED SALTED CARAMEL MINI LOAVES
Cook time:
Total time:
This low FODMAP spiced cake recipe makes enough batter to fill three mini loaf tins, or an 8″ round cake tin.
For the spiced cake: 150g butter
150g light soft brown sugar
3 medium eggs
150g Doves Farm gluten free plain flour
2 teaspoons baking powder
1/2 teaspoon ground cinnamon
1/4 teaspoon nutmeg
1/4 teaspoon allspice
1/8 teaspoon cloves
5 tablespoons almond milk
½ teaspoon vanilla extract
For the buttercream: 140g butter, softened
280g icing sugar, sifted
1-2 tablespoon almond milk
1/4 teaspoon vanilla extract
For the caramel sauce: 75g unsalted butter
50g soft light brown sugar
50g caster sugar
50g maple syrup
125ml lactose free cream
1-1 1/2 teaspoons fleur de sel
For the topping: handful of hazelnuts, chopped or lightly crushed
Preheat the oven to 200C/fan 180C/gas 6. Grease and line your cake tins. Put to one side.
Start by making the cake.
Put the butter and sugar into a mixing bowl and cream together until soft and fluffy.
In a separate bowl, sift together the flour, spices and baking powder.
Beat the eggs into the creamed butter and sugar mixture, one at a time, ensuring each is well incorporated before adding the next. If the mixture appears to curdle slightly, add a spoonful of the flour mixture and mix a little more.
Add the flour mixture and fold in with a large metal spoon.
Pour in the milk and vanilla extract and fold together once more – you're looking for a dropping consistency.
Pour the cake mixture into your prepared tins and level off with a spatula.
Bake for 20-25 minutes, or until the sponges spring back when touched and a skewer inserted comes out clean.
While the cakes are baking, make the caramel sauce.
Melt the butter, sugars and maple syrup in a small heavy based pan and let simmer for 3 minutes, swirling every now and again to avoid the sugar getting stuck.
Pour in the cream and half a teaspoon of fleur de sel salt and swirl again. Stir with a wooden spoon and taste (careful it will be hot!) to see if you want more salt, before letting it cook for another minute on the stove. Pour into a jug and allow to cool.
Once the cakes are cooked, leave them in their tins for a few minutes, then carefully tip out on to a wire rack.
While the cakes are cooling, make the buttercream.
In a large bowl, beat the butter until soft and pale in colour. Add half of the icing sugar and beat until smooth.
Add the remaining icing sugar and beat the mixture again until creamy and smooth. Beat in a tablespoon or so of milk to loosen the mixture.
To assemble your cakes, pipe or spoon the buttercream on to the cakes and drizzle over the salted caramel. Tumble over chopped hazelnuts to finish.
Salted caramel sauce adapted from Nigella
P.S. I love seeing what you guys are making from the blog and book – it really does make me so happy – so please keep tagging me with #shecanteatwhat and #fodmapfriendlykitchen!