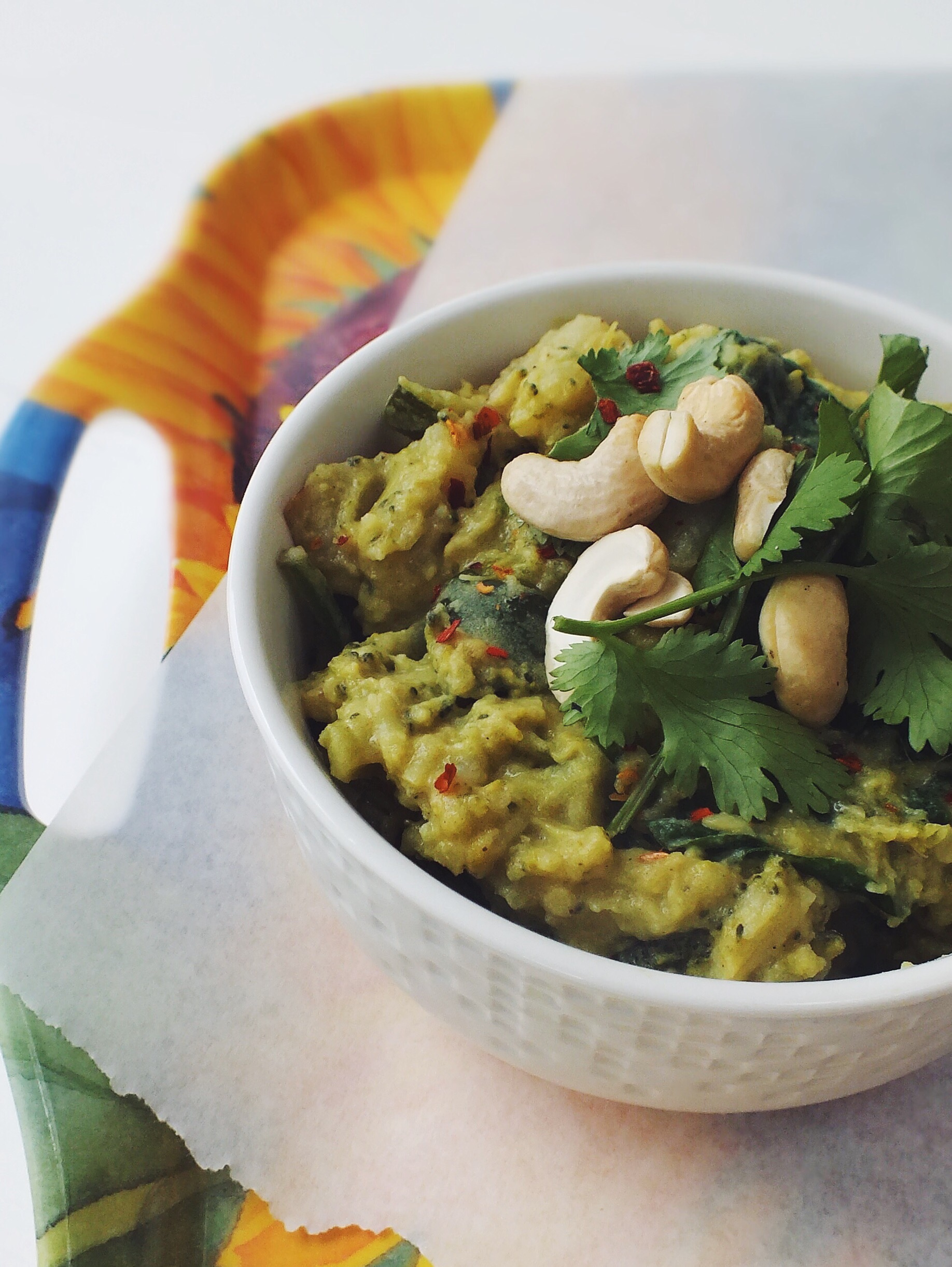 I could not tell you how happy I was when this recipe worked. A CURRY I COULD EAT! An actual low FODMAP curry that tasted incredible. It was a very very happy Friday.
I ate it cold for breakfast the next day. Twice.
Such a simple, mellow recipe, this is so easy to adapt to your own tastes/intolerances. With a base of ginger and spice, tonnes of fresh veg and a creamy coconut milk sauce it requires barely any prep time and you can leave it alone on the hob while you get on with other things. Come back 15-20 minutes later and you've got yourself the perfect throw together weeknight dinner.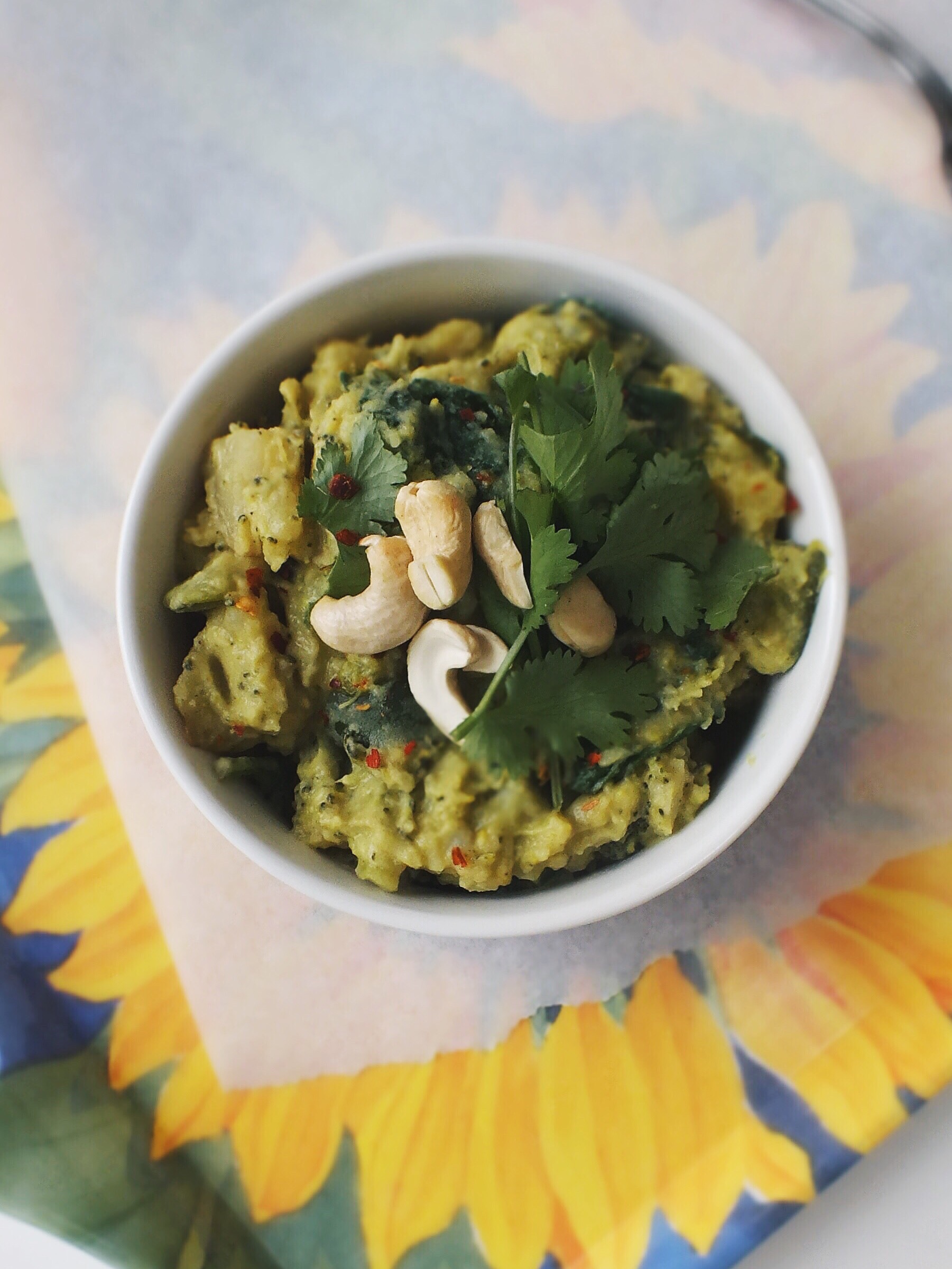 One of the biggest issues I have being on the low FODMAP diet is the struggle to create a sauce suitable within such strict guidelines, and those issues just triple when it comes to cooking curry. I've searched high and low for a curry paste that contains no onion or garlic but have had no success. This recipe doesn't contain either, and I feared it would be bland – far from it, it's is packed with flavour from the spices and the coconut milk. Did I also mention it's A CURRY US LOW-FODMAPPERS CAN EAT!
I'm conscious this recipe calls for cashew nuts to serve – I absolutely love cashews and can tolerate a small amount, but just ten nuts does contain high amounts of Oligos- GOS and fructans, so  if you know they bother your tummy or are on a very strict low FODMAP diet, just swap them for pine nuts or pumpkin seeds or omit altogether. Promise it will taste just as good.
I could rave on about this comforting veggie based meal for hours but I'll save you from that – just scroll down for the recipe and get excited.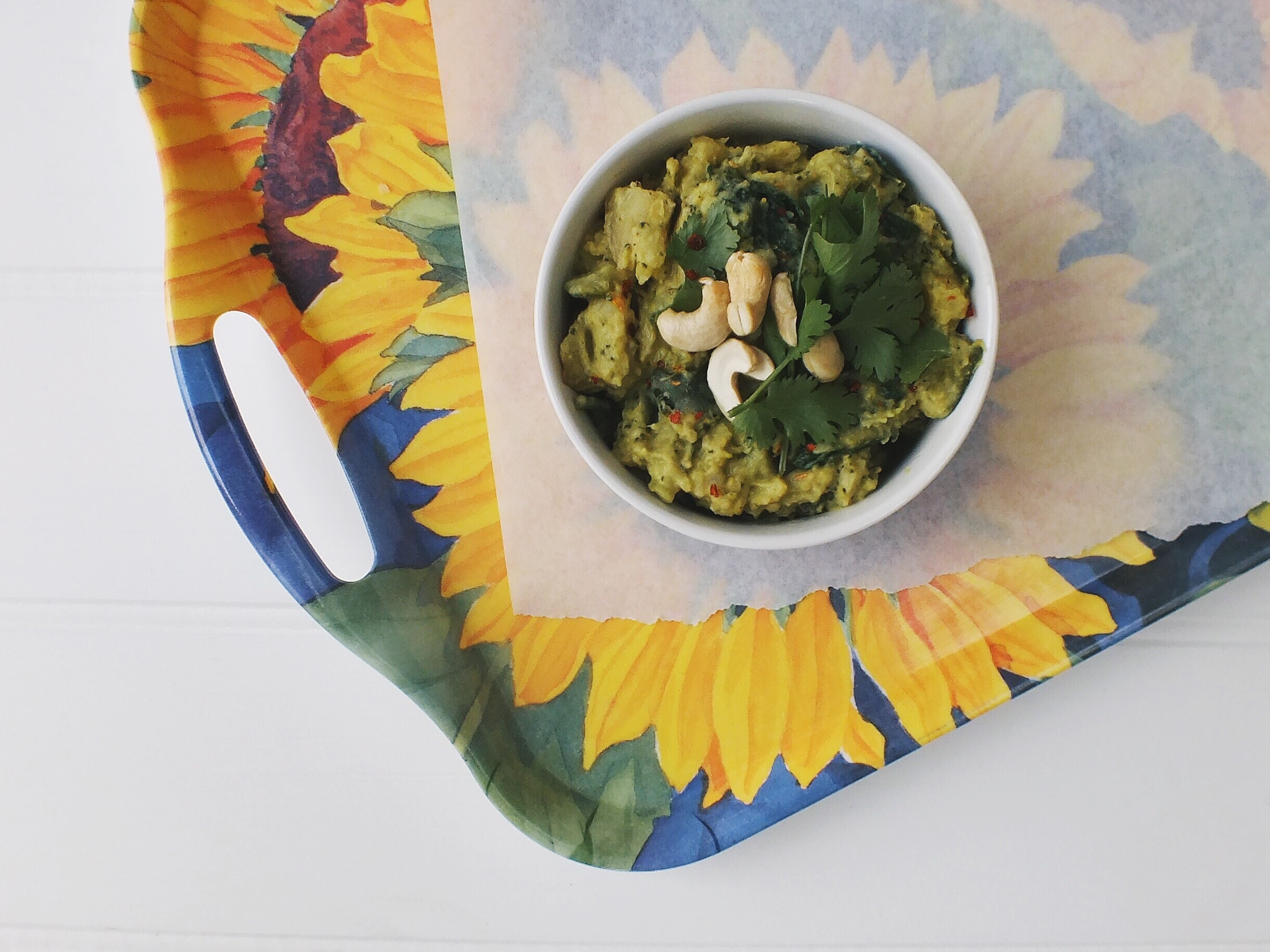 You can serve this versatile low FODMAP curry with brown rice or quinoa, or gluten free naan. You can add prawns or meat if you're not vegan or top with a splash of yogurt if you like. Use any veggies that are in season or that you have available at the time and make it as spicy or not as you want. Adapt the recipe to suit you.
Vegan Coconut Green Curry
Prep time:
Cook time:
Total time:
A no-effort weekday dinner staple: creamy, nutritious Low FODMAP Vegan Coconut Green Curry.
2 tsp coconut oil (or garlic infused oil if you can tolerate it)
1 inch chunk ginger, peeled
2 medium potatoes
1 broccoli
1 courgette
250g spinach
240ml coconut milk
240ml water
1 tsp cumin
2 tsp ground turmeric
1/2 tsp chilli flakes
1/2 a lime, juice
Handful of cashews (optional)
Fresh coriander (optional)
Heat up the coconut oil in a large sauce pan on medium heat.
Peel and chop the ginger and add to the pan together with the turmeric and cumin, before stirring and cooking for a few minutes until the ginger is soft.
Meanwhile, peel and cut the potato in 1 inch cubes before adding to the pan and letting sauté for a few minutes. You can add a splash of water or more oil if the spices/potato start to stick to the bottom of the pan.
Cut broccoli into florets and courgette into small chunks and add to the pan together with the coconut milk and equivalent amount of water.
Cook until the potato cubes are soft (about 15-20 minutes depending on size).
Remove from the heat, add spinach, chilli flakes and a squeeze of lime and give it a stir.
Add more salt and spices if needed before topping with cashews and fresh coriander.
Inspiration for this low-FODMAP recipe came from Green Kitchen Stories amazing Sweet Potato, Ginger, Spinach & Tofu Curry.