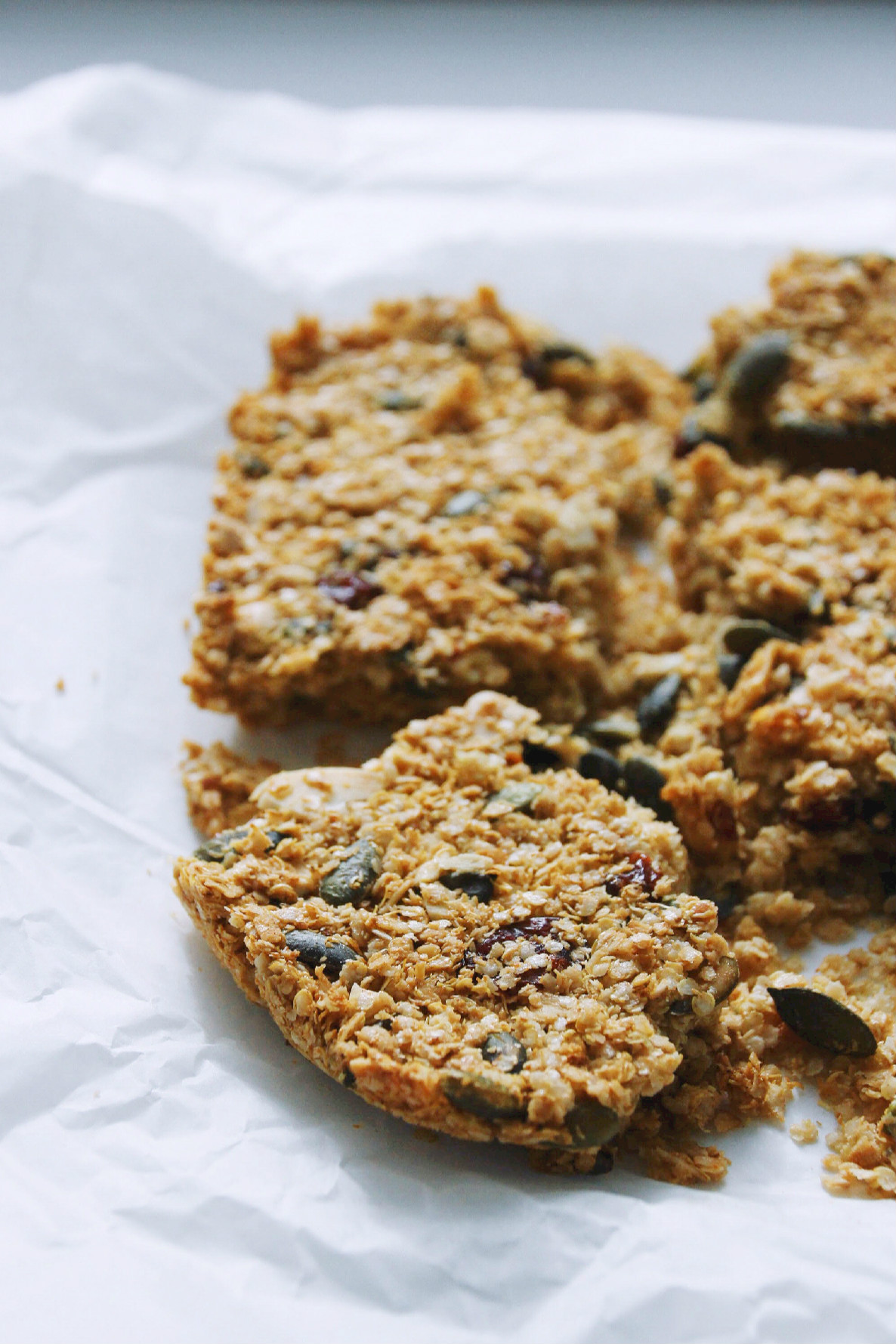 Last week I O.D. on oats. I never ever thought it would happen. I mean I LOVE oats. Breakfast, lunch, dinner – they go with everything and I count a warm, creamy bowl of porridge as one of those meals that can instantly put the world to rights. But we needed a break, me and oats. Maybe not too much of a break as they still feature in the recipe below… (only a small amount!) –  but some time apart to rekindle the love.
With miserable weather last week however I was still desperate to make a warm, filling, healthy and nourishing breakfast recipe or snack for the week ahead and needed a delicious and different alternative. In stepped the incredible quinoa flake.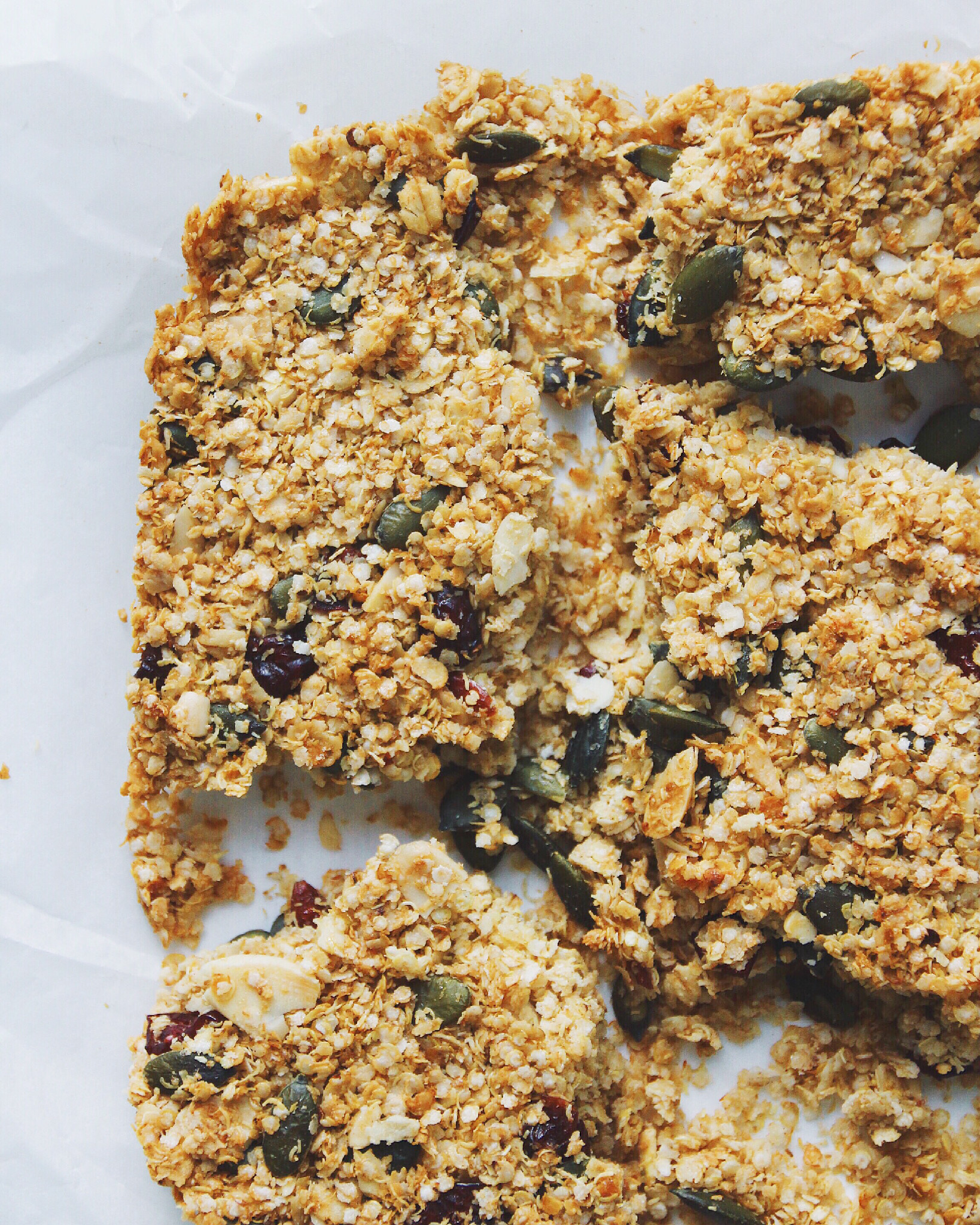 I'm in love.
If you haven't tried cooking with quinoa flakes yet – go out and buy some! I promise you won't regret it. They're simply pressed quinoa, providing you with all the healthy benefits of quinoa but with a gorgeous breakfast texture and a quicker cooking time. And alongside giving this low FODMAP brittle the most incredible texture, they're an excellent source of plant-based protein and dietary fibers and a great gluten free and low FODMAP breakfast or snack alternative.
This healthy brittle recipe might just have topped my favourite breakfast food list; both crunchy and soft, with delicate flakes of almonds, bites of pumpkin seed and gems of dried cranberry. Plus once baked (with your house smelling amazing), breaking it apart into bars, bites or clusters is quite possibly the most satisfying thing you'll ever do on a Monday morning.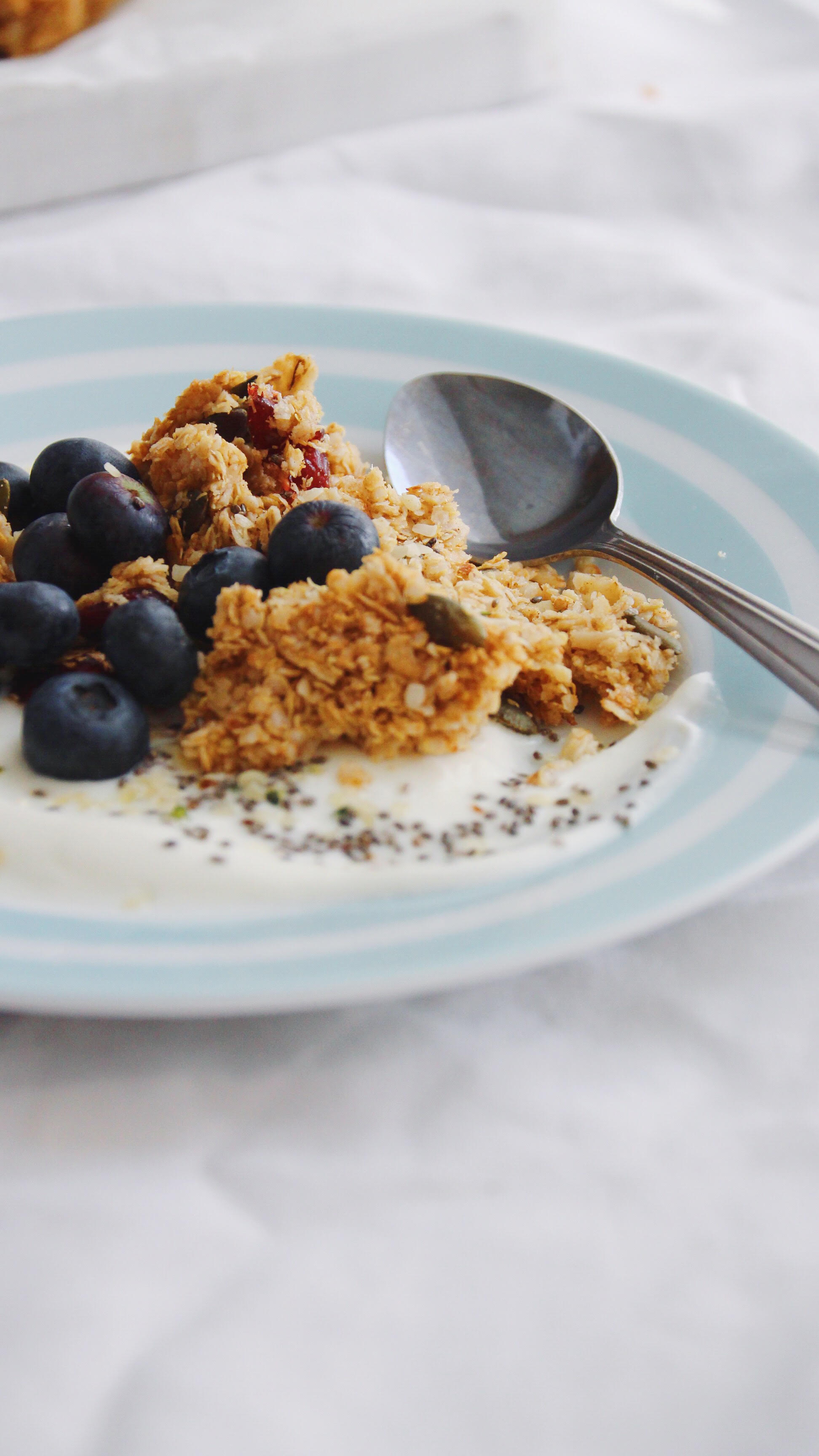 I've said it so many times before, but when it comes to IBS I can't stress enough the importance of making healthy, nourishing, clever choices at breakfast to set you and your tummy up for the day.
This low FODMAP breakfast brittle couldn't be any simpler and perfect for those with food intolerances, it can be so easily adapted to suit individuals own tastes or tolerances. If you can't tolerate any dried fruit at all, or want the recipe to be fructose-free simply omit the cranberries or sub them for another ingredient. If you find the recipe too sweet for breakfast, use less maple syrup. Play around with any combination of your favourite flavours and adapt it to suit you!
I hope you love it. Post in the comments below and let me know what you think, or if you have another favourite healthy brittle of granola recipe you'd like to share. Plus don't forget to share your versions on Instagram with my hashtag #shecanteatwhat !
ALMOND AND PUMPKIN SEED QUINOA BREAKFAST BRITTLE
Both crunchy and soft, with delicate flakes of almonds, bites of pumpkin seed and gems of dried cranberry, this healthy low FODMAP breakfast brittle recipe might just be your new favourite.
150g quinoa flakes
50g gluten free oats
40g dried cranberries
40g pumpkin seeds
25g flaked almonds
1/2 tsp cinnamon
60ml coconut oil
80ml maple syrup
1 tsp vanilla extract
1/2 tsp sea salt
Preheat your oven to 150C/300F.
Line a tin with baking paper, extending a little over the sides.
Place all dry ingredients into a large bowl and mix together.
Place the coconut oil, maple syrup and salt into a small saucepan and warm over a gentle heat until liquid and combined.
Pour the liquid mixture over the dry ingredients and mix thoroughly until evenly coated.
Turn out into your lined baking tray, pressing down with the back of your spoon – ensure the mixture reaches the edges of the tin and is smooth on top.
Bake for approximately 40 minutes or until fragrant and golden all over.
Remove from the oven and cool, before gently breaking into pieces.
Store airtight for 4-5 days.