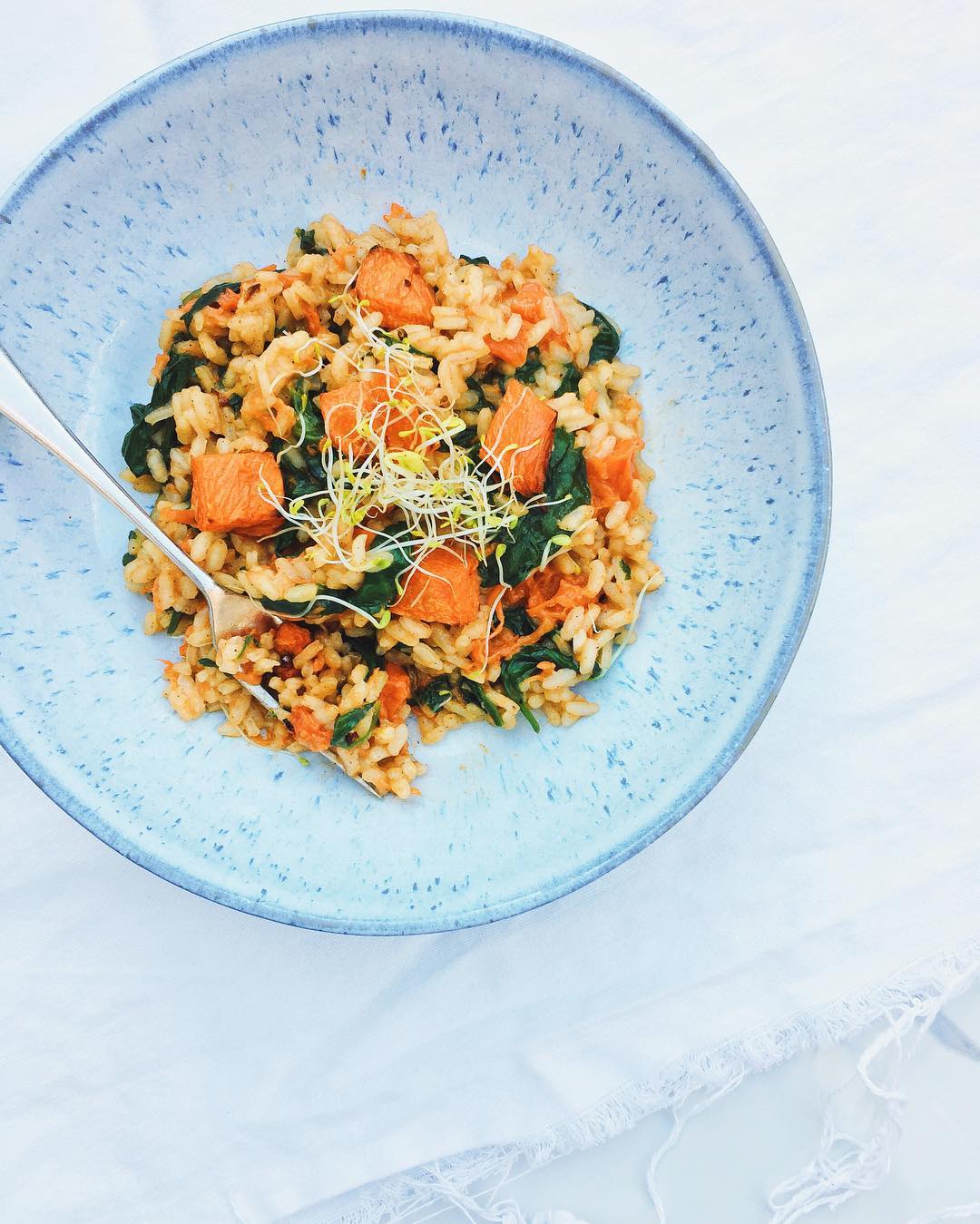 Melt-in-the-mouth risotto is the ultimate comfort food. A big batch made up on a Sunday night is a delicious way to get you through the week.
We have a tendency in the UK to associate pumpkins purely with Halloween, but they're a great and inexpensive source of vitamins and fibre and in season between October and December. This recipe uses sweet, caramelised, roasted pumpkin, which when stirred in to the risotto, begin to break down, adding an even creamier texture.
As both garlic and onions are off the table, I've grown very fond of spice blends to add big punches of flavour when cooking. Baharat is a spice mixture or blend used in Middle Eastern cuisine and is the Arabic word for 'spices'. Aromatic and zesty, it adds another delicious level of FODMAP-friendly flavour to the dish. To save time, I picked my blend up in a supermarket, but if you want to make your own spice blend, I've found this recipe on Food.com delicious.
Once you get a feel for the basic steps of making a risotto – toasting the rice, and adding in the broth a scoop at a time, a whole world of dishes are on your doorstep. And they take no more than a 30 minutes to make.
Scoop into a deep bowl, add a sprinkle of microgreens if you like, for an extra bit of texture, and get cosy.
Baharat spiced pumpkin risotto
Author:
This is a deliciously simple risotto, making the most of in season pumpkin.
Roughly 300g pumpkin
2 tbsp olive oil
2 tbsp baharat spice mix
50g lactose free butter
1.2l FODMAP-friendly vegetable stock (hot water works just as well)
400g risotto rice
150ml white wine
200g spinach
Sea salt and cracked black pepper, to taste
A handful of microgreens to serve
Peel, de-skin and cut the pumpkin into small chunks. Add the pumpkin to a bowl, drizzle over the olive oil, add the spice mix and mix together, ensuring all of the pumpkin is coated. Spread the pumpkin in a single layer on an oven tray lined with baking paper. Bake for 15-20 minutes, or until the pumpkin is golden and tender. Put to one side.
While the pumpkin is cooking, place a large saucepan over a medium heat and melt the butter.
Add the rice to the pan and stir into the butter, making sure all of the grains are coated. Cook for one minute.
Add the wine a bubble for a minute.
Add stock or hot water a ladleful at a time, ensuring each one is absorbed before adding the next and stir regularly.
With the last ladleful, add the roasted pumpkin and the spinach and stir them through.
Cook for a couple of minutes, or until all of the spinach is wilted. Cover and leave to rest for a few minutes.
Season well and serve a good scoop of risotto topped with some microgreens and a drizzle of extra virgin olive oil, if you wish.
PS. I've been hard at work for months now on my cookbook and I can't wait to show you the final product! All promo stuff for the book on Twitter and Instagram is tagged with #fodmapfriendlykitchen, so please follow it's journey and do let me know what you think.