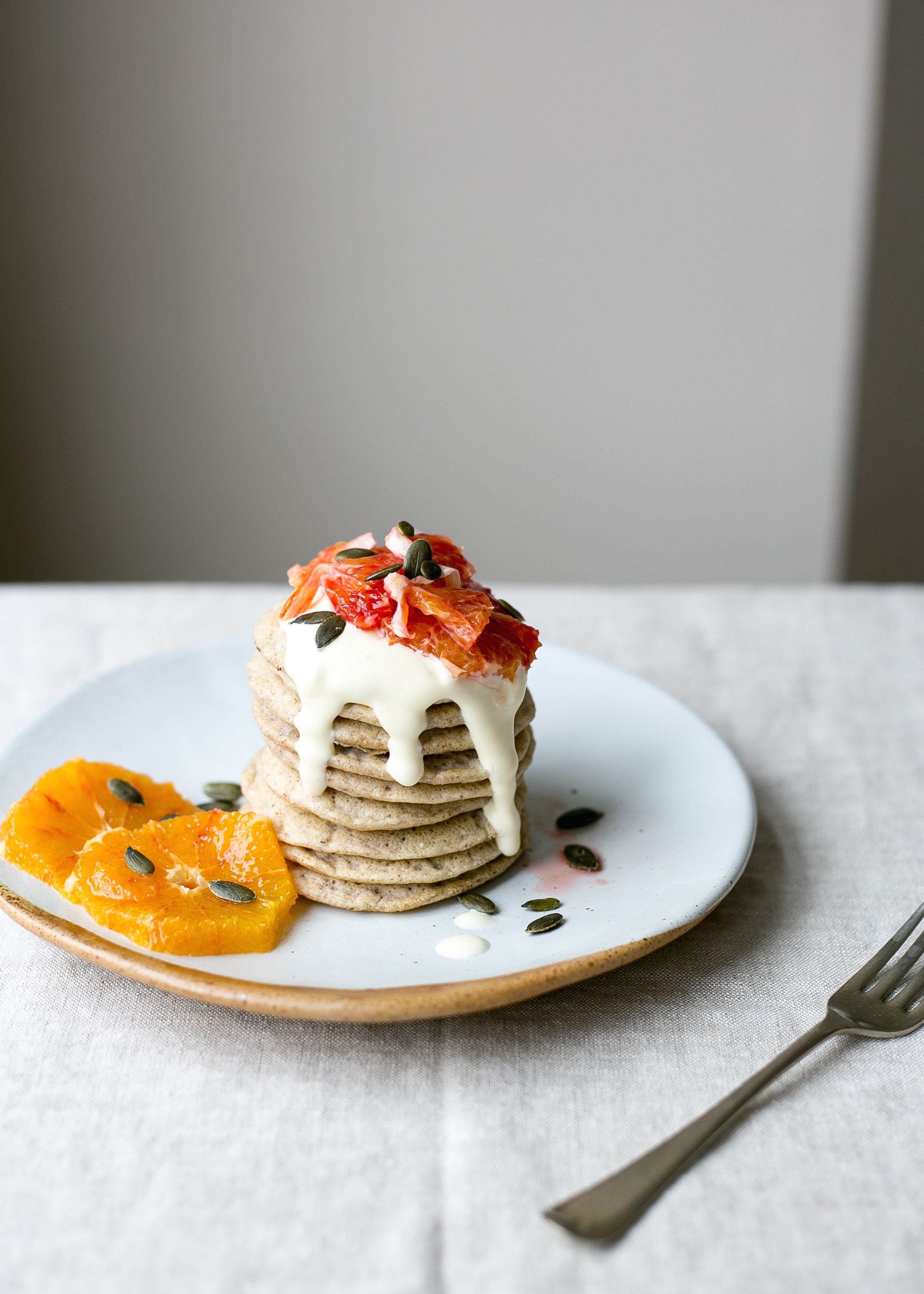 There's something about cooking (and eating) pancakes that instantly gives me all the feels.
They're a dish often reserved for a special occasion; a morning when you've got a bit more time to spare or a weekend when you're gathered together with friends and family and need a breakfast to feed a crowd. For me, they evoke memories, both of calm: reading the Sunday papers (well the pull out mags about travel and food) whilst drinking strong coffee and of wonderful chaos: loud, chatty voices, battling over the kitchen table, reminiscing the night before.
I love that they can be made in all the different ways. Thin ones, fat ones, big ones, small ones. You can serve them with frankly anything that takes your fancy. And there's something quite therapeutic about working your way through the batter – I guarantee I won't get that perfect circle until the last one, but I'll damn well try to make 'em pretty (top tip: small and 'lots' is always better for this).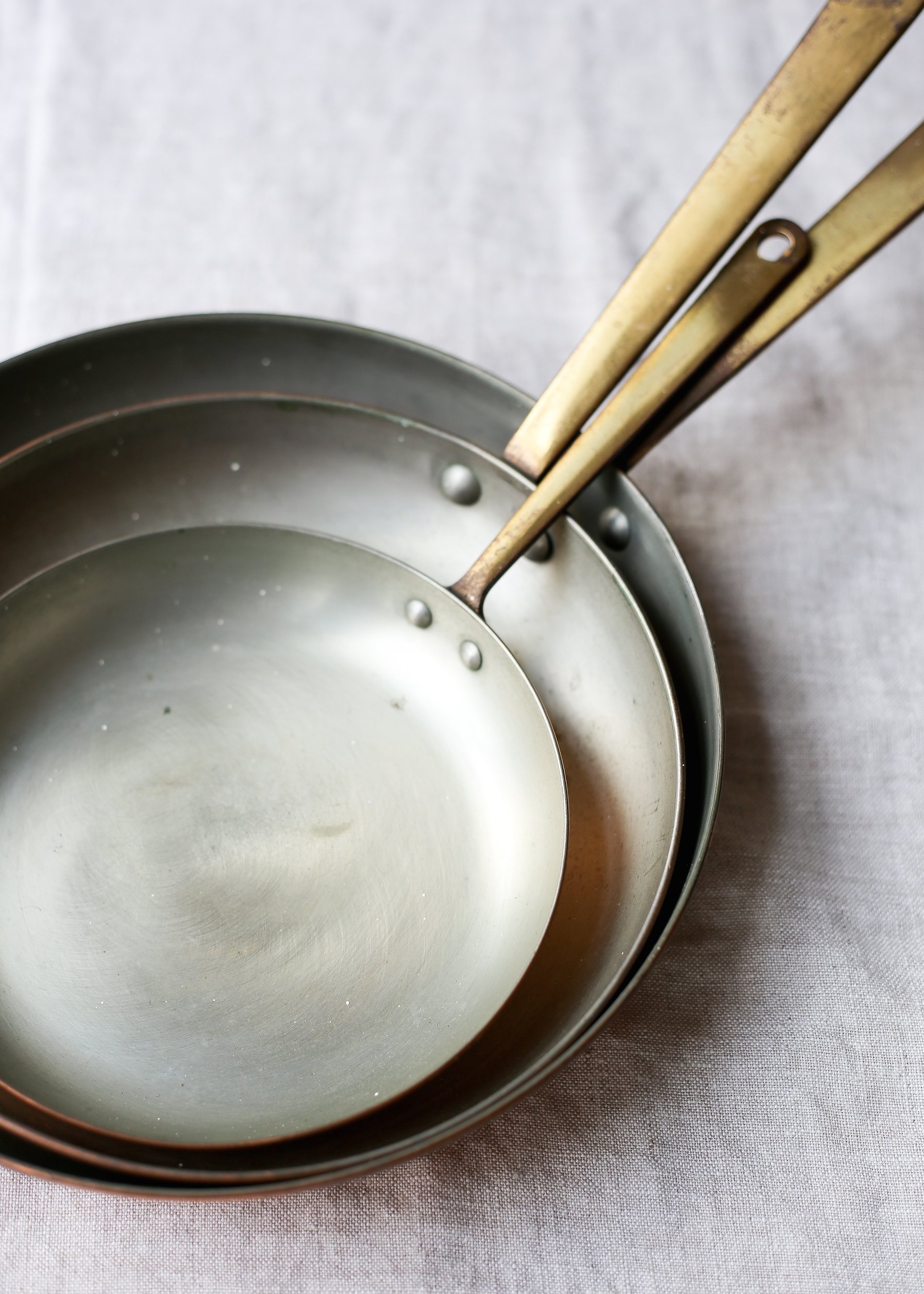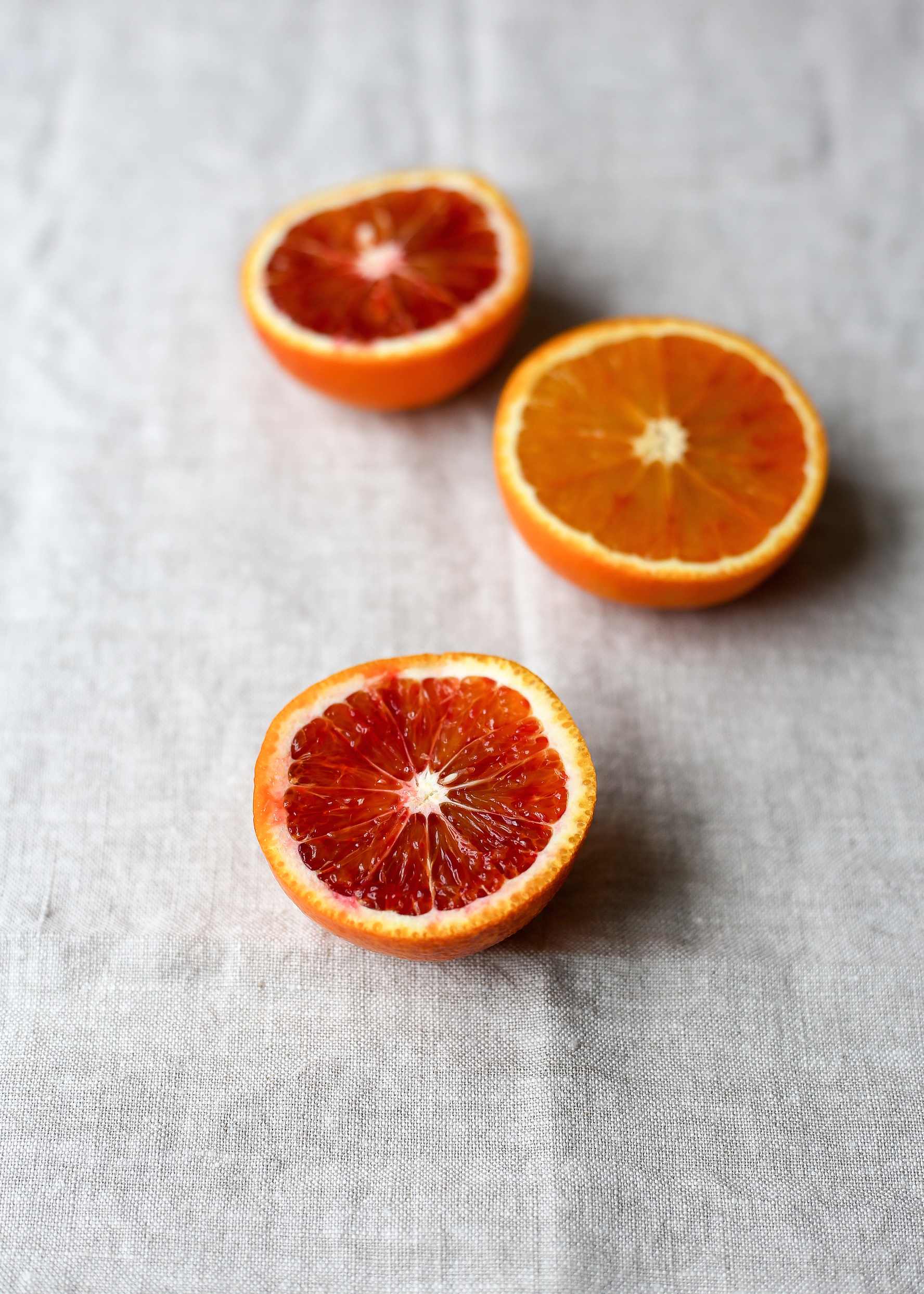 These FODMAP friendly pancakes in particular are made with a blend of gluten free plain flour (Doves Farm did I ever mention you are wonderful) and whole grain buckwheat flour. You need the plain flour blend for the 'fluff' and to give lightness, while the buckwheat adds a deep nutty flavour and delicious texture to the final result.
Beautiful sweet blood oranges with deep orange and red flesh are currently in season and make a delicious pairing to the nutty buckwheat especially. At their sweetest in January and February, I love that this sunny fruit is at its best during the bleakest of Winter months in the UK. (FYI, the depth of colour depends on light, temperature and variety and these Italian beauties in particular were from Paul Wheeler in Borough Market – 3 for £1).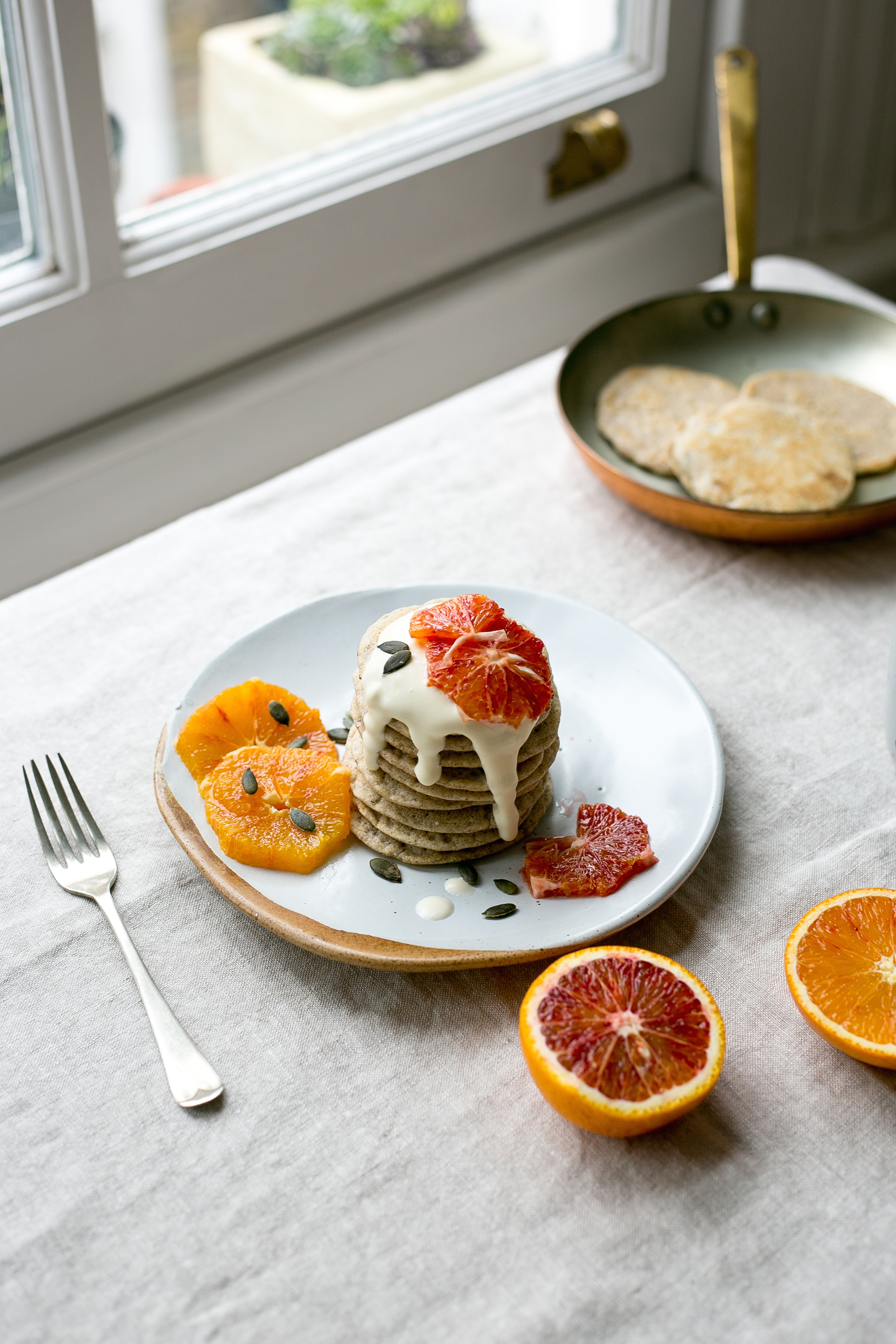 Finish with spoonfuls of thick Greek yogurt (use lactose free plain if needed to keep things lower in FODMAPs) and a scattering of pumpkin seeds (maybe a drizzle of maple syrup too? mmm). These FODMAP friendly pancakes are really simple to make and just so very delicious, if I do say so myself.
Happy flipping guys. PS. Leftover batter is OK kept covered in the fridge for another day or so – or halve the ingredients for less!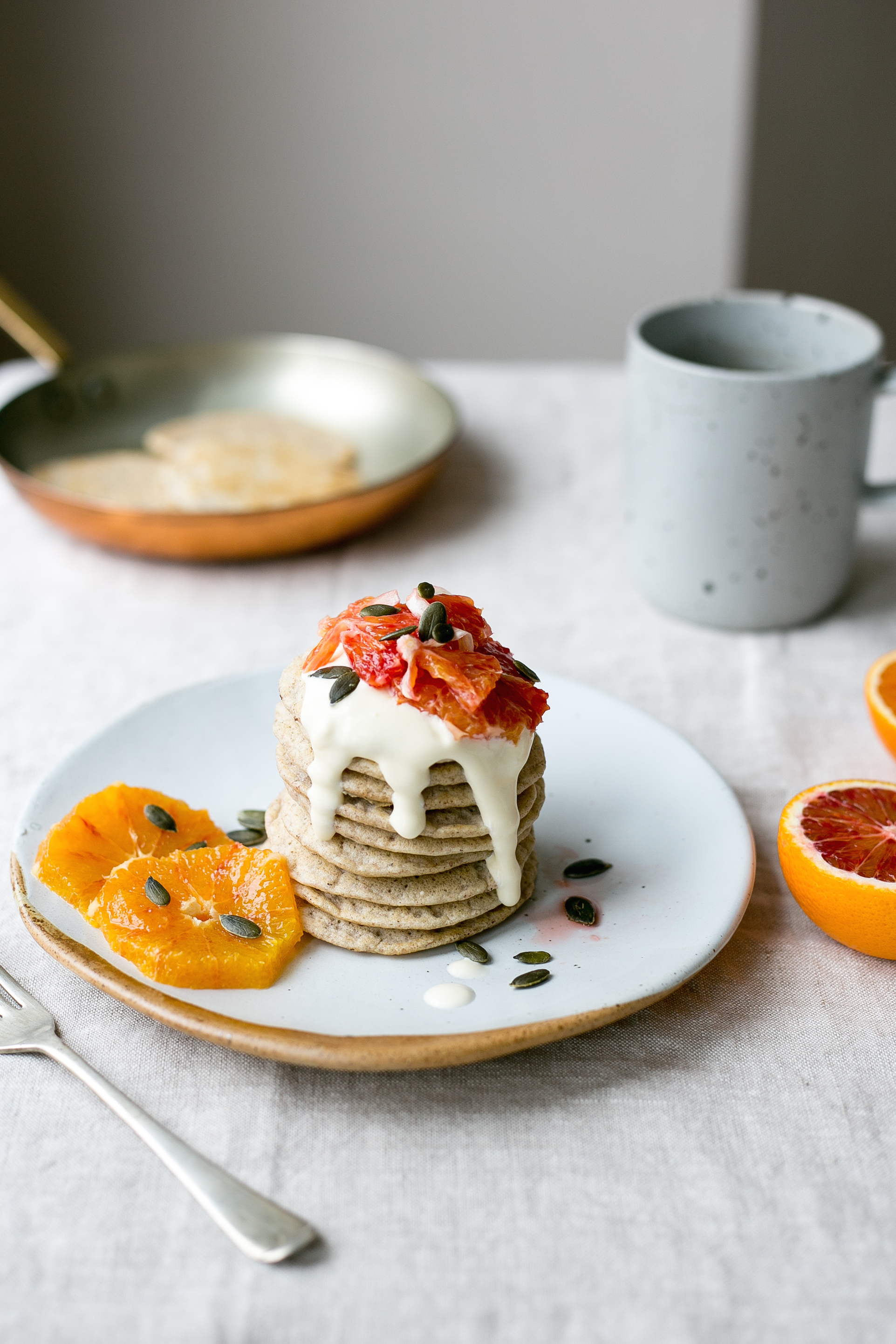 BUCKWHEAT PANCAKES WITH YOGURT & BLOOD ORANGE
Serves:
15-20 small pancakes
Fluffy, nutty, gluten free and FODMAP friendly pancakes that are perfect for a crowd and a delicious way to start your day. If blood oranges aren't in season anymore, just use oranges instead.
2-3 blood oranges
150g gluten free plain flour (I use Doves Farm)
75g buckwheat flour
2½ teaspoons baking powder
pinch of salt
1 tablespoon caster sugar
2 large eggs, beaten
30g butter, melted and cooled
300 millilitres almond milk
butter for frying
Greek yogurt to serve (you can use lactose free if lactose and your tum aren't friends)
Carefully remove the skin and pith from the oranges and slice into rounds or segments. Put to one side, or on the table ready to serve.
Add the flours, baking powder, salt and sugar to a large bowl. Make a well in the centre and beat in the eggs, followed by the melted butter and milk. You're after a lovely smooth batter.
Transfer the mixture to a jug (it's much easier to pour the batter into a pan than ladle it in) and heat a little butter in a frying pan over a medium heat.
Pour in small amounts of the mixture to make round pancakes. As soon as the upper side of the pancakes start to bubble, flip them over cook for one or two minutes more, or until golden. Repeat with the remaining batter, keeping the pancakes warm on a plate covered with a clean tea towel or in a very low oven.
Serve with the sliced blood orange, spoonfuls of Greek yogurt and a handful of pumpkin seeds.
I love seeing what you guys have created – so please keep tagging me with #shecanteatwhat and #fodmapfriendlykitchen on social!