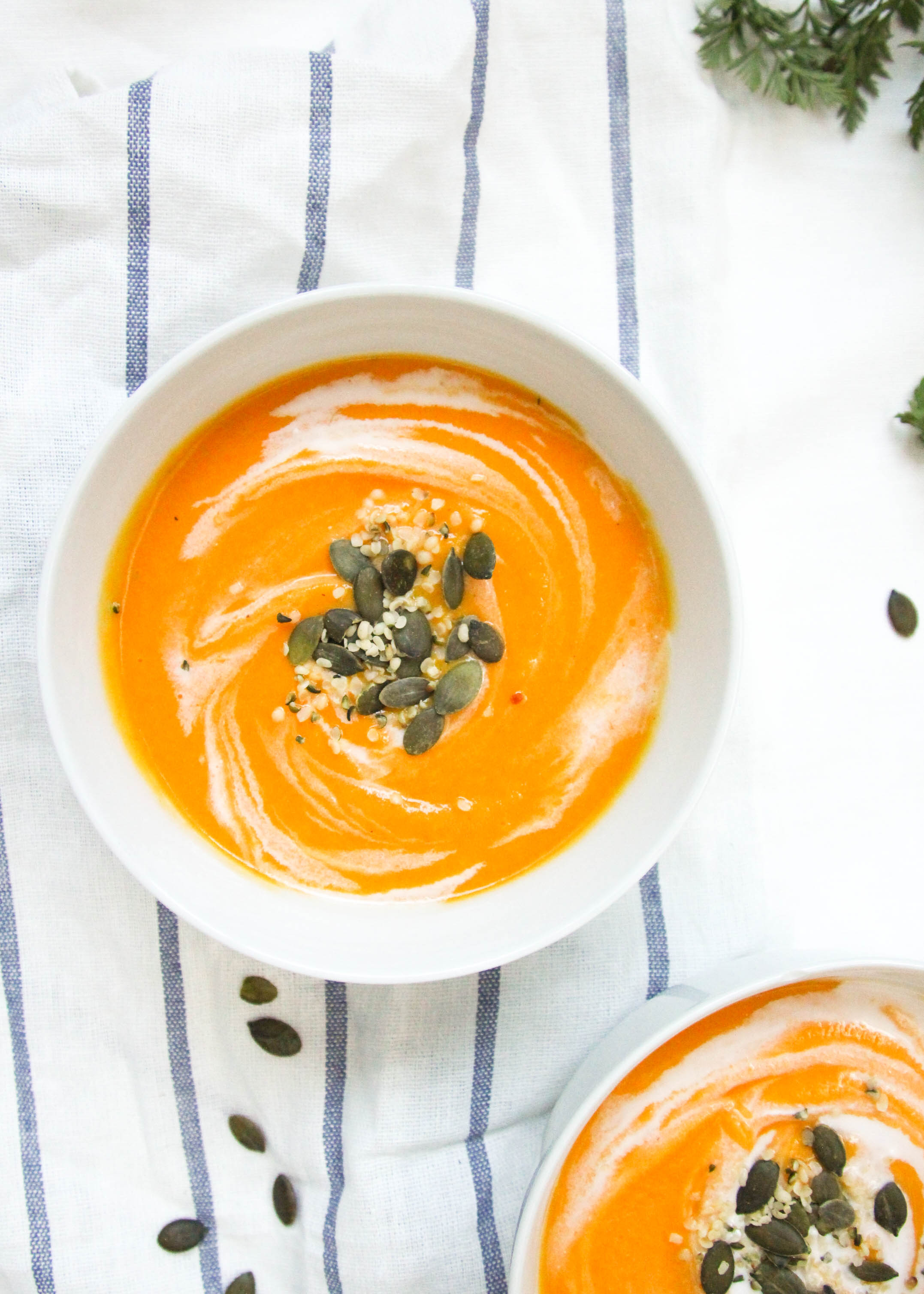 So I've been a little naughty and had a few weeks off blogging. But I've moved house, gone skiing, had a manic few weeks at work, completed a few big blog projects and am now just about getting used to living in London!
With everything so chaotic, I've needed quick, nutritious (and dare I say – cheap) dinners that I can make in big batches to keep me going as long as possible. Armed with a new food processor/smoothie maker for Christmas (thanks nan) I knew veg-filled soup was a good plan.
I'm going to put it out there and say this is the best low FODMAP soup I've EVER had. It's a big claim I know, but I really think you're going to agree.
Creamy, nutritious and warming (which is amazing right now when it's cold outside), it's packed with flavour and contains only five ingredients plus a few spices. Satisfying and bold – so you can make it for yourself AND others, without feeling like they're having to skimp on flavour because of you.
Super easy, incredibly healthy, vegan, gluten free and dairy free – each ingredient in this low FODMAP soup is real – no added crap, and you can adapt it to suit your tolerances.
And did I mention it only takes thirty minutes from start to finish? Always a bonus.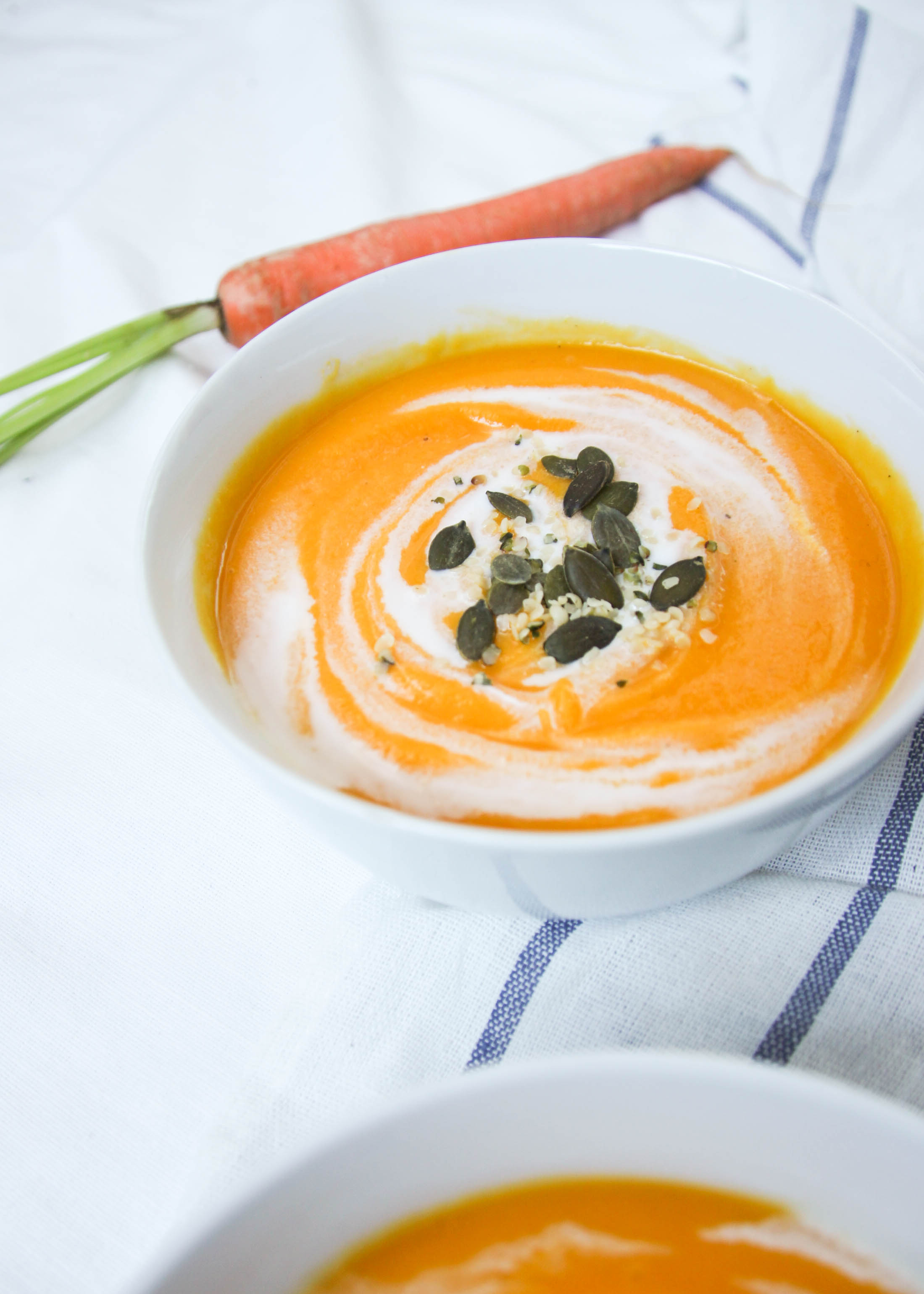 My mum was the one who taught me how to make low FODMAP soup. I remember getting frustrated in the supermarket that I couldn't eat a single product on the shelves and then coming home to find there weren't any recipes free from high FODMAP ingredients either. We stripped it back and just started blending cooked vegetables with water. It might have been verging on baby food but it made me realise veggies can taste so damn good on their own sometimes, you don't need all the fancy added ingredients.
I promise you won't miss the onion, or other high FODMAP ingredients such as celery and leek in this – the amazing flavour comes from the veggies themselves, the coconut milk and the turmeric and paprika. Make the recipe in big batches and have it as your new go-to lunch or a quick dinner when you need something filling plus it freezes so well – keep one or two portions for those days when you just need to eat something asap.
Top with another swirl of coconut milk, your favourite nuts and seeds or with a few chunks of fresh bread and get cosy. Incredibly quick, really nutritious, big batch food that's delicious any day of the week.
CARROT, COCONUT AND GINGER SOUP
Super easy, incredibly healthy, vegan, gluten free, dairy free AND low FODMAP, you can make this soup for yourself, friends and family without feeling like you've had to skimp on flavour.
8 carrots
4 parsnips
1 inch chunk of ginger
1 litre boiling water or FODMAP-friendly vegetable stock
4 tbsp coconut milk
1 tbsp apple cider vinegar
1 tsp turmeric
1 tbsp paprika
Sea salt and cracked black pepper, to taste
Toppings of choice, such as pumpkin or sunflower seeds
Peel the carrots, parsnips and ginger and chop into small chunks.
Place the vegetables and ginger in a pan and add the boiling water.
Add the turmeric, paprika, and salt and pepper and allow to simmer for 15-20 minutes or until vegetables are soft.
Once cooked, allow the mixture to cool before transferring into a blender.
Add the coconut milk and apple cider vinegar and blitz until smooth.
Pour into bowls and top with an extra swirl of coconut milk, a handful of pumpkin seeds and a handful of hemp seeds or any other toppings of choice.
I love to see your healthy recreations of my recipes! Keep tagging me on Instagram and Twitter with #shecanteatwhat so I can see the amazing things you create!