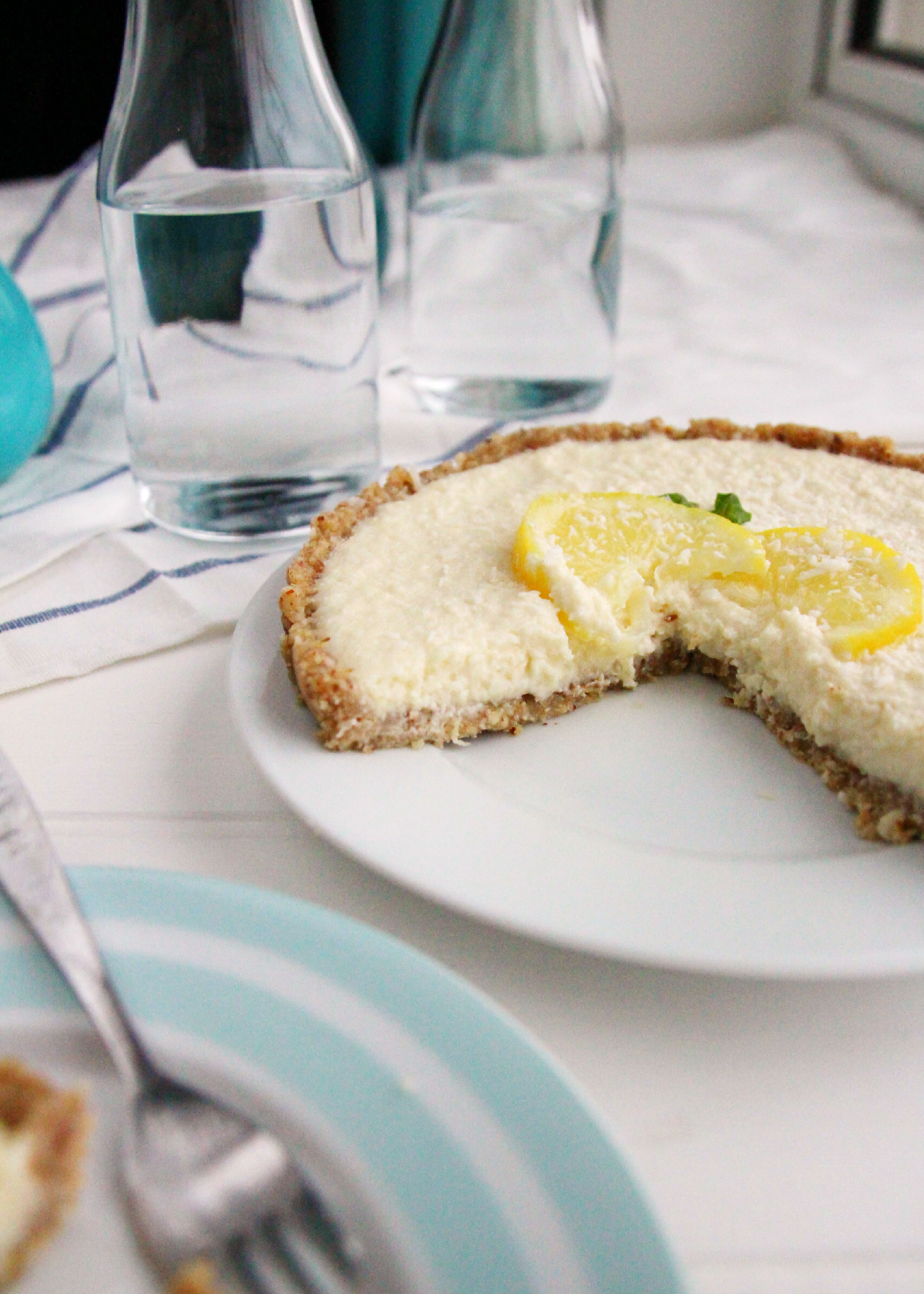 Tarts are awesome. Chocolate, peanut butter, blueberry, vanilla… they taste SO GOOD. But what about lemon and pineapple with a spiced ginger crust? Stick with me.
Lactose-free tarts can be delicious. But they can also often be sickly with other ingredients used to replace the dairy. What if I told you this lemon and pineapple low FODMAP tart is not only raw and vegan but tummy-friendly? Creamy and zesty, with a kick from the ginger spiced base the recipe tastes decadent, but doesn't contain any of the dairy, refined sugar or high FODMAP ingredients often found in the traditional versions.
The base contains heart-healthy walnuts, which are said to be loaded with protein and fiber, while ginger is known for it's digestion boosting and upset stomach soothing abilities.
Perfect for a dinner party or gathering, you can also make it ahead of time and keep in the freezer for a few days; simply allow thirty minutes or so out of the freezer before serving. Super easy to make, you just need a food processor and a blender if you have one, a bit of time to throw the ingredients in them and then some patience to wait for the tart to set! It's tough to mess up raw desserts which is great – the only thing I would mention is: just make sure you blend the filling for long enough. If you're like me, are generally impatient when it comes to food and think after two minutes "oo that looks good, it's definitely been long enough", you might just be wrong! Unless you have a Vitamix or other super high powered blender, give that mixture another five minutes or so. I promise the smooth, gorgeous, creamy filling you end up with will be worth the wait!
I used an 8inch tin to make this low FODMAP tart but you could easily make three or four smaller tarts if you prefer. Raw desserts are often loaded with nutrient dense foods and although they're healthy ingredients, this tart is full of nuts and coconut oil which are high in fat so a little piece goes a long way. Of course, portion size is ultimately up to you and you can also easily double the recipe and make a bigger tart if desired – I'm not here to judge.
Top tip: if you have any filling left, don't overfill your tart and keep the remaining mixture in the fridge for later. It tastes incredible as a macadamia, lemon and pineapple cream served with fresh fruit or over hot crumble.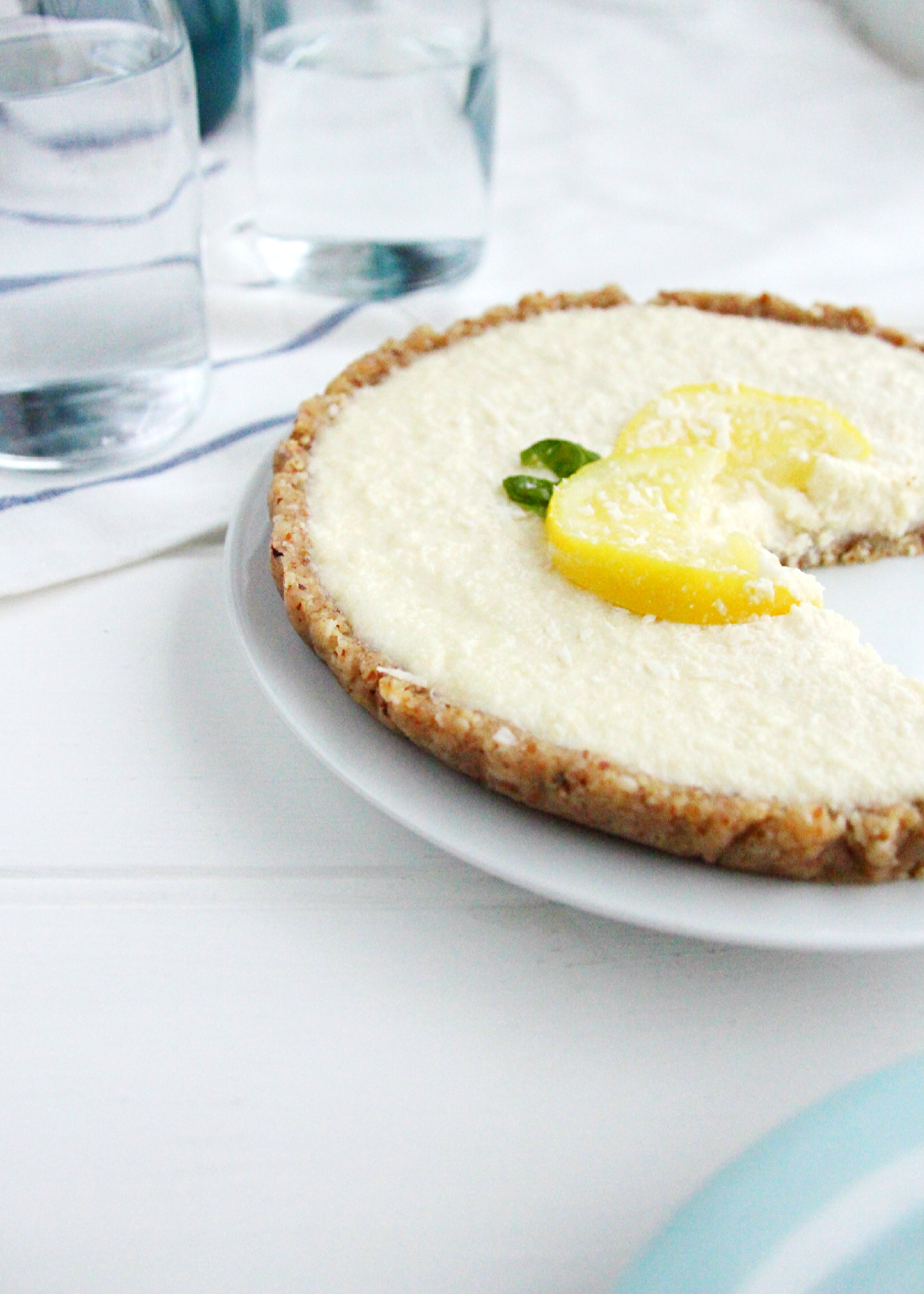 Like most of my recipes, it's very adaptable to suit your taste buds, dietary requirements or what's in your cupboard at home – so please feel free to play around with the ingredients to suit you. Just have a friend or partner at the ready to hold you back or hide the tart once made if you're anything like me and have little to none-self restraint in front of food … it's that good!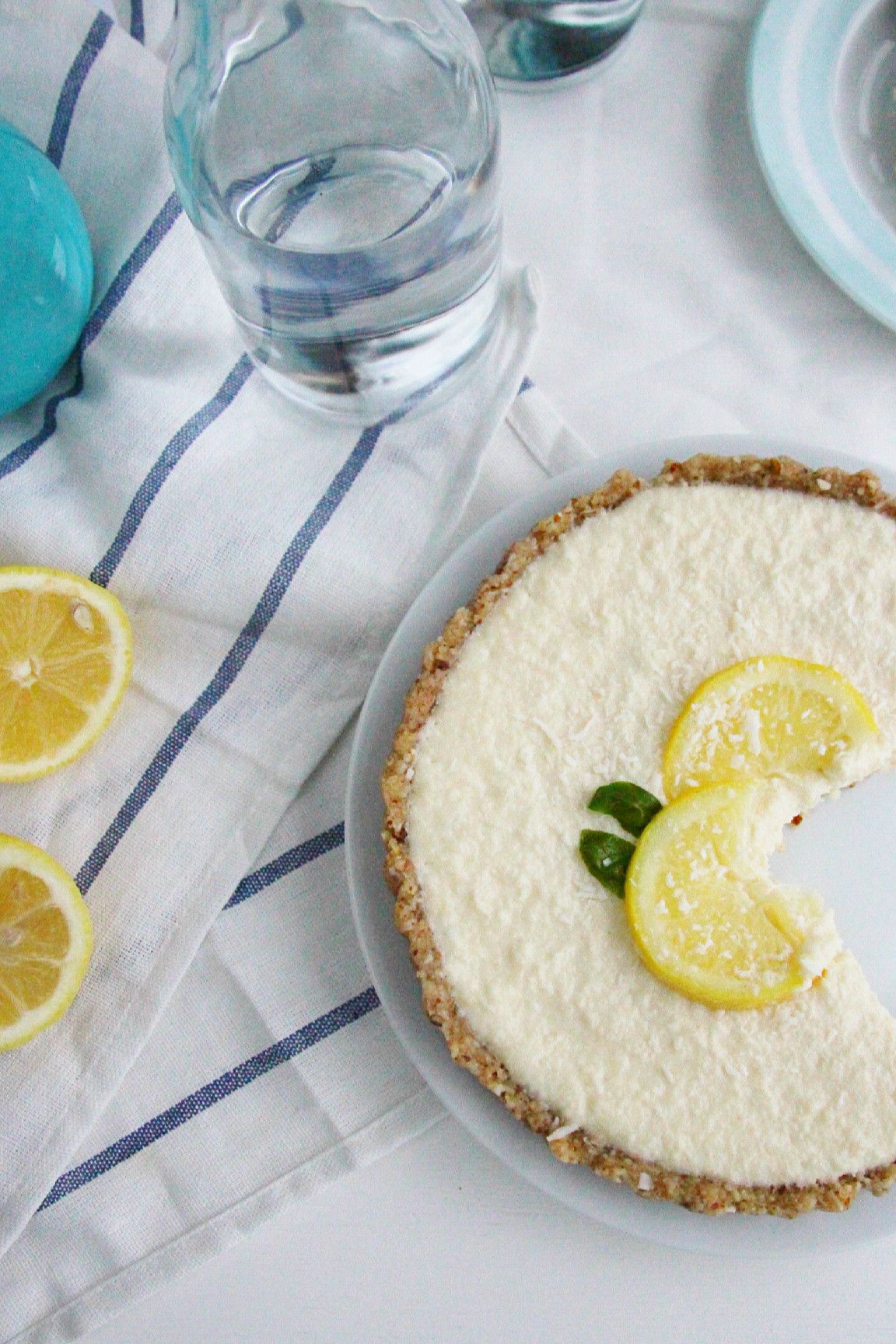 RAW SPICED LEMON AND PINEAPPLE TART
A decadent and delicious raw spiced lemon and pineapple tart – but made without the dairy, refined sugar and high FODMAP ingredients often found in the traditional versions.
150g walnuts
35g shredded coconut
4 tbsp maple syrup
4 tsp coconut oil
1/8 tsp sea salt
2 tbsp fresh grated ginger (you can use ground ginger instead)
125g macadamia nuts
150g pineapple
1 tbsp maple syrup
2 tbsp coconut oil
Juice of 1 lemon
1/8 tsp sea salt
To make the crust process the walnuts in your food processor until they are a rough flour.
Add the shredded coconut, maple syrup, coconut oil, sea salt and ginger and process until the mixture starts sticking together.
Press the mixture into the bottom of a small lined tart tin (cling film is great to use here) and place in the freezer while you make the filling.
To make the filling blend macadamia nuts, pineapple, maple syrup, coconut oil, lemon juice and sea salt until smooth, adjusting the liquid and sweetener to your personal tastes if desired.
To assemble the tart, get your crust out of the freezer and spread the filling onto your crust evenly (I like to gently bang the tart on a kitchen side to make sure it's level).
Set in the fridge overnight or in the freezer for a few hours.
Decorate with sliced fruit, coconut shavings and basil leaves.
Make sure to keep tagging me on Instagram with #shecanteatwhat – I love to see your healthy recreations! And let me know what you think of the recipe in the comments below!