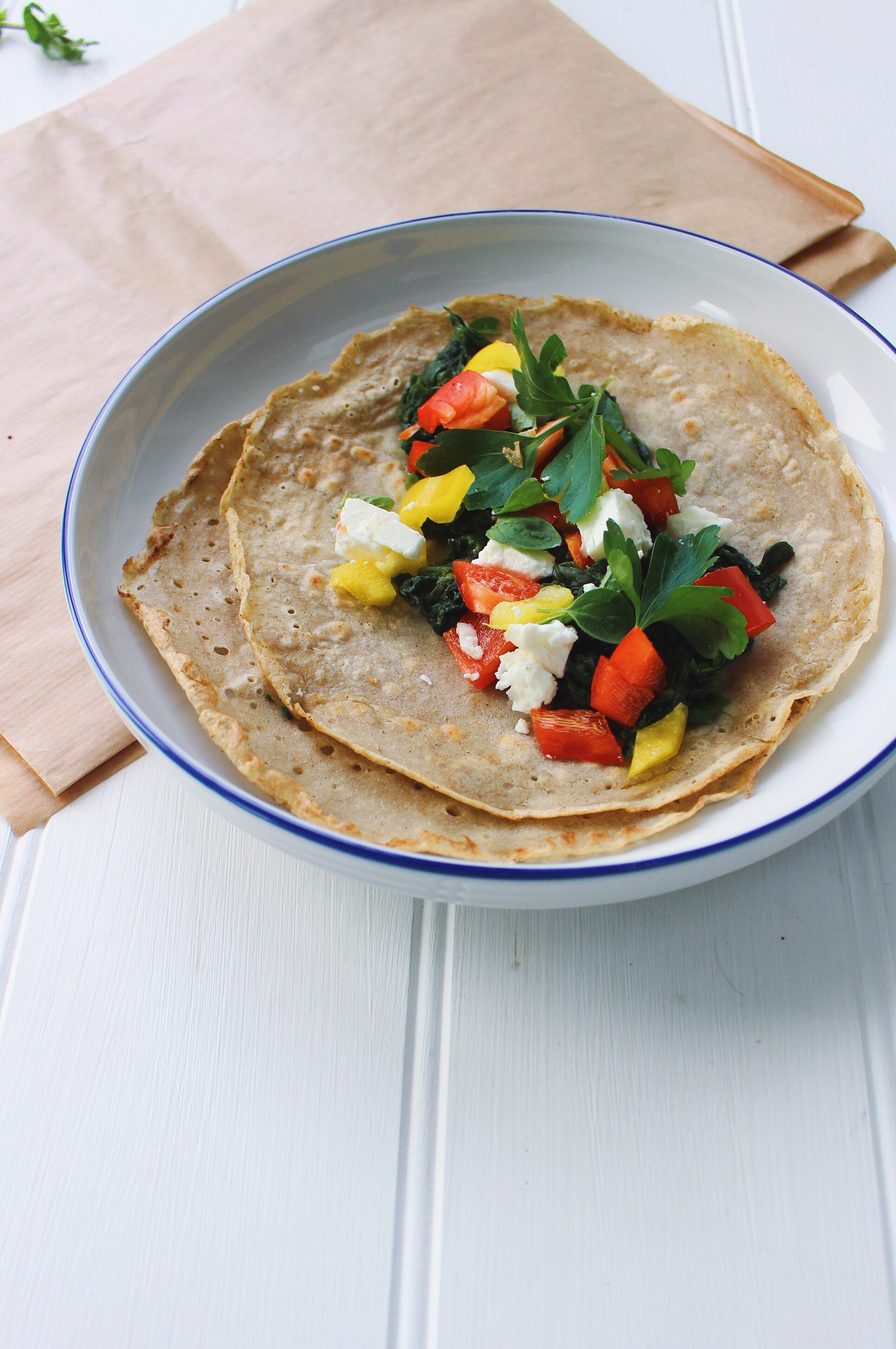 You know that moment when you fall in love with a place. You've only been there two minutes, had one look at your surroundings, and the quickest nose at the other people around you – but you know. You could quite happily stay there forever.
That's how I feel about A la Folie Cafe on Espanola Way, in Miami Beach. In the absolute magnificent chaos that is Miami, A la Folie is a little slice of calm, understated, effortless cool; with a rustic interior, street side tables and the most beautiful lantern lit garden I'd quite happily take up as a new bedroom.
A French restaurant, its menu is vast, but hands down the best item and their most glorious section (alongside the bowls of loose herbal tea – seriously they are amazing) is their buckwheat crepe list. Gluten and lactose free, toppings range from caramelised pears, brie and walnuts to spicy tuna with harissa or whole duck leg confi if you're so way inclined. Served with a simple salad they taste absolutely incredible every time and alongside allowing me to eat the same food as boyfriend when we were out for dinner or lunch for once, they didn't once mess up my stomach.
You can imagine how determined I was then when (after being physically dragged from that garden of dreams) I had to return home from holiday, to find a super simple yet delicious, low FODMAP and IBS friendly buckwheat crepe recipe that I could make at home myself and share with family and friends.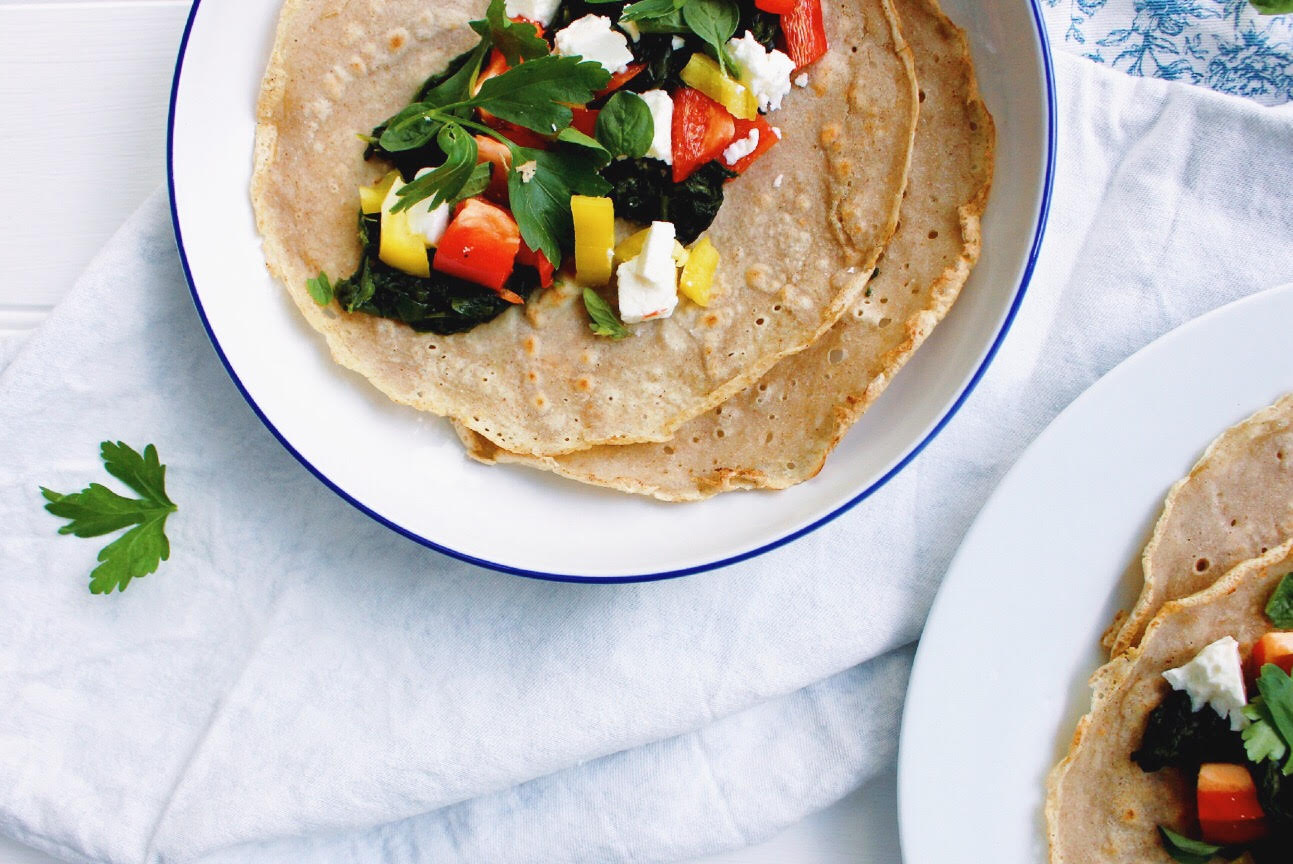 Cue these easy, vegetarian, plant-based, buckwheat crepes with wilted spinach, fresh peppers and crumbled feta.
Derived from the seeds of a flowering plant, buckwheat isn't a grain or a cereal (you may hear it being called a pseudo-cereal but don't let that scare you!). It's got a rich, nutty, wholesome flavour and is low FODMAP and fructose friendly which makes it a perfect alternative flour for IBS or allergy sufferers to use in both sweet and savoury recipes.
Deliciously thin, these crepes are so easy to make and won't leave you feeling bloated and nasty. The batter recipe for these low FODMAP buckwheat crepes comes from Hugh Fearnley-Whittingstall incredible 'River Cottage: Light and Easy' cookbook and I haven't messed around with it for the sake of it, because it's just too good as it is.
Top spinach, peppers, coriander and feta (simply omit or swap if you're vegan), black pepper and a squeeze of lemon juice and you've got yourself a light, fresh filling, full of goodness and low FODMAP ingredients.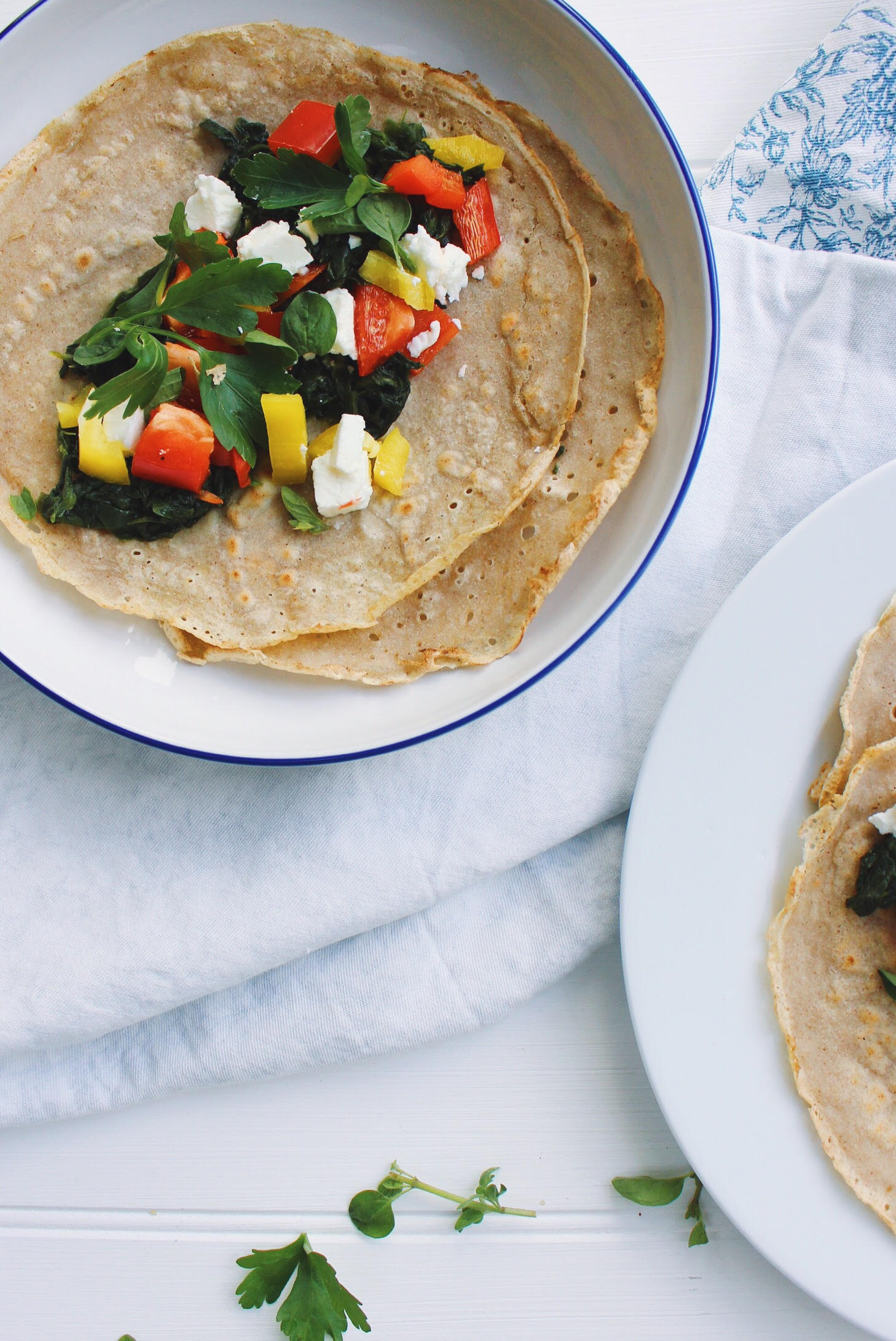 Like many grains, buckwheat can sometimes be cross-contaminated with wheat during processing or transportation, so do try and use a certified gluten-free brand if you have gluten allergies. If you also have left over batter, you can make mini pancakes and store them in the fridge for easier to transport lunches or snacks on the go! I like mine with a little homemade strawberry chia jam…
Do you have a favourite restaurant that serves low FODMAP food you're pretty sure you could live in? Let me know in the comments below!
Buckwheat Crepes with spinach, peppers and feta
Gorgeous nutty crepes, naturally gluten-free and low FODMAP, perfect for breakfast, lunch or dinner.
For the crepes: 125g buckwheat flour
1 large free range egg
1/4 teaspoon fine salt
300ml water
1 tsp coconut oil for frying
For the filling: 4 big handfuls of spinach
2 large peppers
2 handfuls of feta, crumbled
1 big bunch fresh herbs (I 'm fond of coriander)
1/2 lemon, juice
Chop and prepare the peppers and herbs and put to one side.
Place the flour and salt into a large bowl.
Whisk the egg together with 300ml water, before whisking both into the flour – in slowly to ensure you get a smooth, thin batter.
Leave to rest for 10 minutes (I promise it's worth the wait!) and then whisk again.
Heat a large non stick frying pan over a high heat and a little coconut oil.
Pour a large ladleful of the mixture and tilt the pan quickly as you would a normal pancake, spreading the mixture out to a thin circle.
Cook for 2-3 minutes, until the edges begin to curl and then flip over and cook for another minute.
When the crepe has turned a lovely colour, transfer it to a warm plate or very low oven while you repeat with the rest of the mixture (make sure to keep stirring the batter often for the best results).
Quickly wilt the spinach and mix with the peppers, spooning the filling along the middle of each warm crepe. Top with some crumbled feta, fresh herbs, a good pinch of black pepper and a squeeze of lemon, before folding the sides over and digging in!