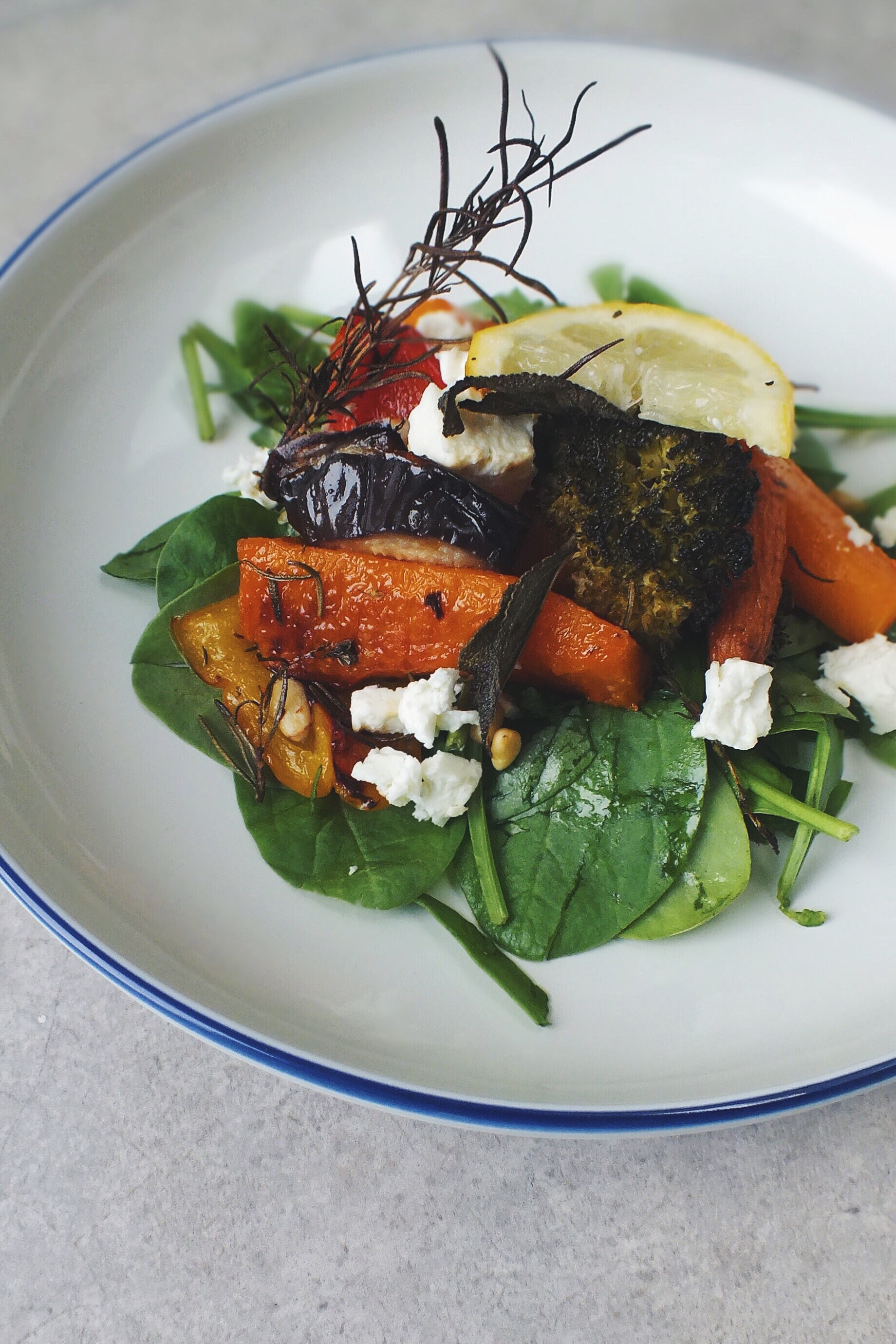 Low FODMAP roasted vegetables with feta cheese, lemon and aromatic herbs. Vibrant, healthy and satisfying, it's a recipe I make on a regular basis for a weeknight dinner or as a side to grilled fish at the weekend.
It's easy peasy in that you can spend ten minutes chopping up the veggies you have on hand (I find loud music and a great G&T helps with this) before whacking them in the oven to pull them out forty minutes later, roasted, golden and caramelised.
I think sometimes we're too scared to use vegetables as the main component of a dish in fear that it won't be substantial enough. It's one of the things my sister has noticed the most since going vegetarian – people panic and say "well what are you going to have instead of the meat??"
But it's so easy – and healthy – to use veg as the base in any meal. Just add a few eggs/quinoa/fruit/nuts/seeds/tofu/ cheese or pulses and you've got yourself a delicious, substantial lunch or dinner.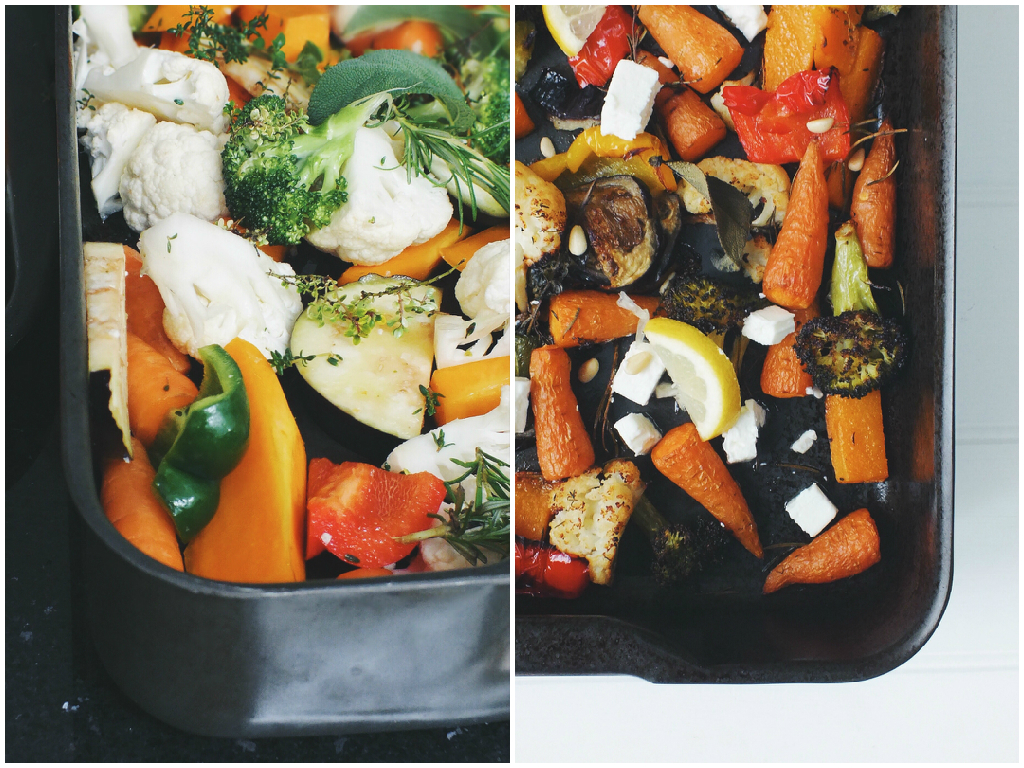 In case you're not sure, here are a list of common veggies and where they stand on the FODMAP scale (in line with the Monash University guide):
Low in FODMAPs –
carrots, parsnip, aubergine, green beans, peppers, chilli, courgette, fennel, kale, potato, spinach
OK in small amounts –
beetroot, butternut squash, sweetcorn, pumpkin, broccoli
Worst offenders/high FODMAP vegetables –
onion (any bar green tops of spring onion), garlic, mushrooms, leeks, cauliflower, artichoke
So gather an abundance from the top list and maybe a small amount of one from the second, give them a roast, add your extras and you'll have yourself an incredibly satisfying veg based meal.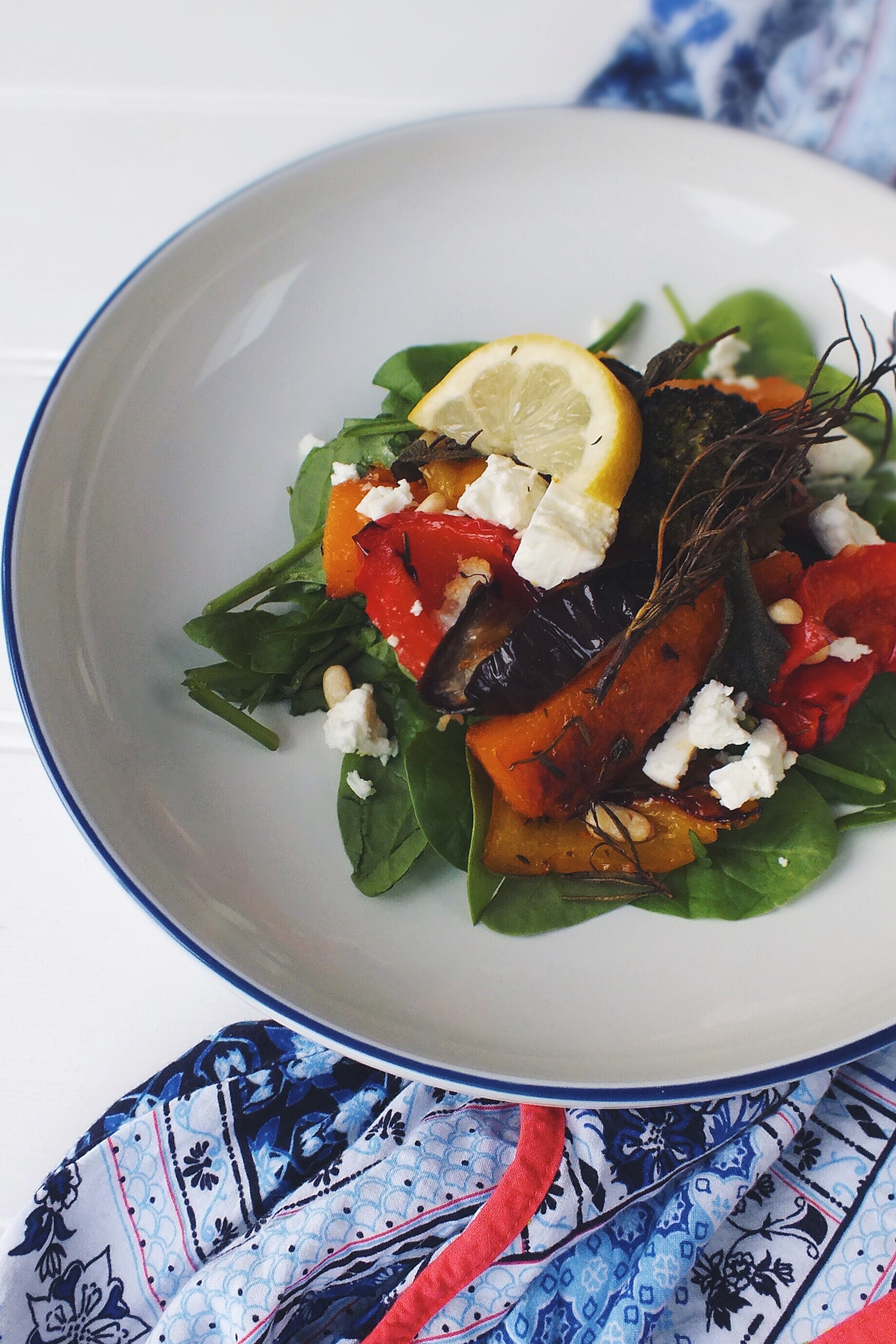 This recipe will serve 4/6 as a main or 8/10 as a side. It will last for 3 days or so in the fridge, so as always I like to make extra on a Sunday afternoon to have as part of my lunches during the week. You can vary the vegetables you see here (please note I avoided the cauliflower when eating and it isn't in the recipe below – but it was included when I made it for my family as they're big fans).
Low FODMAP roasted vegetables with feta cheese and lemon
Vibrant, healthy and satisfying, it's a great recipe for an easy weeknight dinner, or as a simple side to a fresh grilled fish at the weekend.
1 butternut squash
2 bell peppers
500g chantenay carrots
1 aubergine
1/2 broccoli
1 bunch of fresh herbs (we used oregano, sage, rosemary and thyme)
Handful of feta cheese
50g pine nuts
1 lemon
250g spinach
Sea salt and cracked black pepper to season
Preheat the oven to 200C.
De-skin the butternut squash and prepare the vegetables, making sure to chop everything into fairly equal sizes.
Place into one or two large roasting pans and drizzle with olive oil and fresh herbs of choice, ensuring all the veg is evenly coated.
Roast in the oven for 30-40 minutes until golden brown and crispy around the edges.
Season and add any extra herbs, if you wish.
Serve on a bed of spinach and top with feta cheese and a sprinkling of pine nuts. Serve with a wedge of lemon.