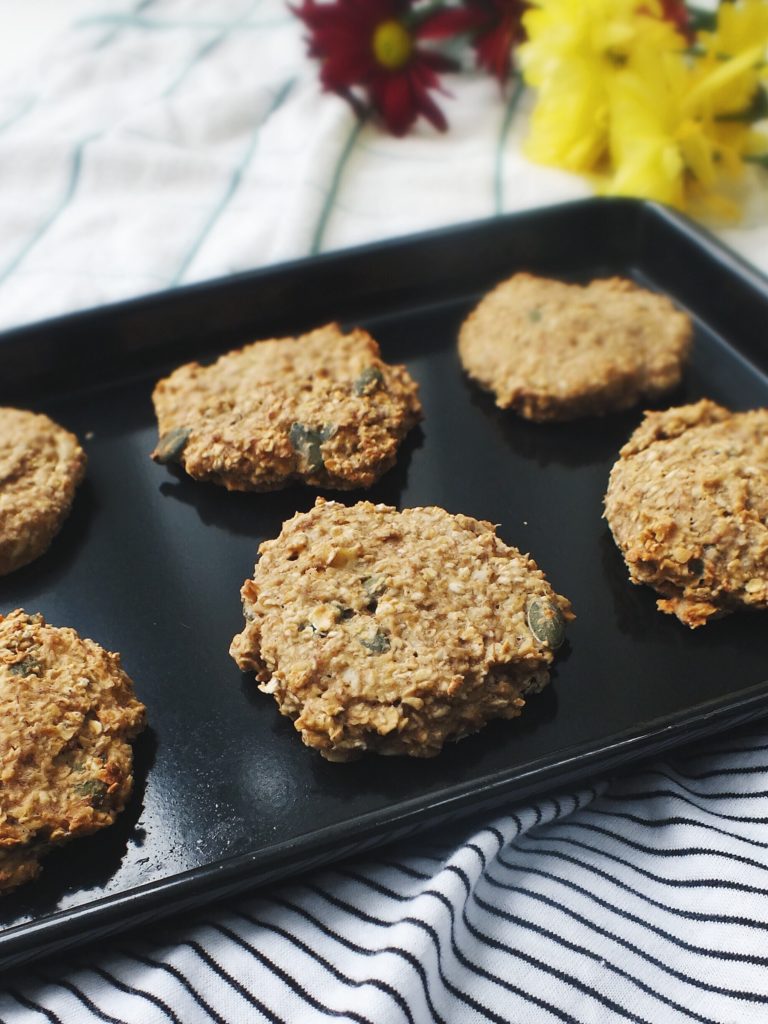 I love cooking, but when it comes to following a delicious recipe I like those that require very little in the way of skill or finesse. These gluten free, dairy free, vegan low FODMAP cookies encompass that philosophy entirely and I can't think of one (or two, or three) better things to eat on a Sunday morning  in the sun with a good cuppa.
You might have realised that I'm a keen advocate of one bowl oat cookie recipes, having blogged about these raspberry splat oat cookies and these peanut butter oat cookies in the past. But richly flavoured from the nut butter and pumpkin seeds and not-too-sweet, these are the perfect in-between snack for any time of day, and almost but-not-quite verge on savoury. I think you might like them.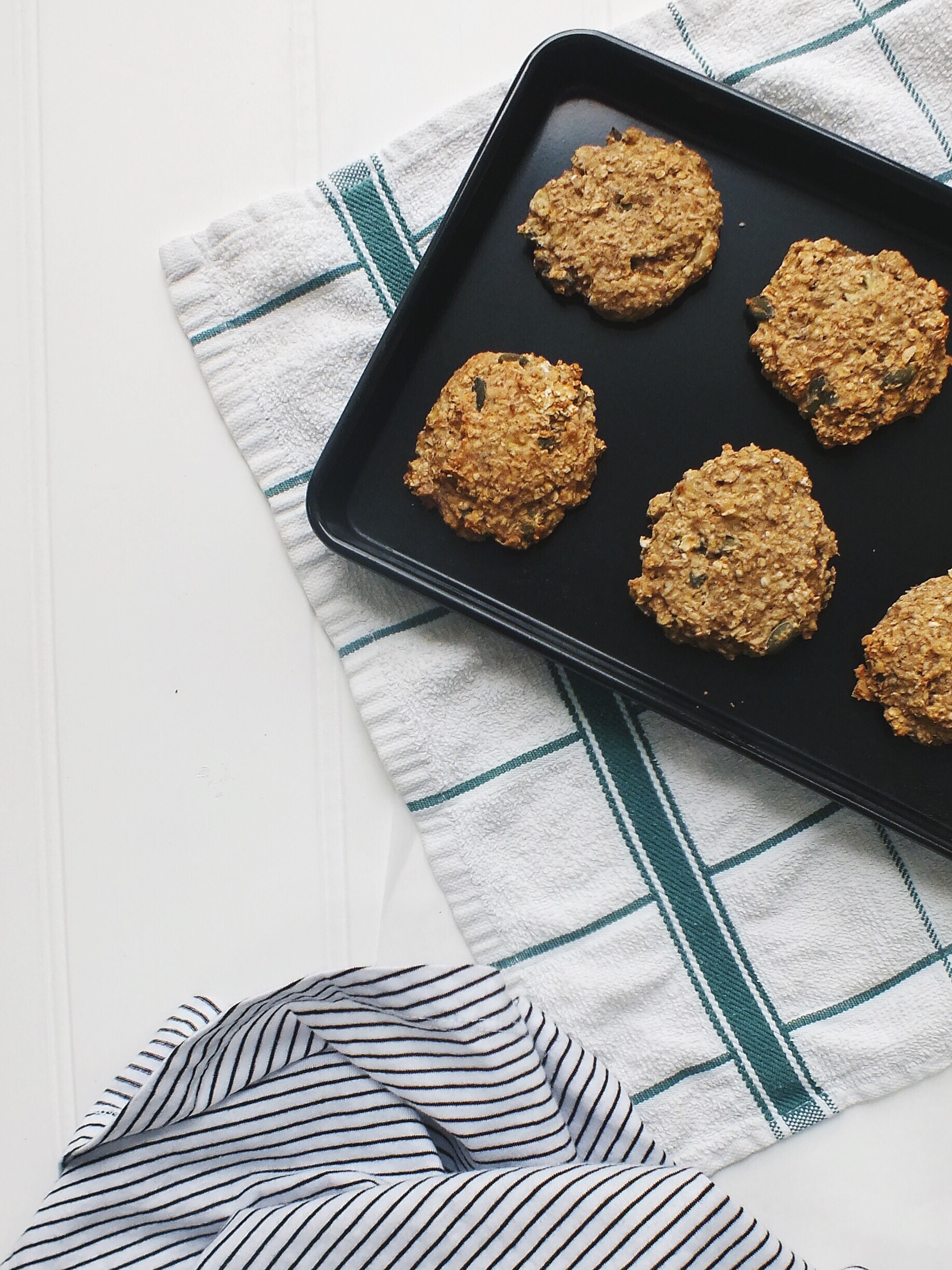 Me, my boyfriend and my sister ate these across the course of a morning, whilst being typically English and getting too excited about the faint sign of Spring weather this weekend. In texture they're somewhere between a chewy cookie and a softer rock cake – a pretty good place to be if you ask me. Customise them anyway you like and eat them whilst laying on the grass in the sun for extra enjoyment.
PS. Final tip – slather on some extra nut butter and layer with some slices of banana before topping with another cookie and you've got yourself a pretty damn good sandwich…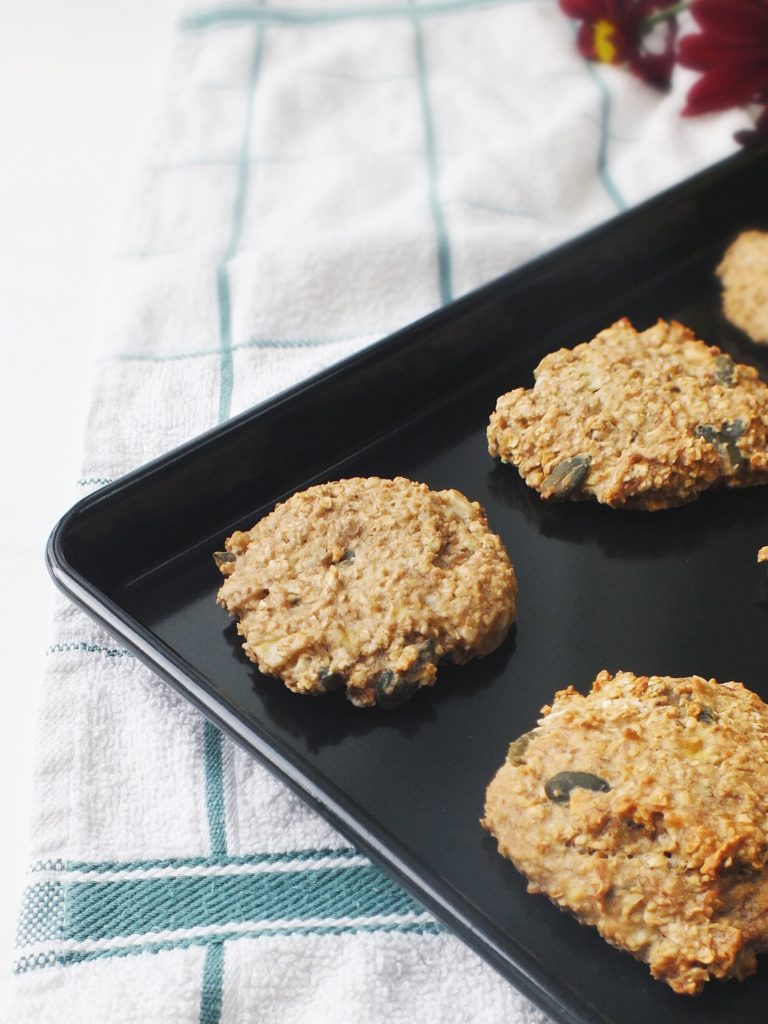 Nut butter and pumpkin seed oat cookies
Prep time:
Cook time:
Total time:
Any recipe, one bowl, healthy nut and seed oat cookies. Low FODMAP, gluten free, dairy free and vegan.
1 1/2 ripe bananas, mashed
200g gluten free oats
50g pumpkin seeds
2 tbsp nut butter (I used almond but please note peanut is lower in FODMAPs and works just as well)
3 tbsp maple syrup
2 tbsp dairy free milk
1/4 tsp sea salt
1/2 tsp baking soda
1 tsp vanilla extract
Preheat the oven to 180C/350F and line a tray with baking paper.
Add all of the dry ingredients to a bowl and mix together, before adding the wet ingredients and combining thoroughly.
Spoon the mixture onto your tray in small mounds (you want to use around 2-3 tbsp of mixture per cookie). Press down each cookie with the back of your spoon to flatten slightly.
Bake for 15-20 minutes or until golden brown
Let cool and enjoy. Leftovers will keep in an airtight container for up to three days.