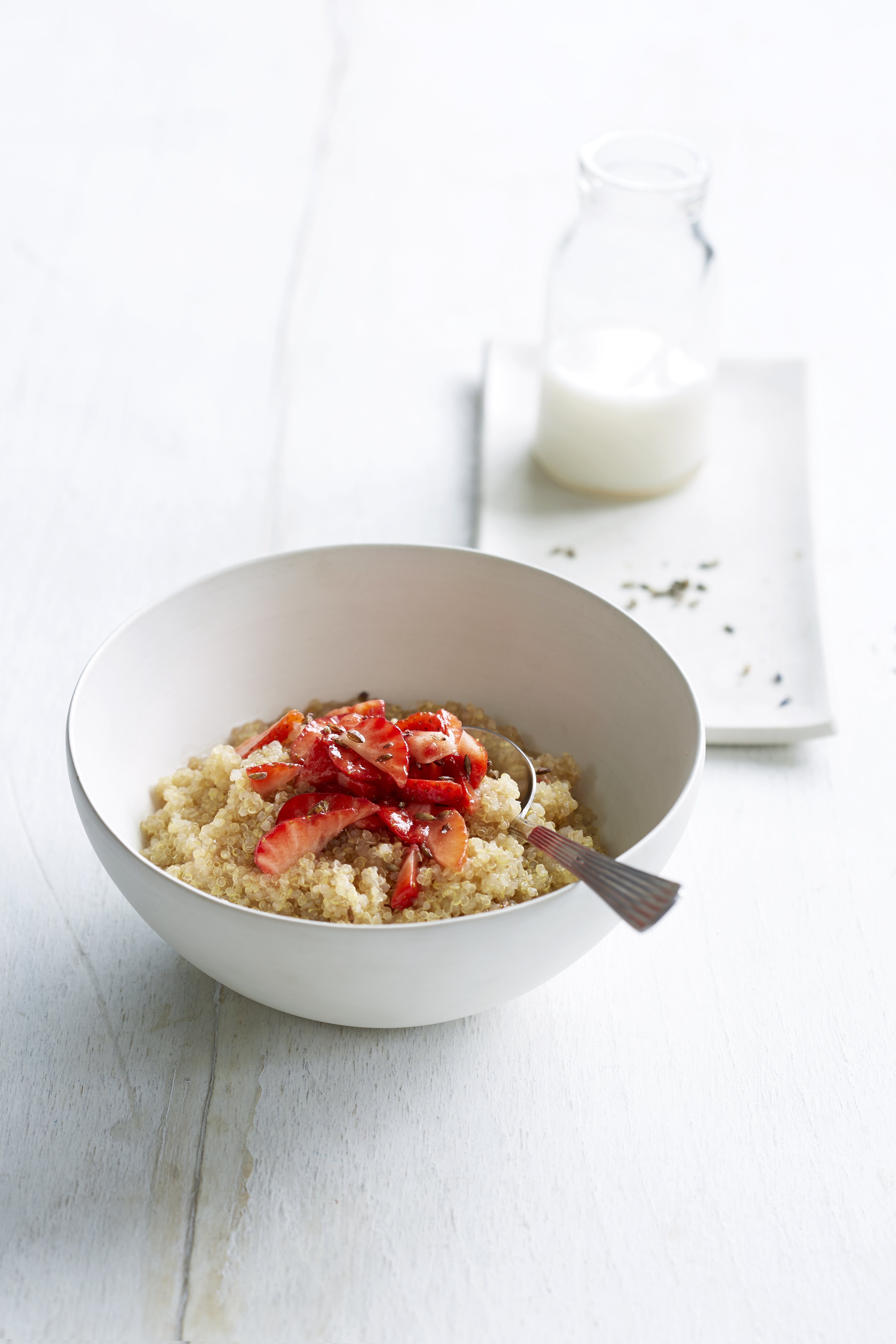 This low FODMAP porridge recipe is great if you want to mix up your breakfast routine, or if you struggle to tolerate oats. A great source of fibre and high in protein, quinoa is an awesome grain to have for brekky, and will keep you full and energised throughout the day. It's taken from my cookbook, The FODMAP Friendly Kitchen, which is out today!!
It's been a whirlwind few weeks and I want to thank you for all your support, love and wonderful messages. I'm thrilled to say I've been featured in The Evening Standard, listed as one of the 10 best healthy eating cookbooks of 2017 and in The Telegraph's Eat well in 2017: the best new (surprisingly sensible) diet books. Over on Borough Market's website, you can find me talking about my experience writing the book too, along with two more recipes from the book that I'm so excited to share, a buckwheat risotto with macadamia cream and glazed blood orange doughnuts.
Keep your eyes peeled for more exciting things to come – but in the meantime – I can't wait to hear what you think! Backed by the official FODMAP Friendly team, the book has over 100 quick, easy and modern recipes for those of you that have run out of answers and feel 'you can't eat anything'. I really want to show you that if you do have food intolerances or a sensitive gut, you shouldn't have to feel restricted in what you can eat.
So please drop me a line, or tag me on Instagram, Facebook and Twitter with #fodmapfriendlykitchen and your comments and/or pictures of the book! I really am so excited to share it with you and get the FODMAP message out there.
And if you did want to make the recipe!  Simmered to creamy dreamy perfection, this quinoa porridge is topped with plump strawberries, fragrant lavender buds and a drizzle of maple syrup. As strawberries aren't in season at the moment, you could also use forced rhubarb – just as delicious and FODMAP-friendly too. Stew in a pan with a little sugar and a splash of water for 6-7 minutes, or until soft, before adding the lavender and maple syrup as detailed below.
VANILLA QUINOA PORRIDGE WITH LAVENDER STRAWBERRIES
This recipe is taken from my new cookbook, The FODMAP Friendly Kitchen. Simmered to creamy dreamy perfection and topped with lavender strawberries, don't be put off by the quinoa in this low FODMAP porridge recipe – it's one you need to try! Top tip: Make sure you give the quinoa a little rinse before you use it. This helps to remove any of the remaining outer coating, which can be difficult to digest and can taste bitter too.
150g strawberries, or FODMAP-friendly fruit in season
11/2 tbsp maple syrup (plus extra for serving, if you like)
1–2 tsp lavender buds
100g quinoa
375ml water
120ml almond milk
1 tsp cinnamon
1 tbsp maple syrup
1 tsp pure vanilla extract
Dice the strawberries, or any other fruit you are using and place in a small bowl.
Add 1/2 tablespoon maple syrup and the lavender buds, lightly crushing them with your hands as you go. Stir and set aside.
Rinse the quinoa under cold water until the water runs clear. Add the quinoa to a medium saucepan, followed by the water.
Bring to the boil, then reduce the heat and simmer, covered, for 10 minutes.
Add in the milk, cinnamon, 1 tablespoon maple syrup and vanilla, then pop the lid back on and cook for another 5 minutes, stirring every few minutes or until the quinoa is cooked through and most of the liquid has been absorbed.
Remove from the heat, and divide the quinoa porridge between two bowls. Top with the lavender strawberries and extra milk or maple syrup if you like.