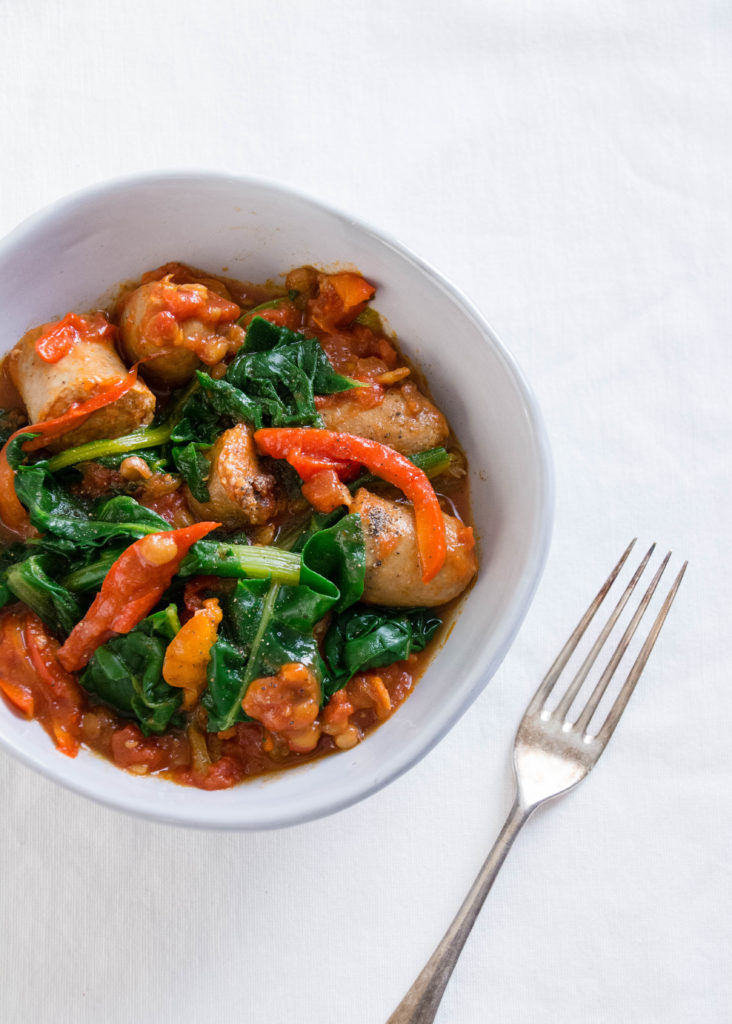 The last few frosty weeks in January have called for hearty, comforting dinners. Dinners that offer warmth, smiles and a little help to sink just that bit easier into the sofa.
This low FODMAP casserole ticks all the right boxes. With chunky sausages, sticky caramelised peppers, and sweet tomatoes, it has never yet failed to disappoint.
No onions or garlic are in sight, but we're talking big flavour and texture, thanks to the smoked paprika, nutty lentils and crunchy veg. I saw some rainbow chard I couldn't resist using when shooting this, but kale and spinach are delicious in its place too, so as always, please adapt the recipe to suit whatever you've got on hand, and to fit your own tolerances for that matter.
When really hungry, or making a big batch to feed friends, I like to serve this with crispy, buttery baked potatoes and maybe a few extra greens. Enjoy.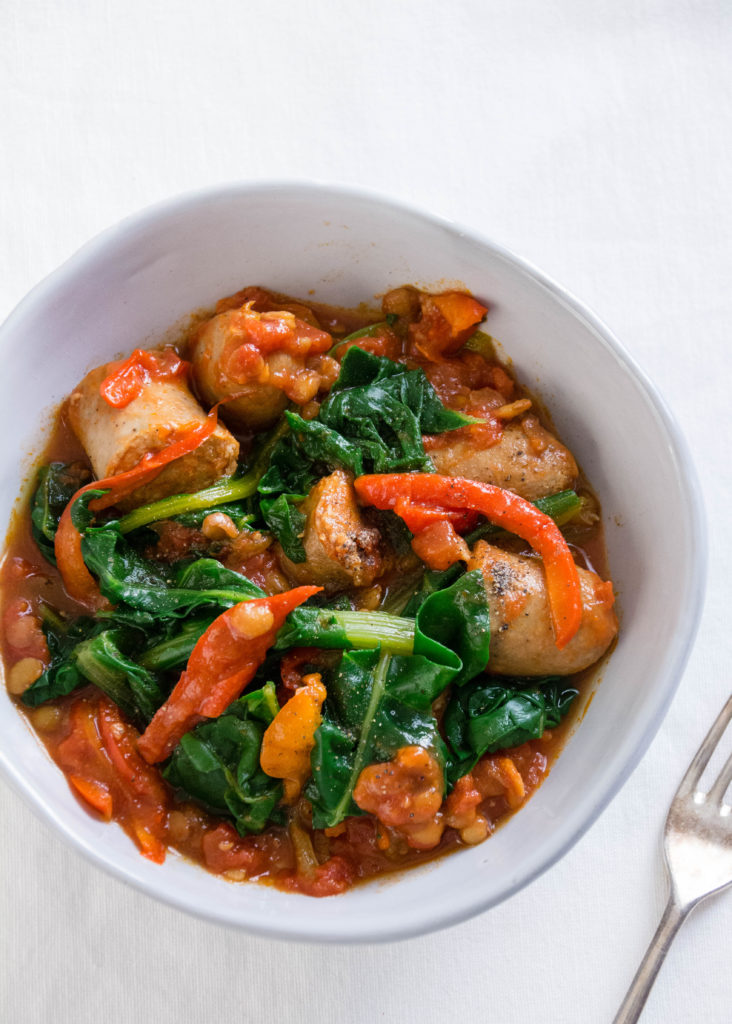 SAUSAGE & LENTIL CASSEROLE
A hearty, low FODMAP casserole, with plenty of rich, smoky flavour. A delicious weeknight dinner.
8 good-quality sausages (check FODMAP friendly i.e. no garlic, onion and wheat)
4 red peppers, de-stalked and chopped into thin slices
2 sticks of celery, chopped into thin slices
1 tsp smoked paprika
1 tsp cumin
Sea salt and pepper
1 tin of lentils, drained and rinsed
2 1/2 tins of tomatoes
200g rainbow chard, trimmed and chopped (kale and spinach are delicious too)
Preheat the oven to 190C/fan 170C/gas 5.
Prick the sausages with a fork and place in a baking dish, then cook for 25-30 minutes in the oven, or as otherwise instructed and cooked through.
While the sausages are cooking, heat a little oil over a low heat and saute the pepper and celery until soft and caramelised, roughly 10 minutes. Season and stir in the smoked paprika and cumin – this is when it starts smelling really good.
Add the tins of tomatoes to the saucepan and bring everything to the boil. Once cooked, slice the sausages and add them to the pan, followed by the rinsed lentils and chard.
Simmer for another ten minutes, before spooning into bowls and tucking in.