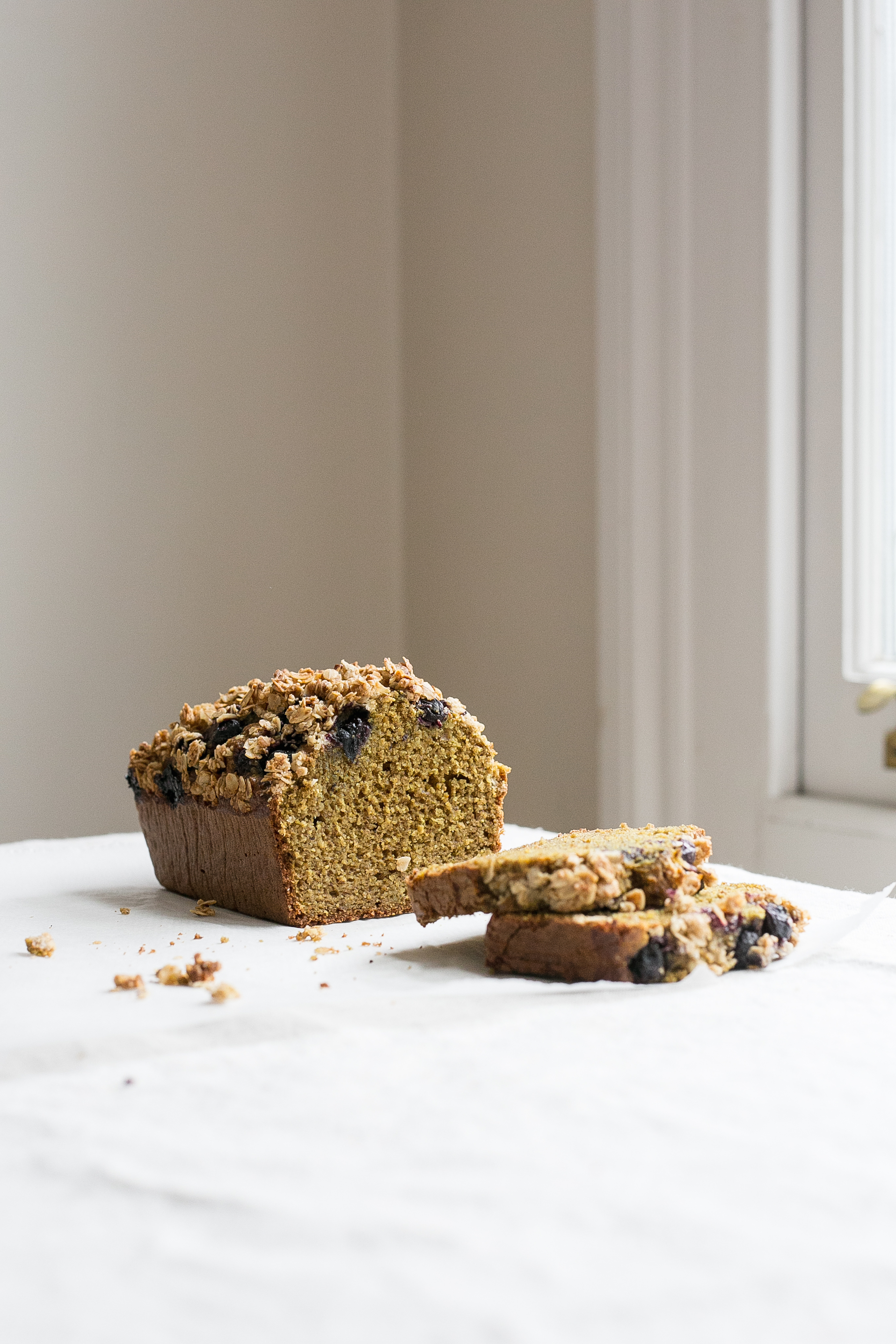 If you've kindly read my intermittent blog for the last few years (thank you), you might be aware that I'm not one for skipping breakfast. Unless I'm still stuffed from the night before – which does occasionally happen – I truly believe a good breakfast sets me and my gut up for the day.
Any form of eggs or porridge are up there as favourites but like many of you I'm sure, some mornings I've barely enough time for a cup of tea, let alone the luxury to faff around with a bowl of oats.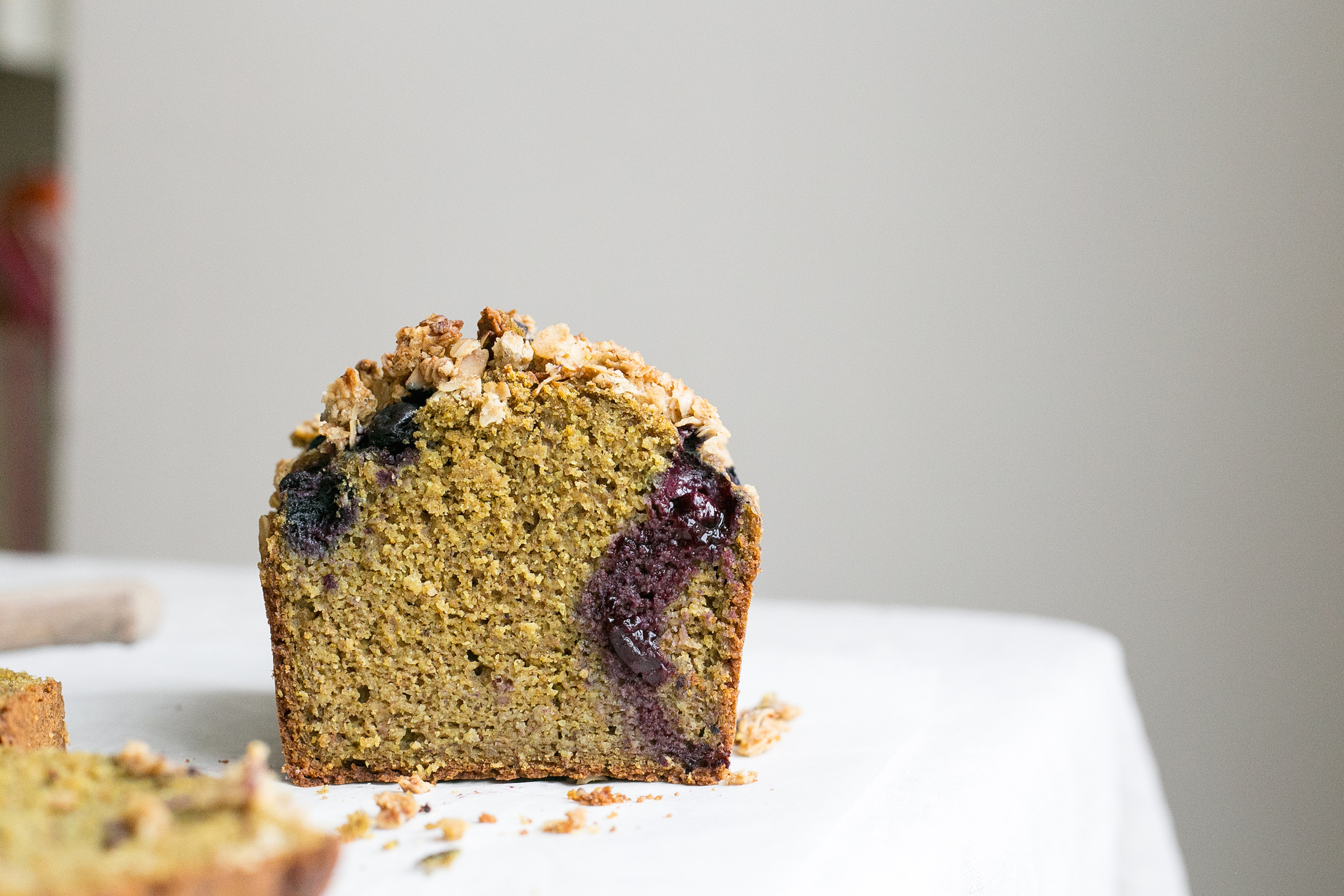 I still want to feel like I'm starting the day with good stuff though – and this recipe is full of it. A variation of Green Kitchen stories' delicious Turmeric breakfast muffins, it's a great gut and FODMAP friendly breakfast for on the go. At your desk, on the train, whilst tying your trainers before bolting out the door (avoid this one because we all know the importance of taking time to digest your food kids!) – a slice, or two, really hits the spot.
Nutty buckwheat flour, walnuts and sunflower seeds are joined by bursts of blueberry and topped with crunchy oats. For my sweet tooth the loaf almost verges on the edge of savoury, but I like that. Plus you can always toast it and slather with peanut butter or jam too.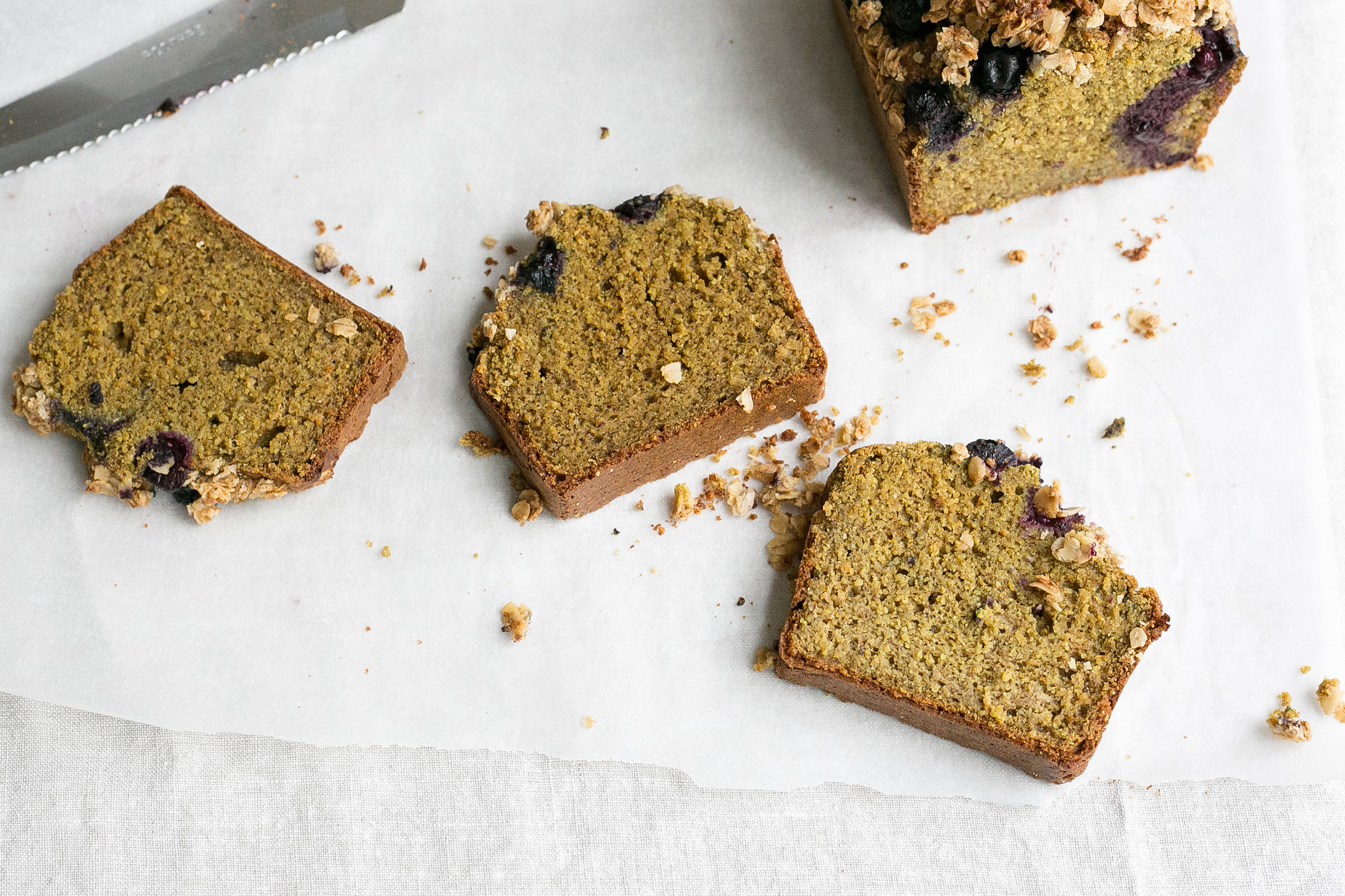 TURMERIC, BUCKWHEAT, BLUEBERRY BREAKFAST LOAF
A gluten free and FODMAP friendly breakfast loaf, full of good stuff. Slather with peanut butter or jam for extra deliciousness.
Dry ingredients
25g sunflower seeds
25g walnuts
100g rolled oats, gluten free if needed
90g buckwheat flour
55g gluten free plain flour
1 1/2 teaspoons baking powder
1/2 teaspoons baking soda
1 teaspoon ground turmeric
1 teaspoon ground cinnamon
1 teaspoon ground cardamom
½ teaspoon sea salt
Wet ingredients
160 ml almond milk
1 teaspoon lemon juice
80 ml olive oil
2 ripe bananas
5 tablespoons maple syrup
3 large eggs, beaten well
Large handful of blueberries, frozen or fresh
Oat topping
50g rolled oats
3 tablespoons coconut oil
2 tablespoons maple syrup
Preheat the oven to 200°C and grease and line a 2lb loaf tin. Add the lemon juice to the almond milk and set aside to curdle. This will make your buttermilk.
Add the sunflower seeds, walnuts and rolled oats to a food processor and pulse into a coarse flour. Transfer to a large mixing bowl together with the rest of the dry ingredients.
Add buttermilk mixture, oil, bananas and maple syrup to the food processor (no need to clean) and pulse until smooth. Make a well in your dry ingredients and pour in the wet mixture, along with the eggs. Use a spatula to carefully fold everything until combined.
Pour the batter into the lined loaf tin and gently push down the blueberries on top. Mix together the oat topping in a small bowl and sprinkle it on top of the blueberries.
Bake for about 40-45 minutes, or until golden and springy to the touch. A skewer inserted should only emerge with a few crumbs stuck to it.
Enjoy the loaf warm from the oven, pop a slice under the grill to toast or wait until cool, then slice and put in the freezer for later.
I love seeing what you guys have created – so if you make this recipe (or any other from this site) please take a snap and tag me with #shecanteatwhat and #fodmapfriendlykitchen on social!