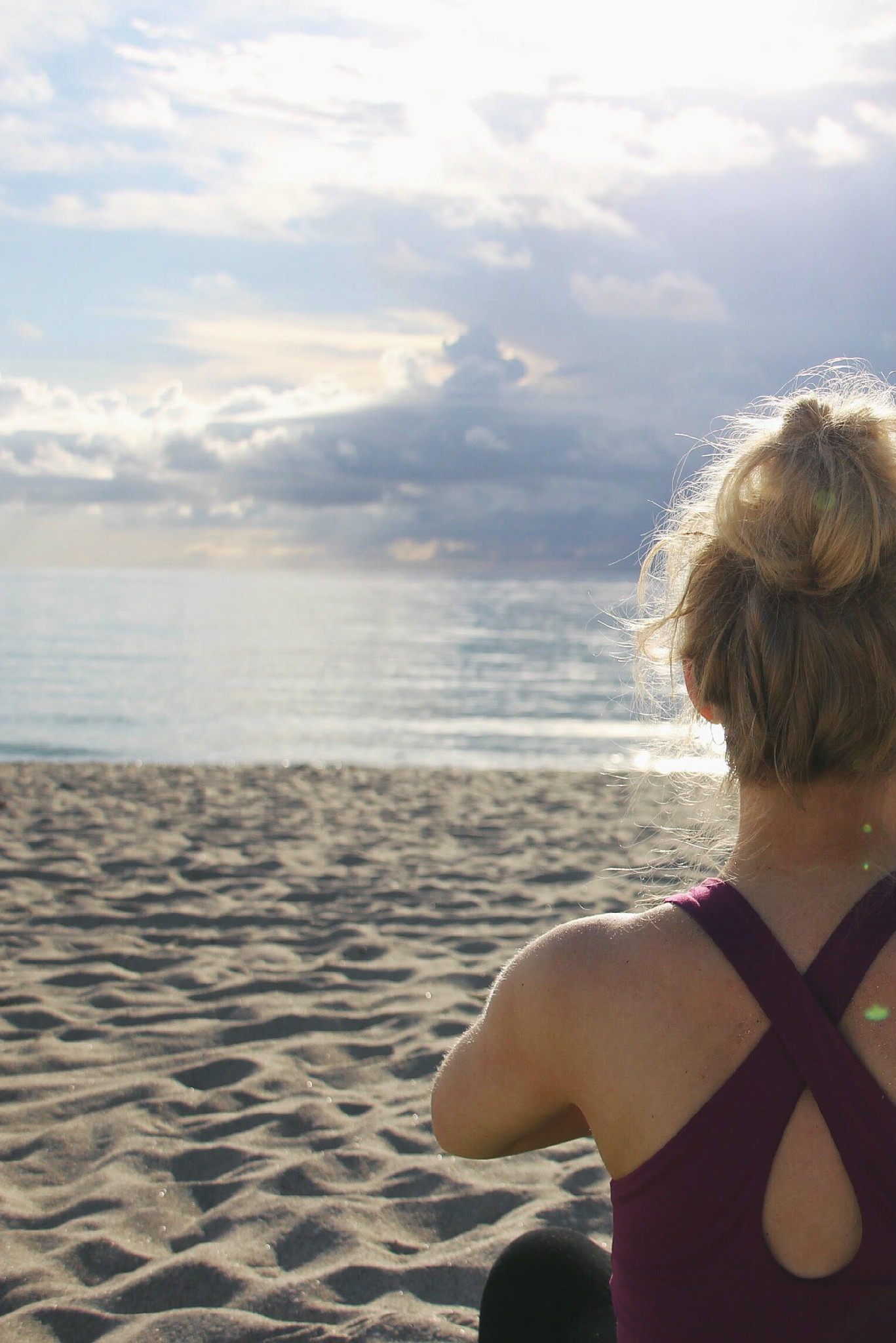 Someone once told me that yoga is the most powerful medicine (apart from changing your diet) for those suffering with food intolerances and a messy digestion. I think I might just be starting to believe them.
Now I'm by no means a yoga pro (trust me) but I love squeezing in regular practice when I can, because I know just how much better it makes me feel. Stress is a well-known trigger for IBS symptoms and while exercise and yoga aren't a cure, they can help boost overall health, reduce stress and improve digestive problems.
Research is showing more and more that what goes on in our tummies is directly linked to our brains, and vice versa. Yoga can help to shut down stress by calming the nervous system – helping calm our tummies at the same time.
One of the toughest things I've always found when doing yoga however, is choosing the right outfit. There's nothing worse than being in downward dog and having your boyfriend's baggy-T in a tent over your face or looking at yourself in the mirror and wishing that the red pants you had emblazoned in some awful slogan for you and you friends on your 16th birthday weren't quite so on show through your leggings (yes this happened).
So you can imagine how excited I was when an email popped up from the lovely Wellicious team asking if I wanted to try out of some of their latest clothing and offer my readers 10% off with the personalised code 'shecanteat10'! Even better that just by chance said email happened to coincide with a last minute trip to Miami (!) and a sunrise yoga session on South Beach…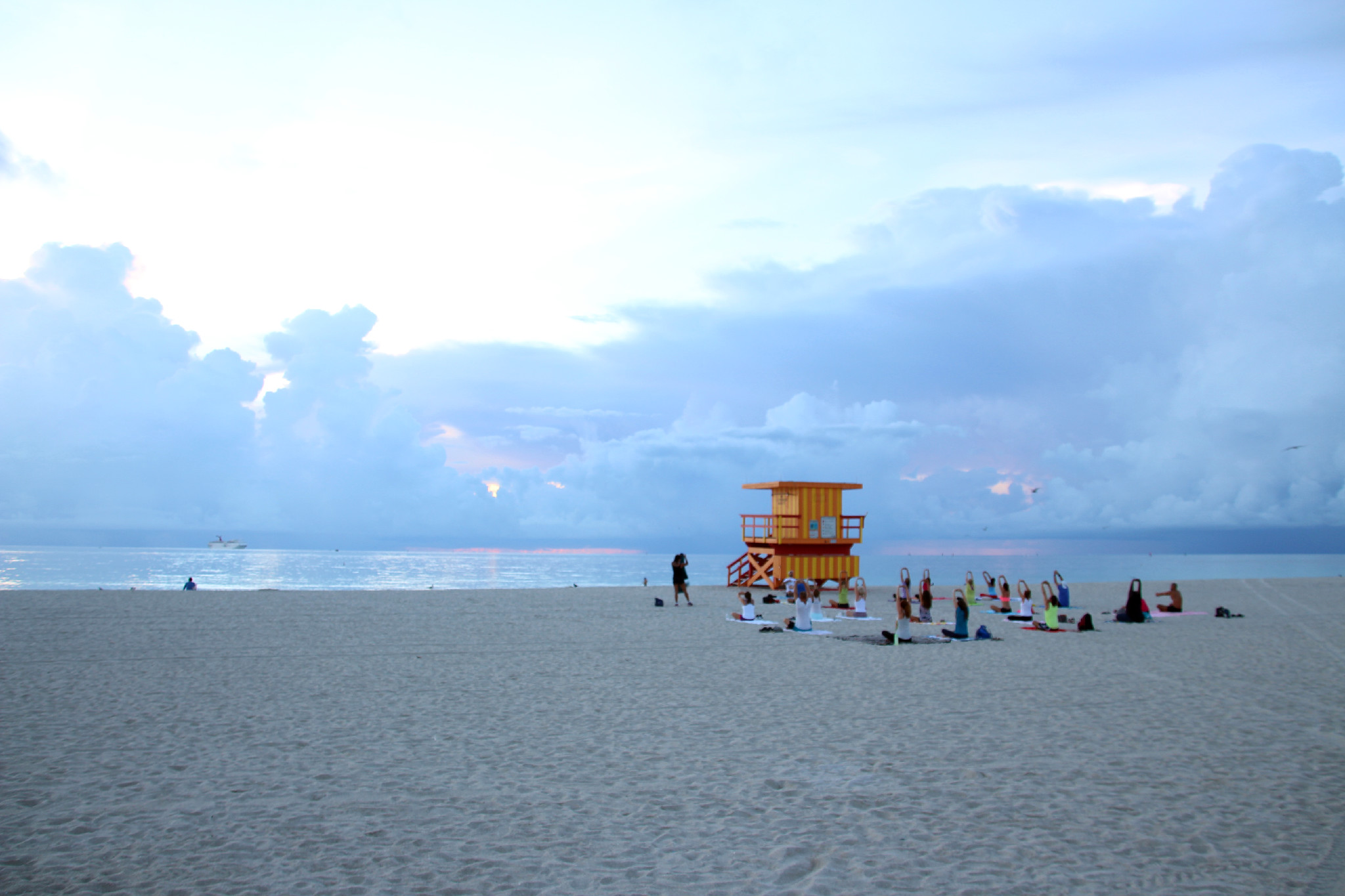 Launched in 2009 by Heike Schnell, a passionate yogi who found it difficult to find clothes for her yoga class that combined fashion and comfort while remaining eco-friendly, Wellicious grew from a brave mission to create eco-premium performance clothing for the growing number of individuals interested in sustainable, balanced, healthy living.
Blending luxury with sustainability, the high quality, eco friendly fabrics used are an absolute dream (and best of all the clothes are still beautiful).
After scouring their website, I finally selected their True 7/8 Leggings in black, their Soft Bra in deep lilac and their Summer Double Knit T-Shirt to try. Then I stumbled across 3rd Street Beach Yoga on Instagram in my quest for all things wellness in Miami, and knew if ANYWHERE was going to be perfect to test them out this was it.
So a few weeks later, towel under one arm and flip flops under the other, I made my way to 3rd Street, Miami, at sunrise, to test out my new Wellicious clothing on the beach.
Way back in 1998, October Rose – a newly certified yoga teacher – began her day practicing yoga on the beach at 3rd Street.  Over time, a few local beach lovers joined in and before she knew it she was leading classes every morning and evening. The word spread, local teachers offered to assist and 3rd Street Beach Yoga was born. In 2008 October Rose moved to India, but her legacy lives on.  Volunteers now run classes classes in the same spot at sunrise and sunset 365 days a year; all classes are donation based and are taught by some of the most fantastic teachers around.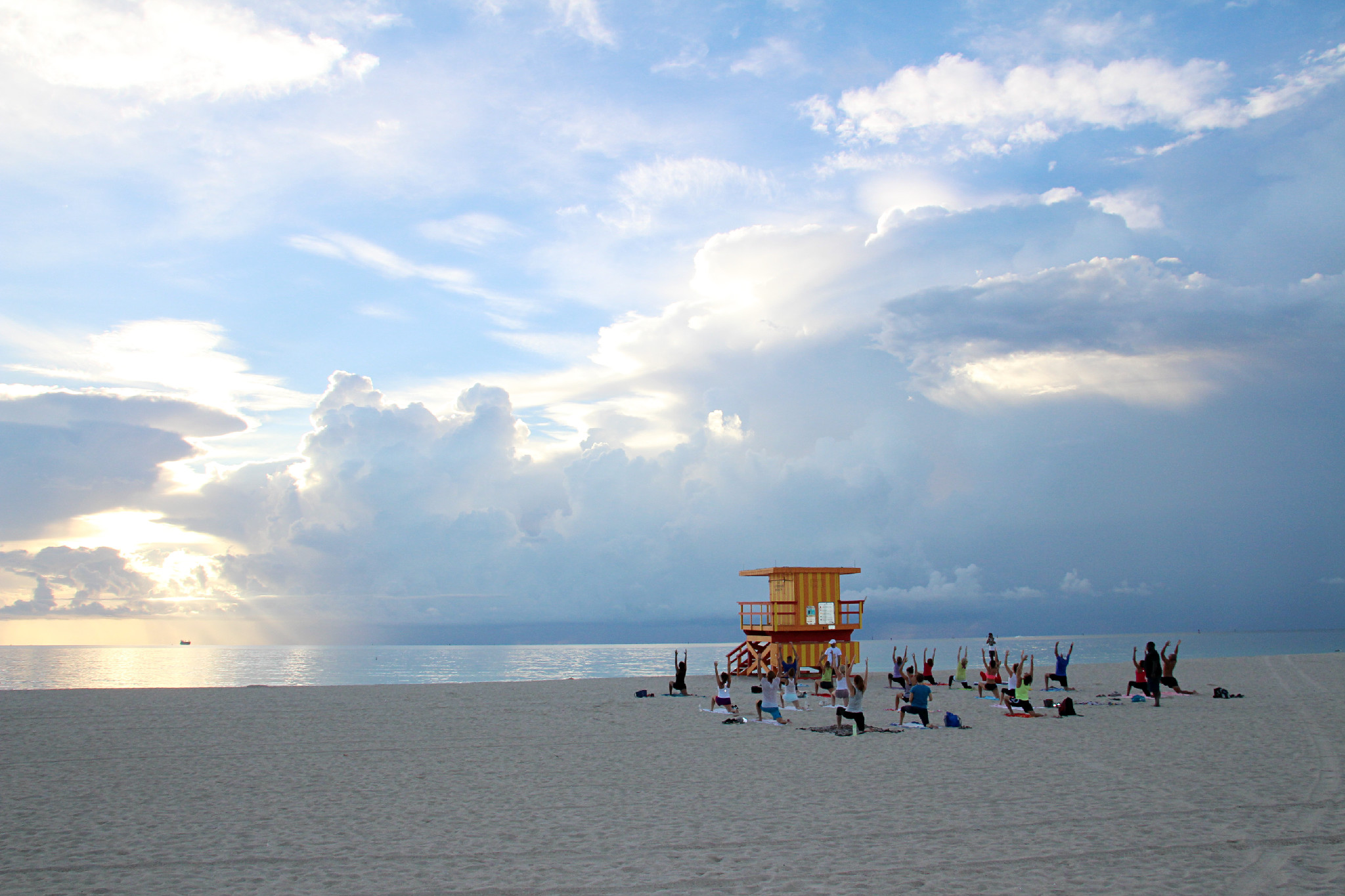 It's only right I start with a review of the leggings.
As soon as they were on I was in love. 100% opaque, solid black with a higher waistband, the material is so beautifully thick but breathable at the same time; instantly feeling more stable than the norm, but still allowing me enough movement to do my thing. A sportswear classic I found they went with everything in my holiday case and being slightly shorter in Wellicious's 7/8 style, they fitted me so well which doesn't happen often. I've also worn them in countless classes since yoga in Miami, around the house, to town, plus on the flight home.. and they've kept their shape.
The Soft Bra was my second favourite of the items, designed 'for low impact exercise and for everybody who prefers a lower level of support'. It's the most comfortable sports bra I've owned and with an elasticated band, wide straps and a drop-shaped cross over back it looked awesome too (so much so somebody else in the class asked where it was from). I've always thought good yoga clothes are ones that you can just forget about when you have them on and this bra epitomises that notion. It is definitely designed only for calmer exercise, being so comfortable and seamless it does have less support, but it's perfect for activities such as yoga and pilates.
The third of the three items, Wellicious's Summer Double Knit T-Shirt, was just as gorgeous. I'm not a big skin-tight top person, always favouring tighter bottoms and baggier tops and as a result I loved the lime green and white, the feel of the material and how light it was to wear (always a bonus in super hot temperatures in Miami, even at sunrise). The only thing I did notice however because of the material style, is that the top stretched quite easily throughout the morning. As a result I now like to wear it as an additional layer, throwing it over another top when chilling or practising at home.
Price wise, Wellicious are more mid-range, but after trying them out, I've never been more convinced spending a bit more on your exercise clothing staples is worth it.
Wearing your boyfriends baggy-T isn't going to ruin your practice, but some beautiful eco friendly, natural, ultra comfortable clothing (that makes you look good too) might just motivate you to make it even better!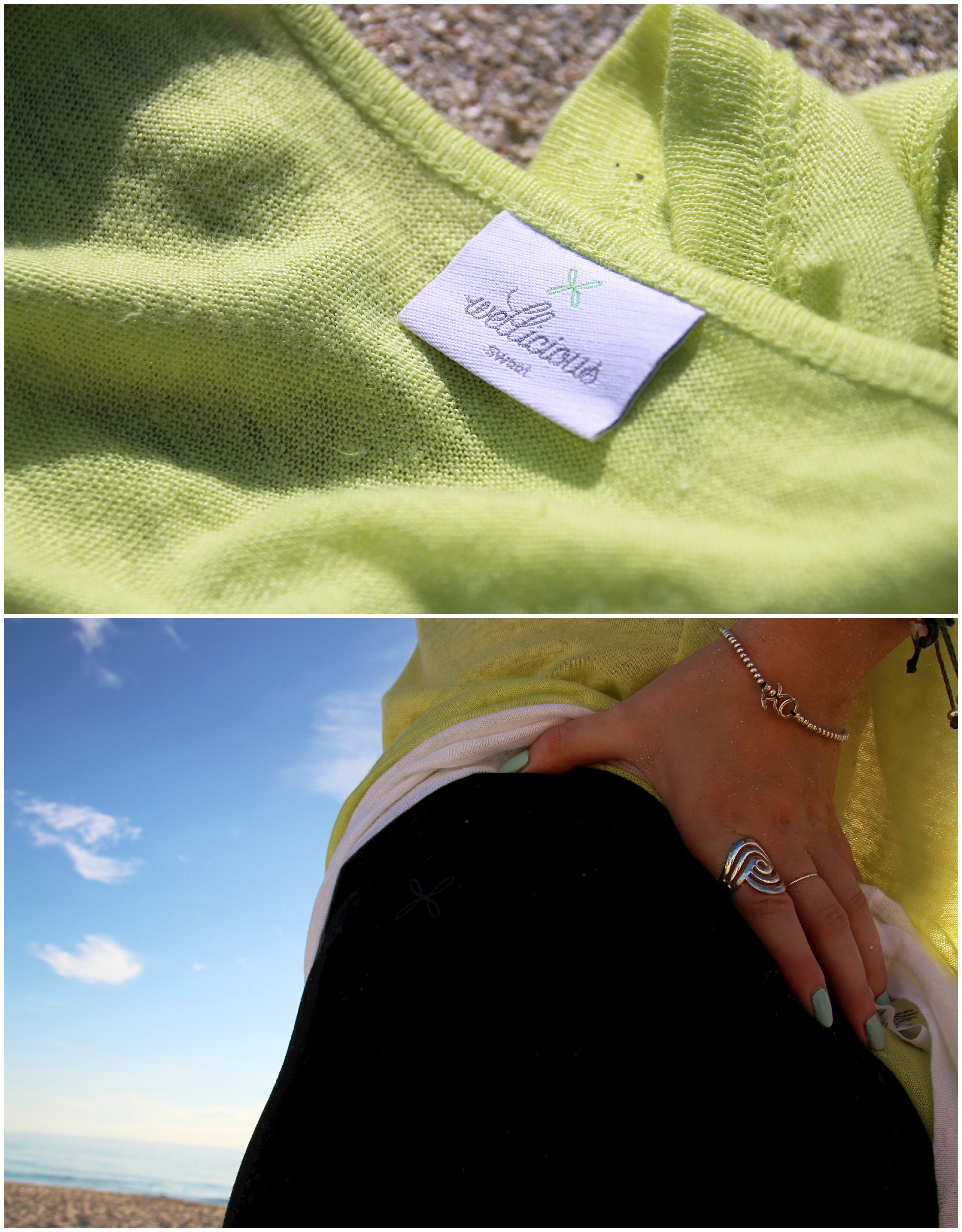 Have you purchased Wellicious clothing before? Or have another favourite yoga clothing brand? Let me know in the comments below! And don't forget, you can use my personal code 'shecanteat10' to receive 10% off all Wellicious clothing!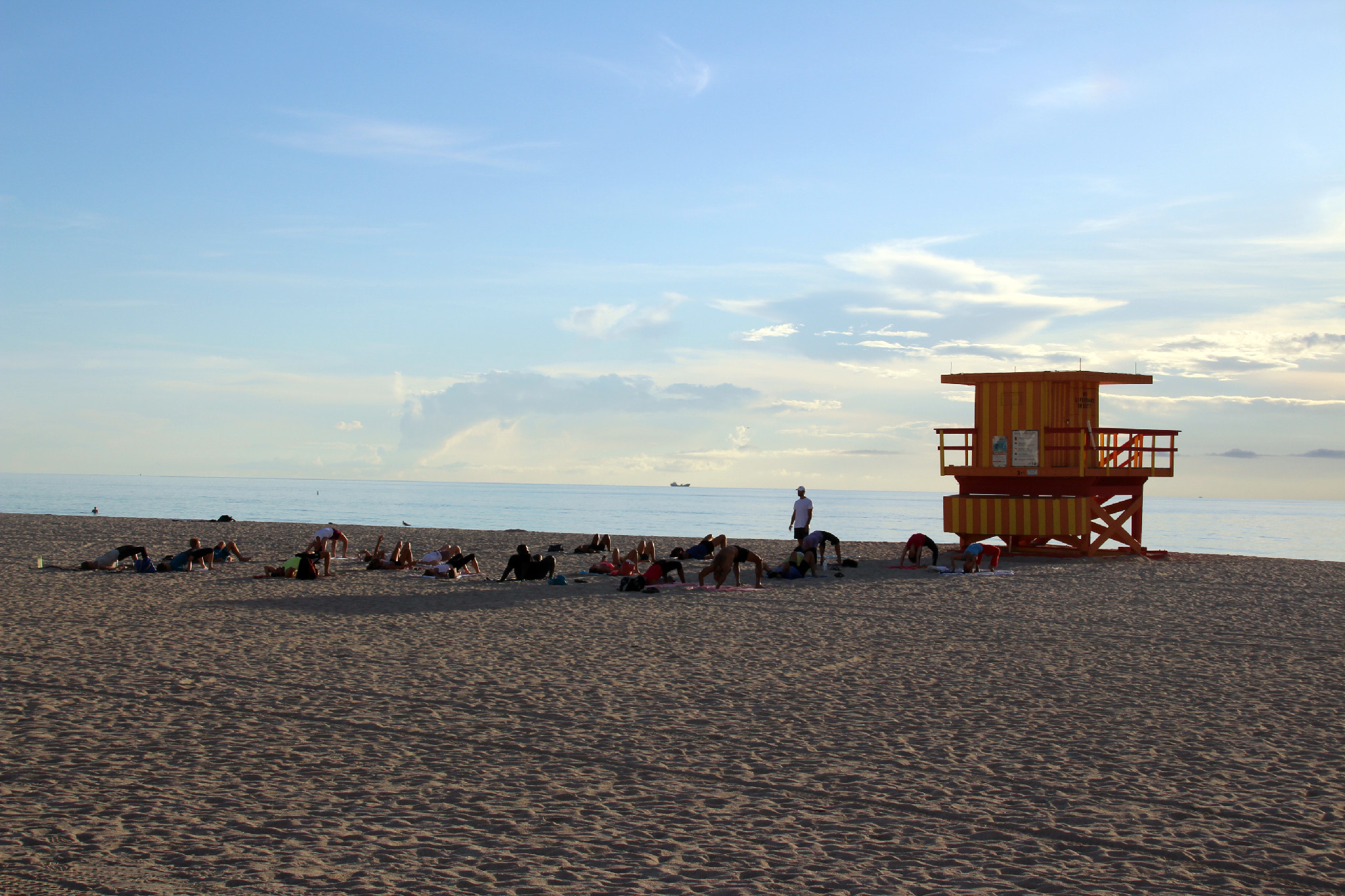 To find out more about Wellicious products visit www.wellicious.com.